This past week, at 23rd International AIDS Conference, thousands of participants from 170 countries gathered to share the latest HIV science, advocacy and milestones. Due to COVID-19, the conference went virtual, underlining the massive challenges that the world is facing, including the global response to HIV and AIDS. 
MSF, the World Health Organization, UNAIDS and the Global Fund have all warned of the consequences that disruptions of services and ongoing treatments will have on the most fragile communities, despite the gains made in recent years. In terms of HIV, that could mean increases in infections and deaths. For this reason, amid the COVID-19 pandemic, ensuring the continuation of programmes that provide access to HIV, TB and Sexual and Reproductive Health services is critical.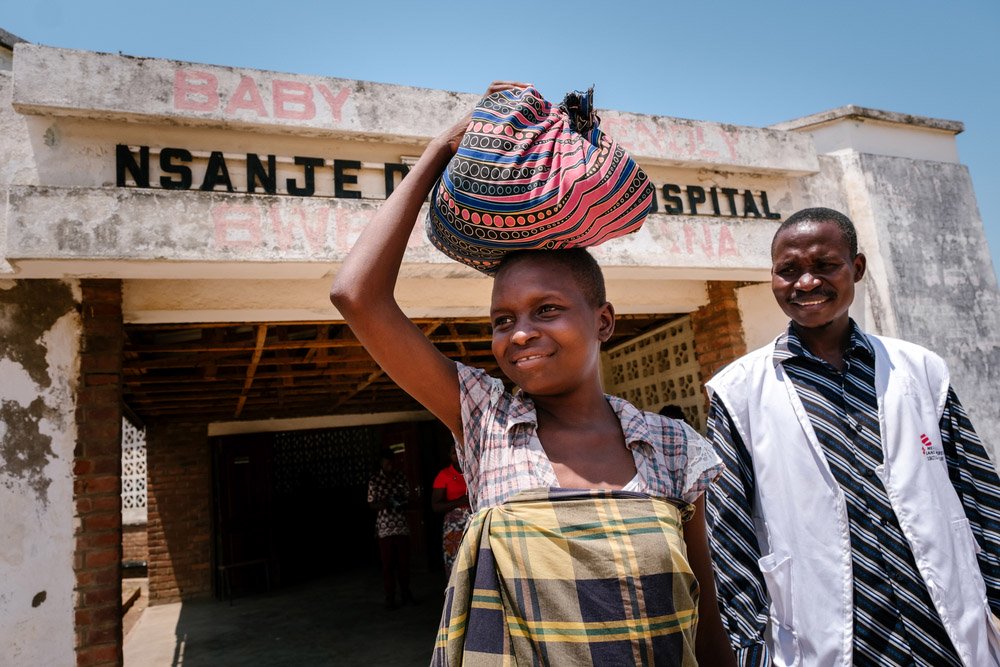 Drew Aiken, MSFs Health Policy Advisor in Malawi, describes the reality of people living with HIV and the daily challenges in accessing treatment, adhering to it, and getting person-centred support to help those patients surmount barriers to getting the care they need.
"Earlier this year, I visited Makanga, an island in the remote Nsanje district in the south of Malawi. It is only accessible by boat. There are no cars on the island, however, you can hire a motorcycle or travel by foot or bike. We were there to talk to Chintedza. He was a patient who had previously been hospitalised in a late stage of HIV and later discharged. He was the chief in his community. We hoped to document his story to highlight some of the challenges around the advanced form of the disease. The last time we saw him he was too ill to communicate. 
Travelling by motorcycle towards his village, we were excited to hear the story about a chief, living with HIV, who had become a health promotor in his community despite the difficult medical and socio-economic conditions. He would be able to tell his story, a powerful one coming from someone of his stature. We drank in the landscape along the road to the village; the greenery was beautiful on the island.  It's a remote place, relatively untouched and difficult to access as it's a flood-prone island. You have to know it exists.  
Chintedza's village was situated in the centre of the island takes about 25 minutes of travel by motorcycle. When we arrived, we were greeted warmly and invited to sit under a tree with some community members.  
We were told that we would need to wait there since Chintedza was not feeling well. After waiting a while, we learned that "not feeling well" was an understatement. Chintedza was in and out of consciousness. He had eaten little in the past few days and was no longer able to walk without help. These are some of the advanced HIV disease symptoms.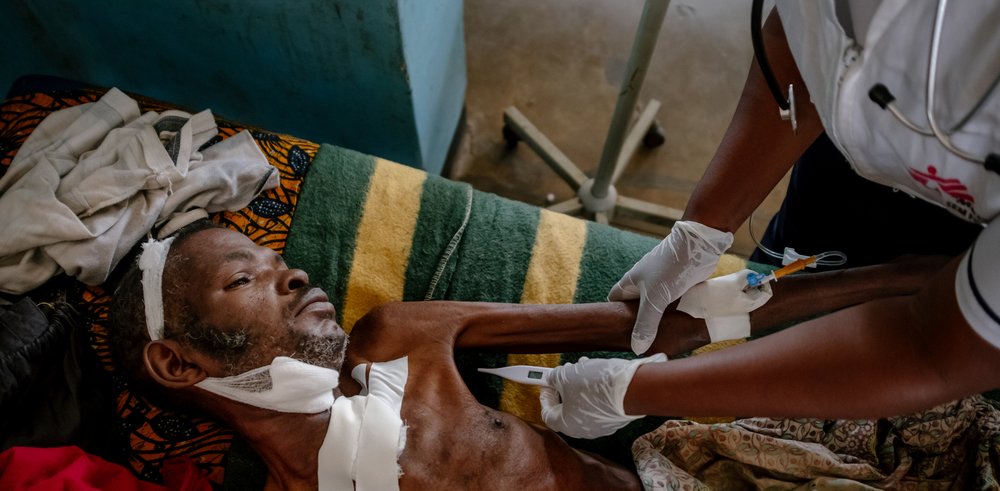 His family was not sure whether he had received medicine recently or if he had been taking it. Chintedza had been in hospital not long ago. We had thought that after his discharge he was doing much better. Unfortunately, this was far from true. It was clear that something was seriously wrong.
The family explained that they did not want to return to the hospital; that they hadn't felt supported during the last visit there. For them, this meant that the hospital did not provide food or other aid for the person who accompanied Chintedza. This might sound insignificant, but for people living on the brink of survival, a several weeks long stay in a distant hospital is unaffordable. The previous stays in hospital had already taken a heavy financial and emotional toll on the family and the community. They had already contributed everything they could.
When we were finally invited in to see Chintedza, I was shocked by what I saw. He was so frail, lying on the floor, I thought he had already passed on. He was entirely wasted (significant weight loss), and he was completely still. His eyes were open but it didn't seem as if he was aware of our presence. I asked if someone had taken his pulse, or if he was breathing. I was told that he was. He wasn't moving, and I wasn't convinced. Finally, I saw his chest barely rise and fall – the first sign of life. It was heartbreaking.
Chintedza was lying on the ground inside the house. Every rib was visible. His stomach was curved inward, in sharp contrast to his protruding ribs. He was unconscious and unseeing. I had never seen someone so sick. A stretcher was finally brought over after some discussion. We had to wait for it to be carried from elsewhere on the island. I was touched by the delicacy in which his family and friends lifted him and placed him on the stretcher's carefully arranged blankets, then covered him with chitenje (a Malawian patterned textile).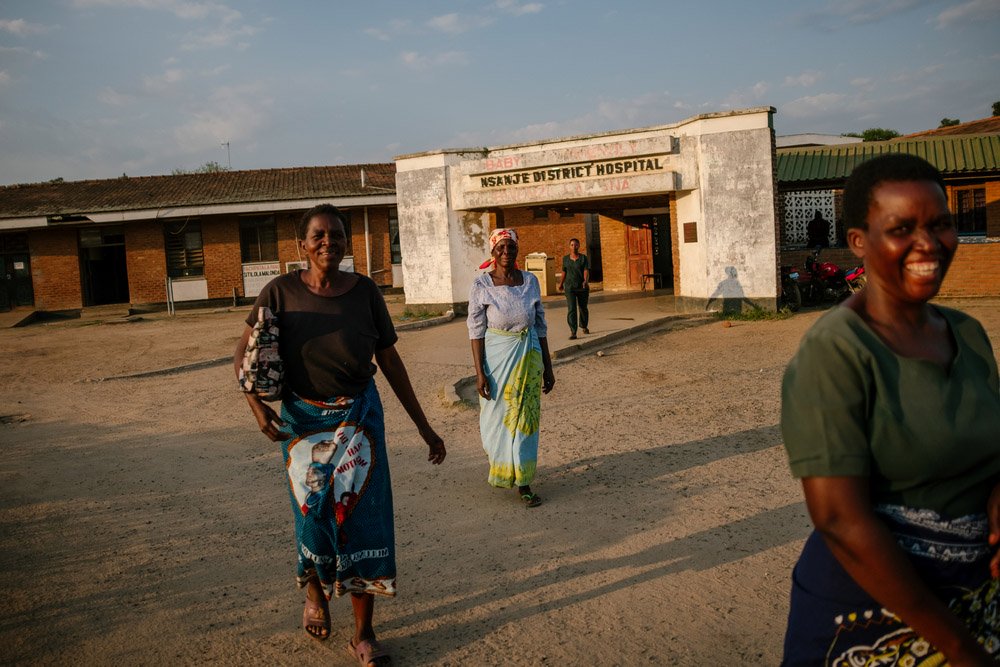 At the health centre, the medical assistant (MA) did what he could but highly recommended that Chintedza be referred to the hospital. His condition was serious. The MA explained that Chintedza had bedsores, meaning that he probably had not moved much over the last few days or even weeks. 
There was much discussion between the MA and the family about the referral to the hospital. But I think everyone except me already knew what would be decided. I think I also knew in the back of my mind, that Chintedza wouldn't be going to the hospital. The journey would be extremely difficult, if not impossible, in his condition. 
I was shocked that this man, Chintedza, was dying in front of us and that many others are still dying, too, in Nsanje, and throughout Malawi. We know exactly what needs to be done – and so much has been achieved in the HIV and TB responses, yet the barriers—socio-economic barriers, distance to health facilities, stigma and discrimination and more, faced in Nsanje, help explain why death rates are no longer reducing in Malawi. Globally, many people seem to think that AIDS is over. But here, despite some progress, we still see far too much avoidable death. 
I later learned that Chintedza died the next day.
Recent reports show that HIV mortality is plateauing in Malawi, a trend that we have continued to see globally. But to effectively navigate the next phase of the HIV response, I hope the global HIV community comes together with strengthened solidarity and commitment to make sure people living with and at risk of HIV have access to prevention, testing and effective treatment services.  
In my opinion, we must commit now, to do all we can, to end these senseless AIDS deaths."
Understanding HIV in Nsanje:
Nsanje, Malawi is one of the poorest districts in Malawi, which is one of the poorest countries in the world still deeply impacted by the HIV epidemic. While progress has been made, 13,000 people die each year, across the country, from AIDS-related mortality. Nsanje is a very rural district in the southernmost part of the country, close to the border of Mozambique.  
The area is prone to extreme heat, floods and drought. HIV prevalence is 12.1% - higher than the national average of 9.2%. In Nsanje, people have difficulty surviving with few economic opportunities and great distances between villages.  
Advanced HIV disease mortality is still high in Nsanje, with people presenting late and very sick to the health centres and hospital. The challenges are significant at all levels—community, health centre, district hospital and district level. We still see many people dying at home due to inadequate awareness of danger signs, an inadequate referral system and socio-economic and other barriers
 
---
MSF in Nsanje:
Since 2016, our teams have been implementing an advanced HIV project in Nsanje, Malawi focused on reducing mortality and morbidity through the 'Circle of Care' model, with interventions to ensure a continuum of care between the community, health centre, and hospital. MSF interventions have contributed to the overall improvement of HIV care (to reach the 90-90-90 targets) and to reduced Advanced HIV Disease-related deaths.
MSF has invested in many activities including, sensitisation at the community level, mentoring of clinical staff, diagnostic tools (POC CD4, TB-Lam, CrAg in the HC), and improving the quality of HIV care in the In-Patient Department (IPD). 
 
Find out more about MSF's work in Malawi.