Nigeria's middle belt states host the largest numbers of internally displaced people in the country, outside of the northeast. Tens of thousands of people are displaced by the farmer-herdsmen conflict that took a sudden and violent escalation in January 2018. With displaced people continuing to arrive, it is clear that the crisis is not going away. In March 2020, the state government stated that it is still not safe for farmers to return home. Yet, lack of engagement by state and federal government actors is part of the problem. 
John Alenda, camp chairman – Old Market informal displaced persons camp, Benue state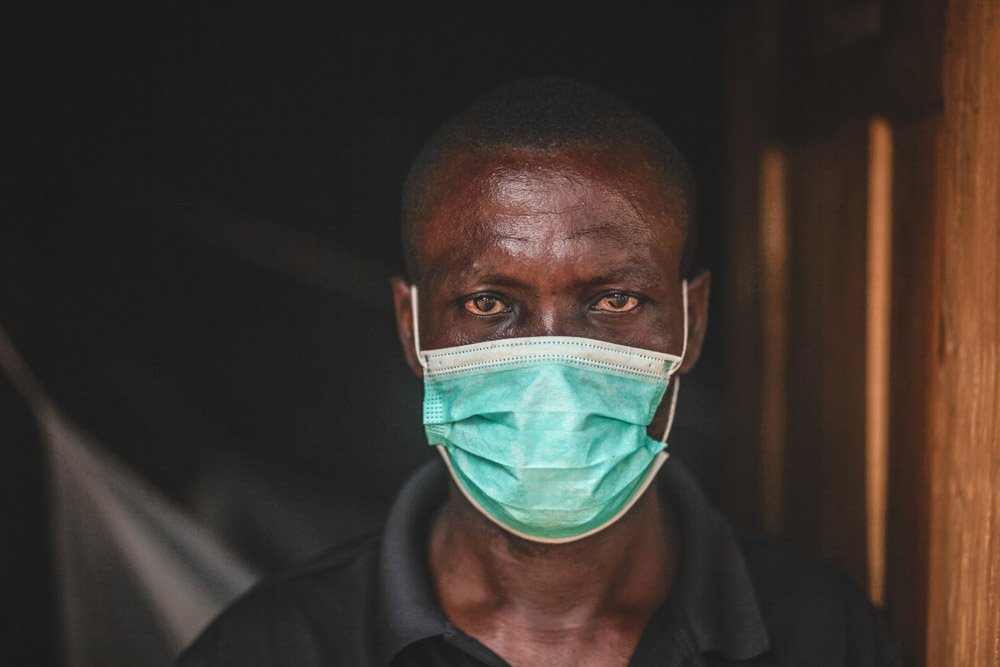 "I've been here since January 2018 with my family. Including my extended family, 12 people are depending on me. We lived in Guma before; we left because of the crisis. We started to hear reports of the neighbouring villages being attacked, so we sent the women and children from our community to this old market. We [the men] stayed to continue farming.  When the herdsmen arrived, they shot my brother dead. That was the day we decided to leave. When we left, we had no food – so we kept sneaking back to the farms. But by June [2018] it was just too dangerous to keep going back.

They attacked village-by-village for many months. We heard reports of the attacks from other villages. In 2017, the displacement camps here were already full, so I came to this market to meet with the clan chief and to negotiate shelter for my family and my community.
We have two major challenges here - food and shelter. I have written to and visited the State Emergency Management Authority (SEMA) personally many times about these issues. Before the COVID-19 pandemic, there were more food distributions; the last one here was in November 2019. There are 5,000 people living here. As this isn't an official displacement camp, it's harder to get supplies.

Now we either work on other people's farms for food or money, or we try to find other jobs so we can buy food. But there are few jobs and a lot of competition. 
There isn't enough shelter here – for the shelter that we do have, we need more mosquito nets for the windows. Some people just sleep outside in the open, but that's impossible in the rainy season.

We get assurances about the future – we hear that the crisis will end and we'll be able to go home. But in reality, we don't even think about going home; we know we need to make the best of it here. Only God can decide if we will be able to return to our ancestral homes.
I hope that people will hear my voice; I am not loud enough when I speak alone." 

Ugber Emmanuel – camp secretary, Mbawa IDP camp, Benue state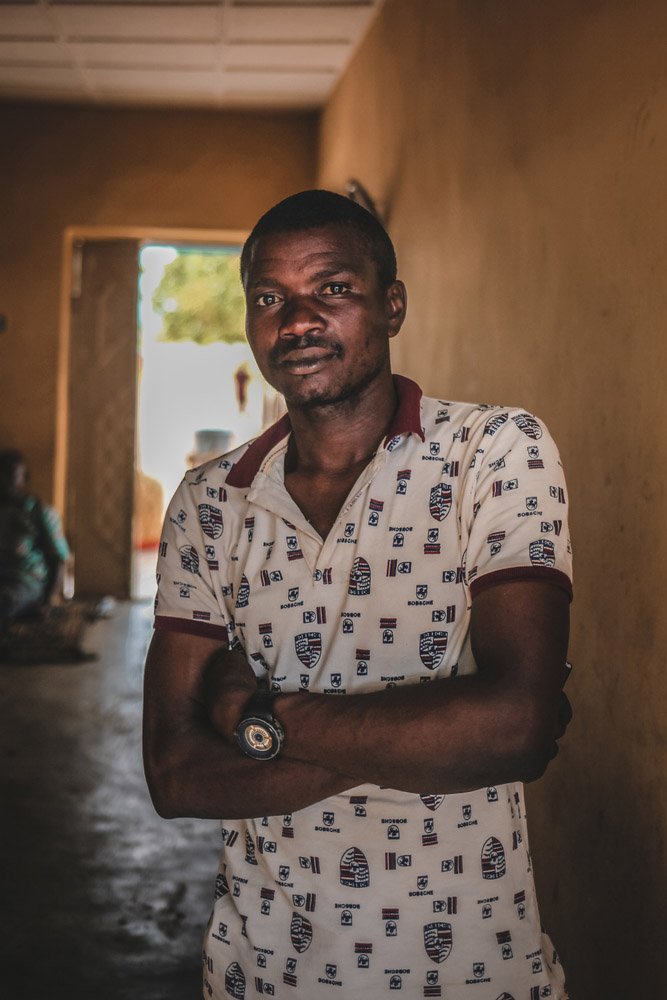 "I've been here since January 2018, with my wife and three children. We come from a village called Kasayo in Guma. It was New Year's Day when the herdsmen attacked; many of our relatives were killed and we narrowly escaped with our lives. It was around seven in the evening and people were still drinking and celebrating the new year when the shooting began. People died; women and children died. Even before the attack, the herdsmen would graze their cattle on our crops, but we didn't know it would become violent. 

When we left, there was no displacement camp set up, so we found shelter in a nearby school as the children and teachers were on a break. When it re-opened, we came here and built tukuls – that was before MSF built the shelters we live in today. I was appointed Camp Secretary by the community here because I've been here since the beginning. When we first arrived, there was no shelter and many of us slept outside. But when it rained we had to go to the school to shelter. Finding food and firewood were our first challenges. Things got easier later in the year when MSF began distributing materials for shelter. 

Food is still a major challenge for us – there's also no school for our children to go to. Some people go to the market and scoop up the grains that fell to the ground, then they sieve them to remove the dust and earth. Other people sell firewood or work on other people's farms for money or food. We know about the coronavirus, but social distancing is hard with limited space.
Some rooms accommodate two families. There are still people arriving. Even last week there was another attack that forced people to leave home and come here. When I think about going home, I remind myself that a live dog is better than a dead lion. There have been others who tried to return to their villages and were killed. We have no hope for now, but perhaps one day."
Elizabeth Ordoon –  Mbawa IDP camp, Benue state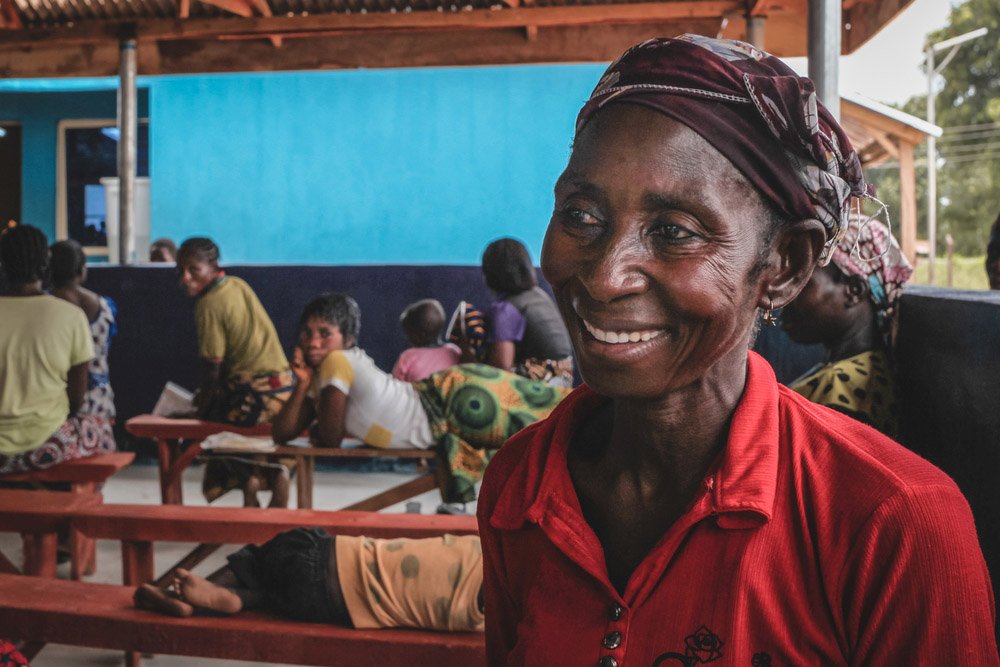 "I have been away from home for three years now, and I've lived in this camp for two. I live here with my seven children, but my husband passed away – he was suffering from high blood pressure. We came from Mbawa, but further in the interior. In 2017, two laws were passed – the anti-grazing laws and the ban on arms. These laws combined made us vulnerable. There was already the tension between herdsmen and farmers, and then guns to protect ourselves were prohibited.

When I left home, I was nearly killed – they shot at me, and I heard the bullet strike a nearby tree. I had already moved six of my children to this camp, and it was just me and my 18-year-old daughter left to go. We took nothing with us. We were cooking when we heard the gunshots and saw the herdsmen coming. When we left, we went straight to the next village, where my daughter lives with her husband and his family. We stayed there for a few months, but then the same thing happened there. Four of his family members were killed in that attack. 

There are challenges living here too – there isn't enough food. My family helps me by working for food and money so that we have things to eat. Once I tried going home with my brother-in-law to see if there was anything we could salvage – but all the food was gone. Now I go to the forest to look for locust beans to sell. My oldest daughter is 40-years-old. I have a large family now, including my grandchildren. I have no hope of returning home. After three years here, the word 'hope' has been overstretched."
Edward Nyam –  Mbawa IDP camp, Benue state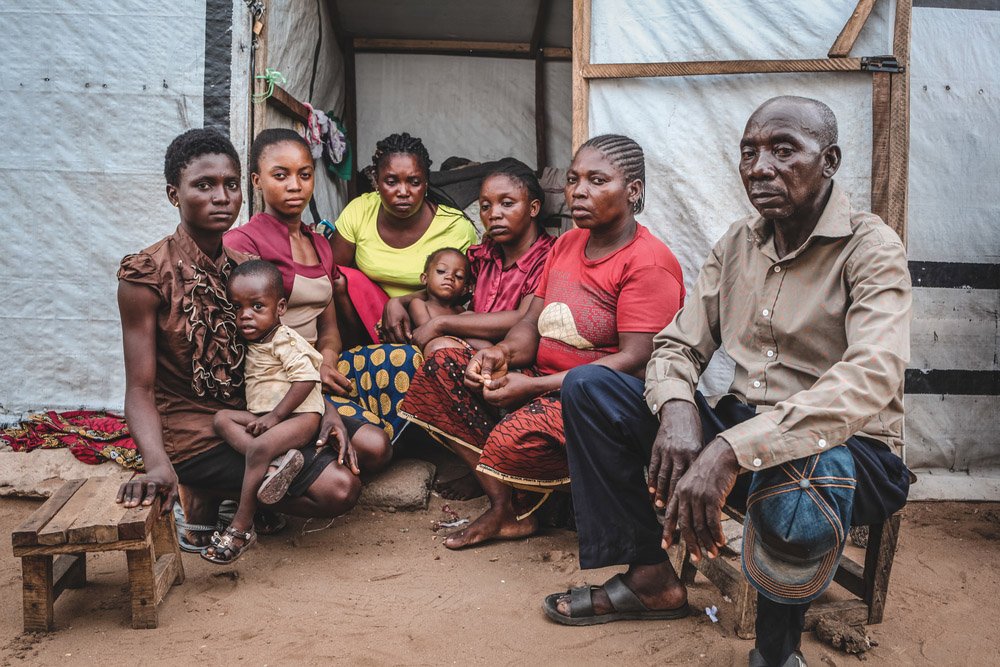 "We got here in January 2018 from Guma. We had no choice but to leave home when the herdsmen attacked – they killed my son. He was in our home preparing cassava and they came into our house and killed him. I live here now with my wife and seven children and their children. It was not easy for us to leave home – we had to run and so we carried nothing with us. My lifestyle has changed a lot since moving here – I suffer from high blood pressure now and that's because of these changes and because of the stress. Food is the biggest issue: now when you go to the market for one bag of corn, it's 15,000 naira. It used to be just 5,000 naira – I used to be a corn farmer and now it's difficult to even buy it!

We can't plan ahead when it comes to food, things are different now and we have to adapt and use the things we have. My grandchildren usually eat twice a day and I eat once – they still need to grow. It's a mercy that MSF is here to help with our healthcare – when my wife was seriously ill, they referred her to hospital and paid for her treatment, and when one of my grandchildren had malaria, they were treated here in the camp.

Even if we wanted to leave here, we'd have nowhere to go. About a week ago one family tried to return home – the man was shot dead, and his wife and son were also shot, but managed to survive. We know about the coronavirus here, but it has changed nothing for us. We face the same situation as before. Our problems have nothing to do with the pandemic."
Hemen Mtanga – Mbawa IDP camp, Benue state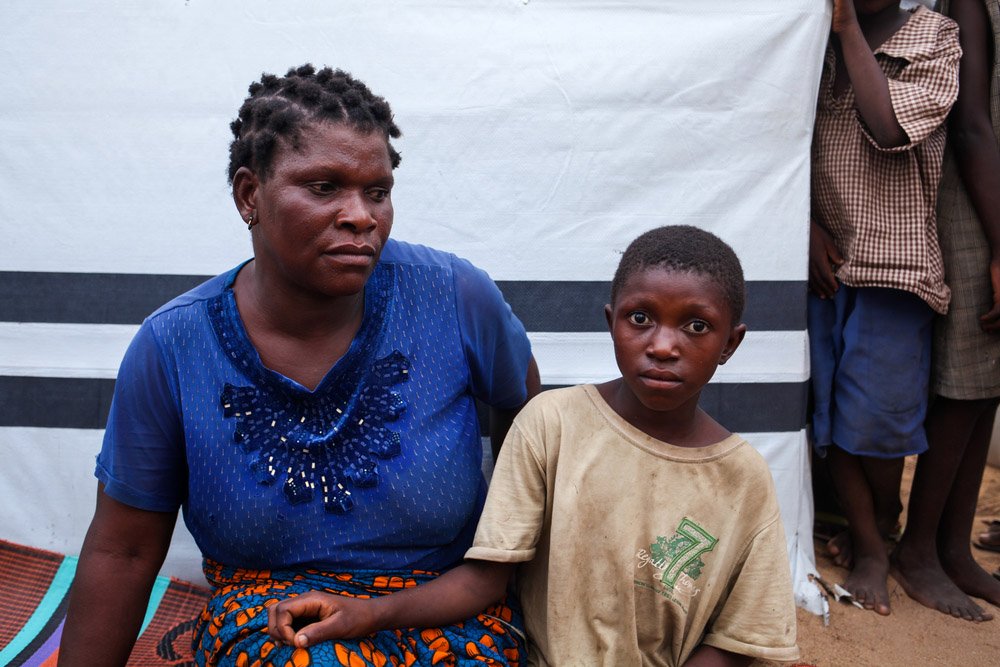 "We arrived here in March of this year. We left our community in Guma and it took us three days to walk here. My husband and I were farmers, but we were not poor. We had crops to sell, crops to eat, and money to buy things. We were comfortable enough to invite others over to share our food and to give food to others when they needed it. Now we don't even have enough for ourselves. We don't have cooking utensils, or even mats to sleep on here – the bugs bite you if you lie on the sand. MSF gave us the shelters and takes care of our health, but that doesn't mean things are easy.

The close confines of the camp also create tension, there are a lot of people here, and a lot of children too. Sometimes conflicts between children become conflicts between adults. It's not a comfortable place to live. We have nine children, but when my cousin saw us suffering they suggested to look after some of the kids for us.
Emotionally this was a difficult decision to make, but now my husband is away working on someone else's farm and I just can't feed all of them, so I had no choice. I know that we can't go home yet – we would die. If you refuse to leave home, you'll be killed, but if you run then there's always hope you might be able to return one day."
Nathan – Abagana IDP camp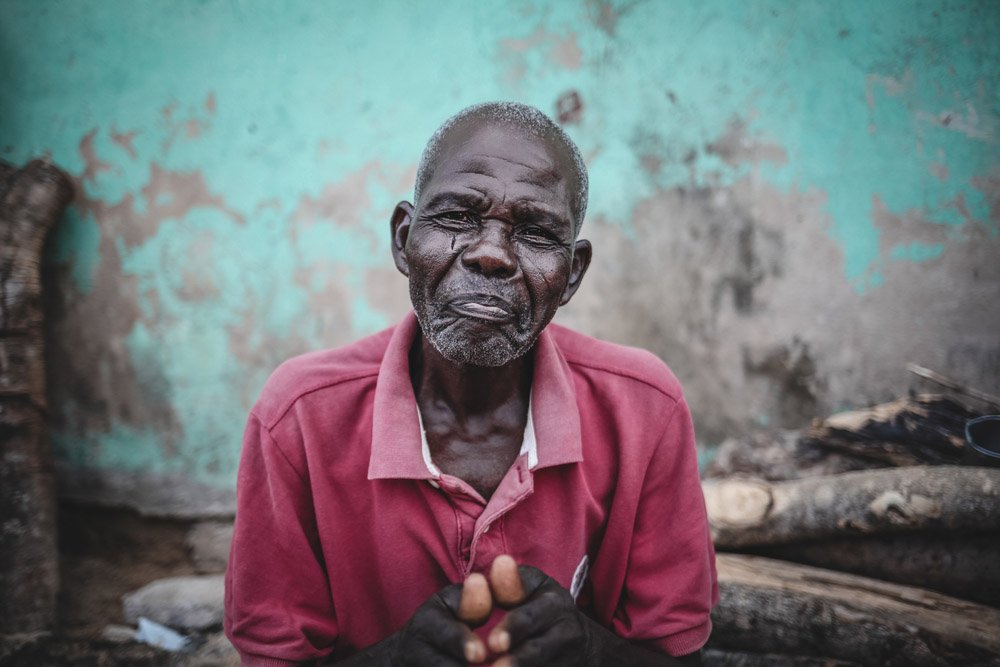 "I have been living here for three years since the herdsmen came to Tokola, my community. They were killing, destroying farms and houses. I ran with my two wives and 10 children; we arrived here with nothing but our lives. Here there is no freedom. At home, I chose what and when I ate, and I could go to visit friends if I wanted to, I had my own farm. Now I can't wake up and decide what to do with my day.

The biggest challenge for me is that I no longer have my own source of income. If I was at home, I would be focused on farming my crops, crops like maize, soya, yams, and cassava. Right now, it's planting season – it's difficult here, not following the cycles for harvest… if the crisis were over, I could go home with my family and start again."

Ousange –  Mbawa IDP camp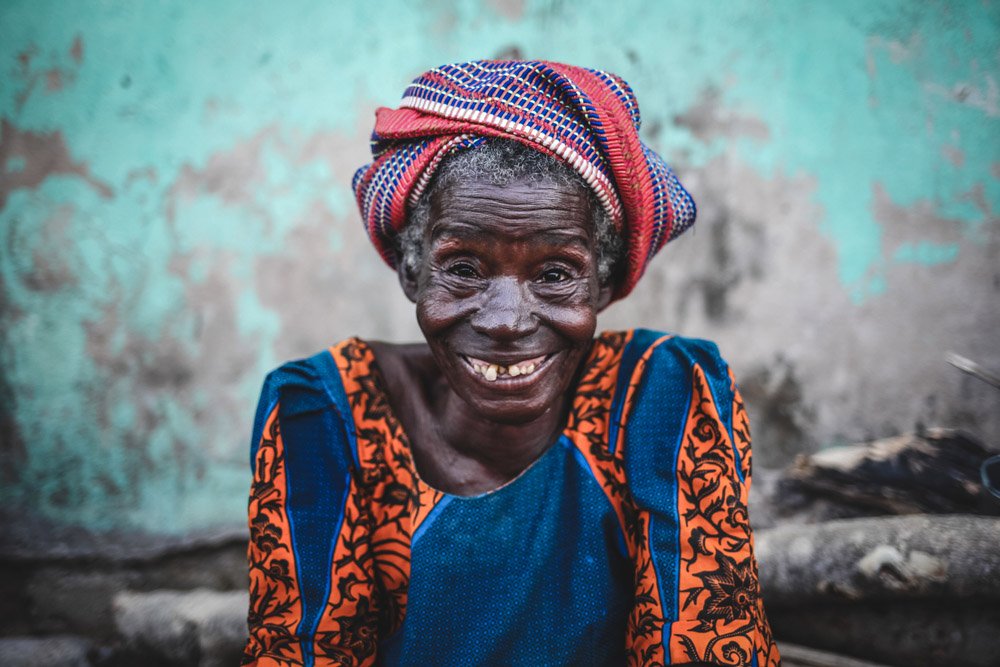 "Last April, the herdsmen attacked my home but God saved my life and brought me here. The herdsmen had almost surrounded the house, but we were able to sneak out the back. As we fled they killed my nephew – he was 12. Our home was Tse-Ovihin. It's far from here. After leaving we trekked to Tse-Yeh, where a passer-by saw how exhausted we were. They brought us here with their car, we didn't have any money to pay.

Back at home, we had a big farm. As I am old, I would usually just pick grass when I went to the farm. But when I was young, I would plant, weed, and harvest. We would plant before the rainy season – things like grains and yams and groundnuts, and in September we would harvest. June is always the hungry period when we put everything into the ground. In September people are always excited – we know that we'll have plenty of food again.

Living here was strange at first, you share everything with strangers and you no longer have the comforts of home. Here you don't just share with family, you share with everyone and nothing is ours. I am learning to adjust though because I have no choice – this is reality. Food is the big challenge here – my son has to go and find work as a day labourer. If he manages to find work, life is a bit easier for us. But without that work, it's pretty hard. The food distributions here seem like a lot, but when they're divided among all of us, it's not much.
I live here now with my brother-in-law and my three children. My husband died three years ago – he was sick."

Orchi Godwin – Naka IDP camp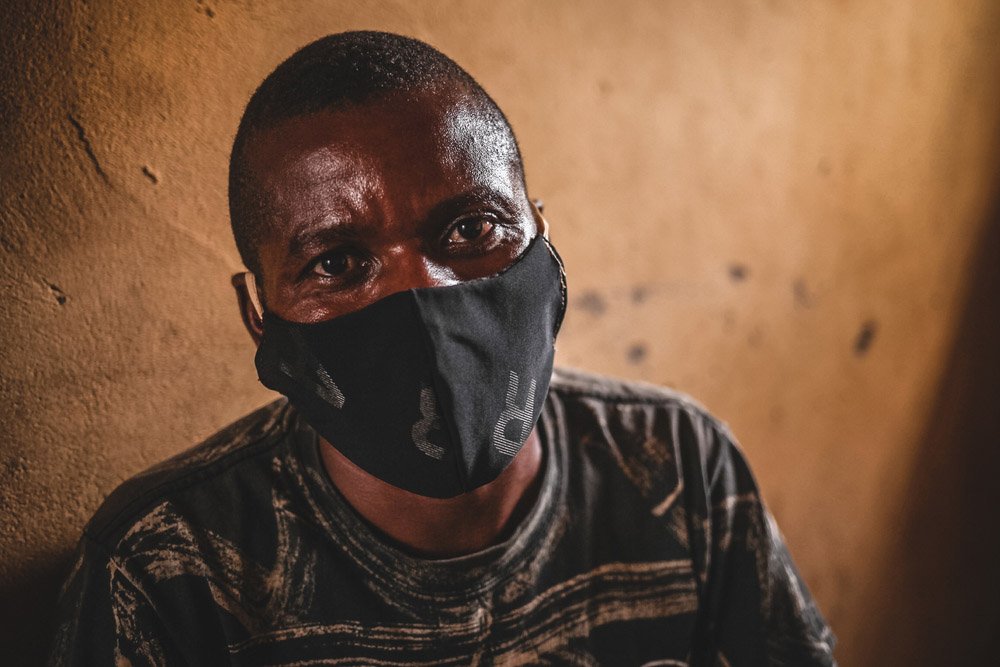 "I've been here for a long time. We used to come and go – returning home to farm and then coming back here for safety – we've been doing that since 2015. But as of last year, it became much more dangerous to go home anymore. Even this year, we tried to plant some crops, but we were attacked and had to run for our lives. That was in May. My home is Mbakyoondo, about 30 kilometres away from Naka. Sometimes people would drive in their cars so I could go home to farm, other times I would just walk. 

I live here with my sister, my wife and two children, and my mother. My mother is elderly – it was just two days ago that I managed to bring her to the doctor's clinic, but I had to pay 3,000 naira. She was dying – she had malaria and typhoid and needed urgent treatment. To pay for the treatment I needed to borrow money from a farmer – I will work on his farm to earn it back. The military troops come and go – they're not a constant presence. While they are there, my wife and children are able to live at home. But we live in fear, as we know the herders attack at night.

When we were still at home, there was constant tension. I felt I could never relax my mind. One day recently when we were returning from the farm, we came across a herd of cattle blocking the road. There were three men with machetes – based on the way they looked, I felt they wanted to kill me. We prepared ourselves and approached – luckily my friend speaks Hausa, and as we approached he greeted them. After greeting them in Hausa, they were a lot more relaxed.

Now if I want to go back and farm, I need to take loans to plant crops. I don't own any land, so if I want to farm for myself, I need to pay 10,000 naira for one hectare for a year.
There are no homes in our village now. Everything was burnt. When we go home now, we just build simple, temporary shelters to protect ourselves from the rain. Here in Naka, it's too crowded. We sleep outside on the porch [of a disused school building] and we don't even have mosquito nets. The women sleep indoors so that they have their own space.
We are all in the same situation here. More people are arriving here and some of them have nowhere to sleep at all. There isn't any food here either. When she was well, my mother would go to the market and scoop up the grains that fell to the ground, then she would use a sieve to separate the grains from the earth. We all go to work on other people's farms for money and food. 

Before the soldiers came, we had no rest. We would wake up and find out that someone had been killed. Women were often robbed on their way to the market as well. 
Our living is on the farm. If we can just work, then we're able to earn more than government workers. My plan was to work on a farm until I had enough saved to start my own business. I hoped to start a business buying and selling produce, to begin with, then I wanted to rent a tractor. If I could get 10-15 hectares of land and I had a tractor, then I'd make a good income. That was my hope, but the situation has changed, and if these attacks persist then it will be impossible." 
Agbogbo Philomena – Naka IDP camp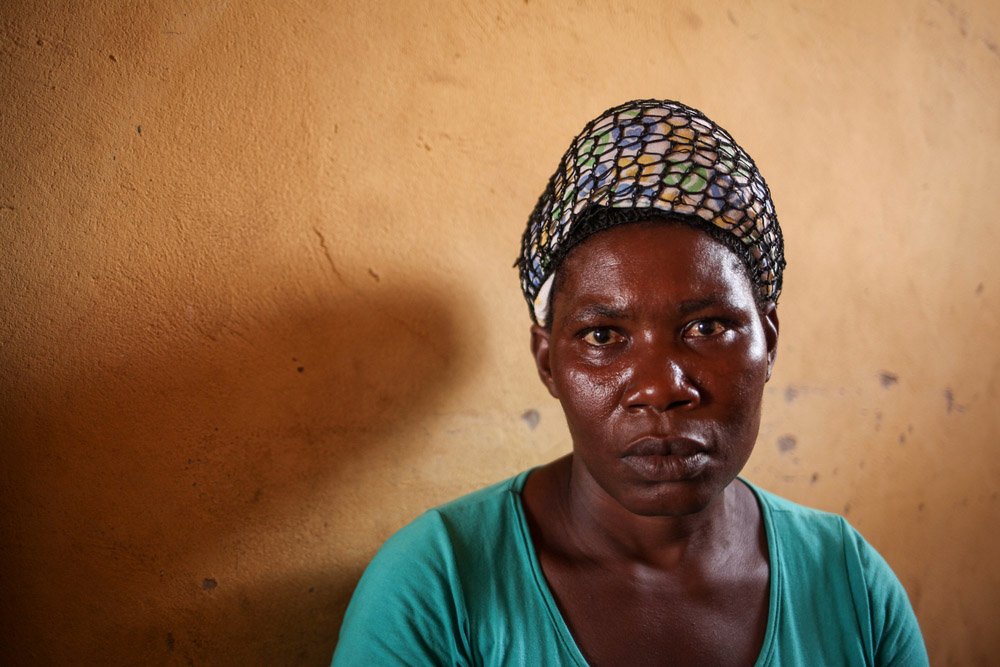 "I've been living here for three years. It used to be that the herdsmen allowed us to farm, and then waited for the harvest before attacking. In the end, though, they weren't even letting us plant crops anymore. After they killed my husband, I took my five children and came here. We were on our corn farm when he died. The herdsmen let their cattle walk onto our land and they began eating our crops.
My husband asked them to leave, but they refused. After that my husband asked the children and me to help shoo the cattle away, so we started throwing small pebbles at them to make them move.
When we did that the herdsmen angry, and they slaughtered my husband with their machetes.

I arrived here just as you see me now, with no possessions. The herdsmen burned my home and everything I had.
I have no mat to sleep on, nor soap to wash, getting clean water is also a big challenge. I only have one mosquito net, and I use it to protect my youngest child. I worry a lot. We are very exposed here and it is crowded.
We just want to go home, but even if we went home without violence we would have to start all over again. There is no food or shelter waiting for us at home. I hope that people will hear my voice and understand that we need help. If there was some way the government or someone could support us with grants to restart our farms, that would help a lot."