More than 1.7 million people have been displaced due to conflict between non-state armed groups and the army in northeast Nigeria. MSF is providing primary and secondary healthcare in ten locations across Borno state, the epicentre of the violence, and in Damaturu, the capital of Yobe state. These are the stories of some of the people we've met and the daily struggle they face.
Time to listen
Altine is from the Nigerian state of Katsina. She is the midwife supervisor at MSF's hospital in Pulka town, close to the border with Cameroon.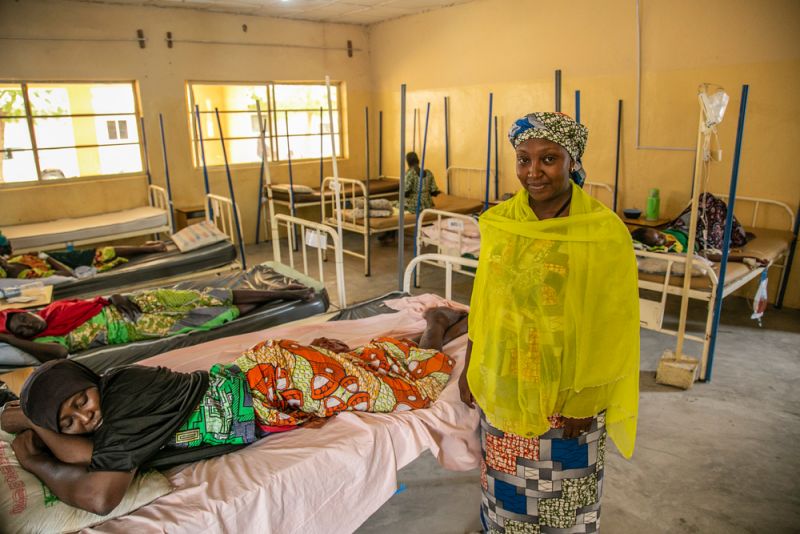 "Most people living in the camps are women. The majority of our patients have gynaecological complications, mostly aged between 12 and 18 years. Sometimes we have as many as 50 admissions in a week in the maternity department. Some women have problems with their pregnancy, others become sick after they give birth.
We treat people from the host community in Pulka as well as internally displaced people (IDPs). Most of the IDPs tell us they were abducted, forcefully married, sexually assaulted or suffered some kind of violence. They often carry the added burden of psychological trauma, and we also treat cases of sexually transmitted diseases.
Most of the IDPs arrived without food and with very little clothes. Some of the women who have suffered sexual violence are not ready to talk openly. We don't push them as you need to take time to listen to their stories. They miss their family and it affects their self-esteem. Giving my all and doing my best for our patients and seeing them smile and get back on their feet gives me joy."
Finally reunited
Hauwa sits with her 17-year-old daughter, Amina, one of seven children. They are from Goshe, a village behind the Mandara Mountains in Borno state. The family are living in a camp for displaced people in Pulka town. Mother and daughter were recently reunited, after being separated when a non-state armed group attacked their town a few years ago. Some people managed to run away but Amina, then a young girl, was married off by the armed group. As she starts to recall what happened to her, Amina's breathing gets faster. She tells us of the difficulties she faced and the months when she had little to eat. Amina is slowly recovering from a difficult medical condition. Her younger sister remains in Goshe.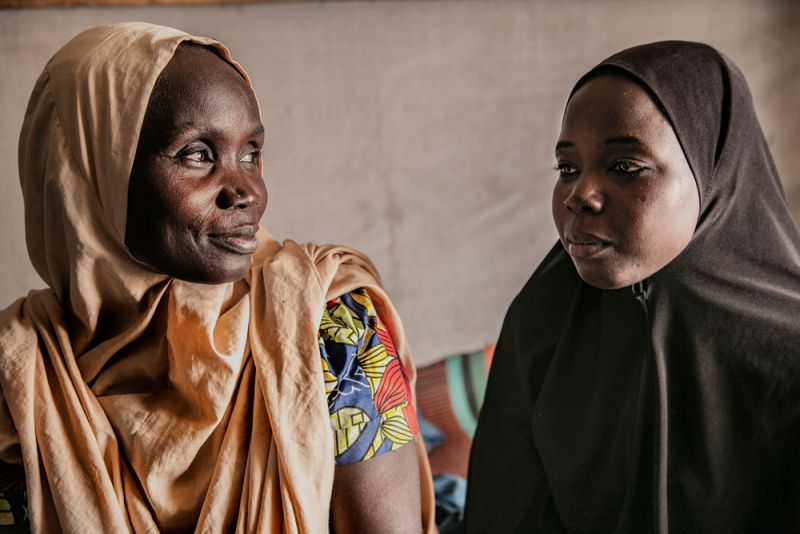 Hauwa: "I arrived in Pulka one year ago. Life was difficult in Goshe, there was no food. My husband, Ali, had already been in Pulka for some time. He arrived in the town before us, while I stayed in Goshe with the children. Boko Haram invaded the area, although the military has now pushed them into the mountains. I fled in the direction of the military and some soldiers brought us to Pulka.
After arriving in the town we stayed in the compound where MSF runs a hospital for one week, before being transferred to a camp for internally displaced people. We are given food, but it is not sufficient. Over the past year, newly arrived people from Goshe told me that Amina was still alive but was not able to leave the town yet. They said she was sick."
Amina: "I arrived in Pulka in mid-May and I was sent to a transit camp for new arrivals. Some people recognised me and told my mother about my arrival. I was reunited with my mother and I was so happy.
I knew I was not well and after arriving in Pulka I went straight to see the MSF doctors. At the hospital I was diagnosed with a fistula. At some point in the future I may need to go to Maiduguri (the state capital) for an operation, but I am pregnant so I will have to deliver the baby first.
I have been feeling sick for a long time. I was sick and separated from my mum. After being married off, I became pregnant for the first time. But after nine months of pregnancy I was not able to give birth. Despite being in labour, the baby was not coming out. Some women helped me and used their hands to remove the foetus. The baby died. I was lying down and bleeding for a week. I started having problems with my bladder. A little while later I became pregnant again but I miscarried. All I think about now is getting better."
---
In northeast Nigeria MSF is providing primary and secondary healthcare in ten locations across Borno state and in the capital of Yobe state, Damaturu. Through permanent teams or during regular mobile clinics, teams run nutrition programmes for malnourished children, provide mental health support, respond to disease outbreaks and provide emergency paediatric care among other services.
Find out more about MSF's activites in Nigeria