Four years of conflict have severely altered the lives of people living in eastern Ukraine. Over a million people have been forced from their homes by a lack of security, loss of livelihoods and damage to their property. Partially-abandoned villages are mostly home to elderly people living in relative isolation, who struggle to afford daily necessities as they cope with rising prices and insufficient pensions.
Many of these residents are in desperate need of medical care to treat chronic diseases and psychological support to help them cope with issues of stress and loneliness that have been exacerbated by the conflict. Unfortunately, healthcare is often out of reach both physically and financially. Medical personnel are among those who fled the region, and many hospitals and medical clinics were damaged or destroyed by the fighting.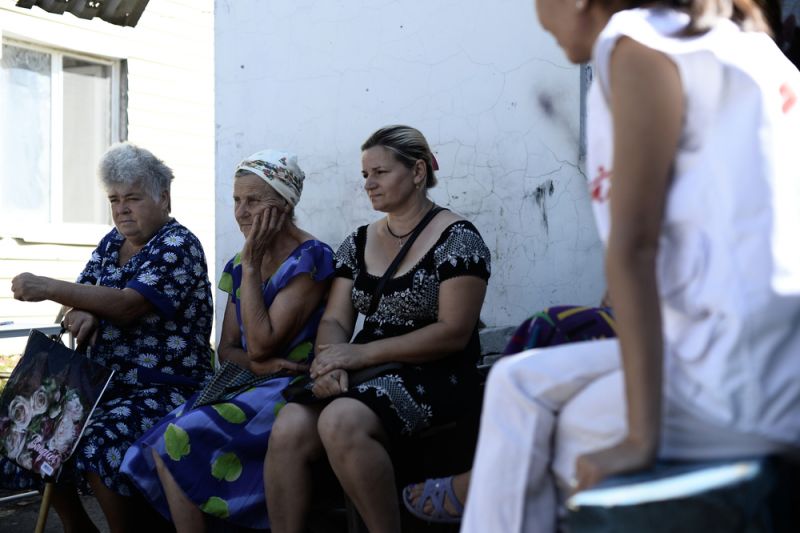 To alleviate some of the suffering of eastern Ukraine's most vulnerable groups, Doctors Without Borders (MSF) runs mobile clinics in 28 locations across the Donetsk region from their base in Mariupol and sub-base in Kurakhove. The mobile clinics provide primary healthcare and mental health consultations. MSF also supplies medical facilities in the area with drugs and equipment and conducts mental health support training for teachers and government healthcare professionals still living or working in the conflict zone.
It is clear some medical conditions — such as hypertension, high blood pressure and diabetes — are related to the stress people are experiencing due to the conflict. Reflecting this, MSF has accompanied its medical activities with mental health support ever since it began working in this region. Among the patients benefiting from MSF's mental health consultations, more than half are affected by anxiety. Other common conditions include psychosomatic disorders and depression.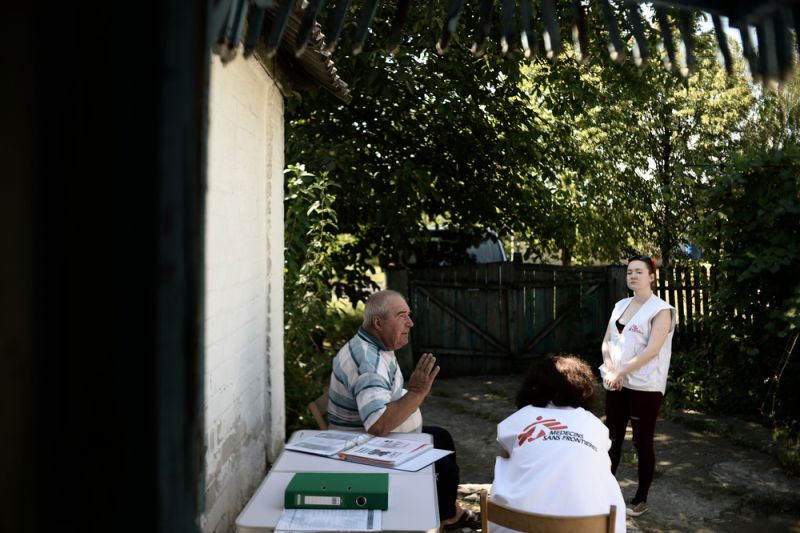 The greatest challenge for MSF's mental health team was to gain the trust of people living in the region. Most had never spoken with a psychologist and did not understand how the consultations could help them. MSF's team explained about psychological care and how mental health is linked with physical health. They focused on stress-related problems and the symptoms that indicate when someone needs help.
Gradually, the team earned trust in the areas they visit. People began to share their feelings and experiences more readily and started to come to MSF mental health consultations regularly. People who had been helped through the mental health consultations began to share their experiences with others. Step-by-step the trust between MSF and the communities has grown. Moreover, it is important that local health workers also seek psychological support and know how to refer their patients to do the same. They set an example, and it works.
---
MSF's patients share their experiences coping with the mental and physical effects of the ongoing conflict
Kozhura, 56, from Lebendynske
 "I never thought the war would start. It was a very unexpected moment for everyone. Even when the fighting began in Luhansk, I thought it was so far away that it would never reach us. In the summer of 2014, at the height of the conflict, I lost my two grandchildren. My granddaughter was about to start school for the first time, but she never did. Nikita was 10, and Karolina was six. It was very hard for me afterwards. I cried all the time. I had many thoughts about suicide. There are not many things in life that offer happiness now, and I still think about suicide because I blame myself for what happened to my grandchildren. It's been four years since I lost them. It's still very difficult. I first heard about MSF and their medical treatments in 2016. That's when I first saw an MSF psychologist. It has helped, but I still feel guilty. I should have left the house with my grandchildren. I didn't know the war was going to hit us. I didn't even have a basement where I lived for us to hide in. They went out to play and then it happened. Many people don't understand the situation here. They have no idea what we have been through. I hope the conflict will end soon so the people who left can come back and the buildings can be rebuilt."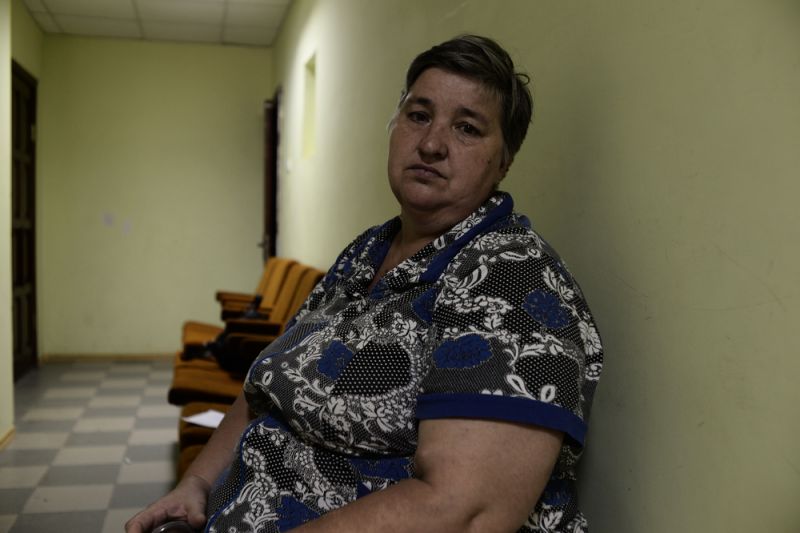 Oleksii, 90, from Vodiane
 "I've been visiting this clinic since the war started. I come here for treatment for diabetes. I'm very grateful for the staff. The other nearest clinic, which I visited before coming here, is 30 kilometres away. The medicine there is too expensive for me, so it makes sense to come here, as I can walk and the treatments are free. Before the war, I used to visit a hospital for my treatments, but it was destroyed by an explosion. If MSF were not here, I would likely be dead by now. I try to keep active as much as I can at my age. I work in the garden a lot and tend to my chickens and other animals. I always try to be in movement with anything I do. I exercise at dawn each day in my garden or around the house, depending on the weather.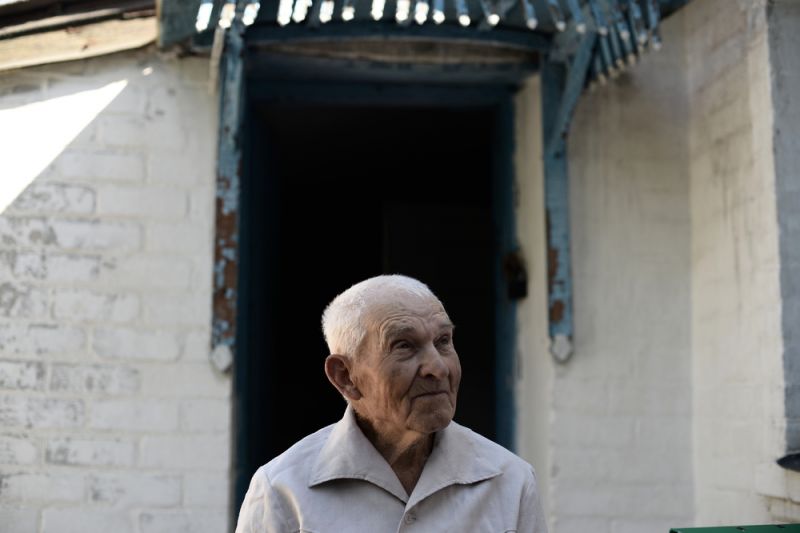 "I remember when the conflict started. It was 2014. I could hear shooting and explosions throughout the day and night. I was away one afternoon when an explosion hit so close to my house that it blew the windows out and damaged the sides. The same day, the roof was destroyed by another blast. When I came back, I couldn't believe what I saw. My house! It made me depressed. Now, life here is hard, as little remains intact. Some of the buses have started running again, so people can travel to other villages. I don't travel much due to my health, as I cannot walk or stand for too long. The vegetables I grow I try to sell to earn some money, but, as this is a small village, almost everyone grows their own produce and no one is buying them from me. It's a very hard life to make ends meet, but I never thought of leaving. I was born in this village and have spent all my life here. I couldn't see myself someplace else. I am afraid every day that something might happen to me, but I have no other place to go. Most of the friends I had are now buried at the local cemetery."
---
Doctors Without Borders (MSF) has been working in eastern Ukraine since 2011. In May 2014, MSF began providing medical humanitarian aid in response to the conflict through mobile clinics and donations to healthcare facilities on both sides of the contact line. MSF continued to operate in the self-proclaimed Lugansk's People Republic (LPR) until September 2015 and in Donetsk People's Republic (DPR) until the end of October 2015. MSF currently operates mobile clinics in 28 locations in Donetsk Oblast near or in the conflict zone. Where possible, MSF remains committed to resuming medical humanitarian activities on both sides of the conflict, as the needs remain significant for patients suffering from chronic diseases.
Find out more about MSF's work in Ukraine.