It's a little after 5 am in the morning in Beitbridge, and thousands of red-billed quelea are shouting from the trees alongside the main road. The first buses exit the border post, turn into town and wind towards the Rainbow Hotel. This modern, battleship grey complex of buildings is the COVID-19 quarantine centre for Zimbabwean residents returning from South Africa. With the support of Doctors Without Borders/MSF, the country's Ministry of Health and Child Care is prepared to safely guide returnees into distinct channels for COVID-19 screening, isolation and treatment. 
The buses are the first of many – the heralds of a flood. According to The International Organization for Migration, approximately 200,000 Zimbabweans have returned to Zimbabwe from South Africa since the start of the hard COVID-19 lockdown on 24 March 2020. This mass movement is hardly surprising. Zimbabweans migrate to South Africa to escape and deal with extreme economic hardship at home, but life in South Africa can present many challenges for foreigners, including violent and pervasive forms of xenophobia, time-consuming bureaucracy, exploitation by employers, barriers to accessing healthcare and cruelty at the hands of police and soldiers.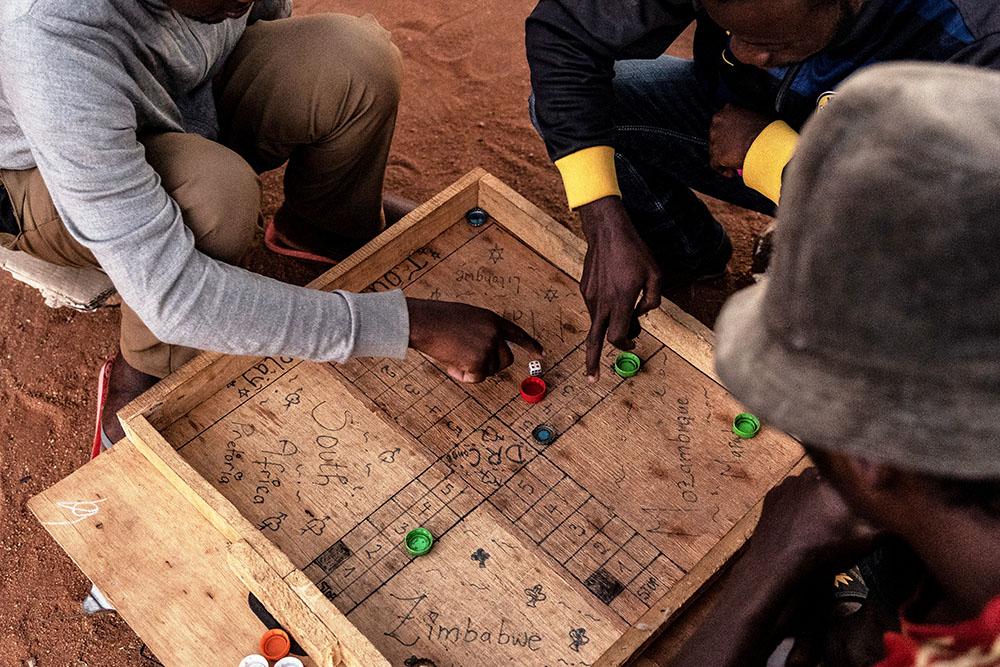 All of these challenges have been intensified by the COVID-19 pandemic, which has destroyed economies, restricted movement, disrupted services and brought soldiers out onto the streets and along the borders.  
The people arriving here are visibly exhausted. Some began their journeys two days earlier, in Cape Town, or Durban, travelling via Johannesburg. At Musina, Beitbridge's counterpart on the South African side of the Limpopo River, it took more than five hours for the passengers to be processed and allowed to proceed across the Alfred Beit Bridge to Zimbabwe. The ZUPCO buses pull trailers packed to the full. Many are carrying bags full of groceries, as it is cheaper to buy such things in South Africa. And then there are those who have returned to Zimbabwe without a choice – deportees finally released after months or sometimes years in detention with limited access to health care and other services
Clearer view of health gaps for asylum seekers and migrants
There are busloads of harrowing stories. One 67-year-old woman says she was diagnosed with a cyst in South Africa in March 2020 and was admitted to the hospital for nine days awaiting a procedure. "They moved me from one hospital to another three times, until I was told to go back home and come again after the COVID-19 pandemic had finished. That's when I decided to come back home to Zimbabwe," she says. 
After being referred to the MSF-supported clinic in Beitbridge, her case was presented to social welfare services.
A younger woman who is pregnant was denied access to antenatal care services in Soweto, a large township to the south of Johannesburg. "I visited many hospitals but they all turned me away after I could not give a passport, ID or asylum (permit)," she says. 
The first democratically elected government in South Africa removed user fees for all pregnant and lactating women, yet challenges still exist for non-nationals trying to access healthcare services in the country.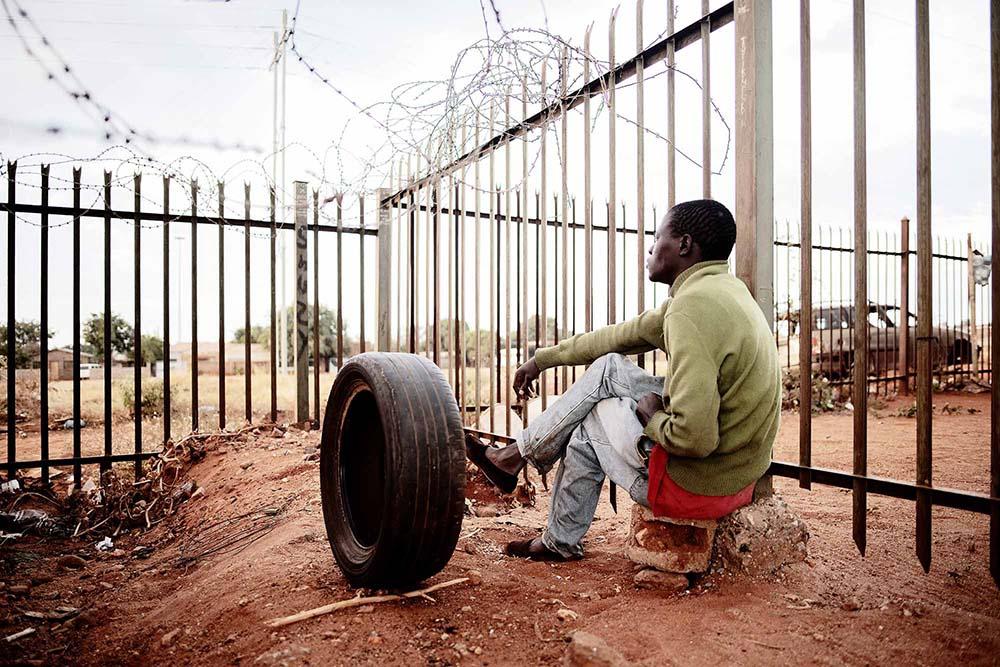 Since 2019, the MSF team in Beitbridge has collected the testimonies of returning migrants who have used MSF services. "We do this to better understand their experiences in South Africa, which helps us to continually improve the intervention package we offer to migrants that arrive in Beitbridge, either as voluntary travellers or deportees," says Rinako Uenishi, project coordinator for the MSF Migration Project in Beitbridge. 
MSF formalised this process by launching an ambitious survey - The Limpopo Mobility Survey - with the objective of providing reliable evidence on migrant journey pathways and how these journeys link with migrant health outcomes.
"MSF has had operations in the region on both sides of the border off and on since 2000, but a clear and comprehensive view of migrants' medical needs was lacking, and so a study was designed with the objective of highlighting the gaps in medical care received by migrants. It was quite an eye-opener," says Uenishi.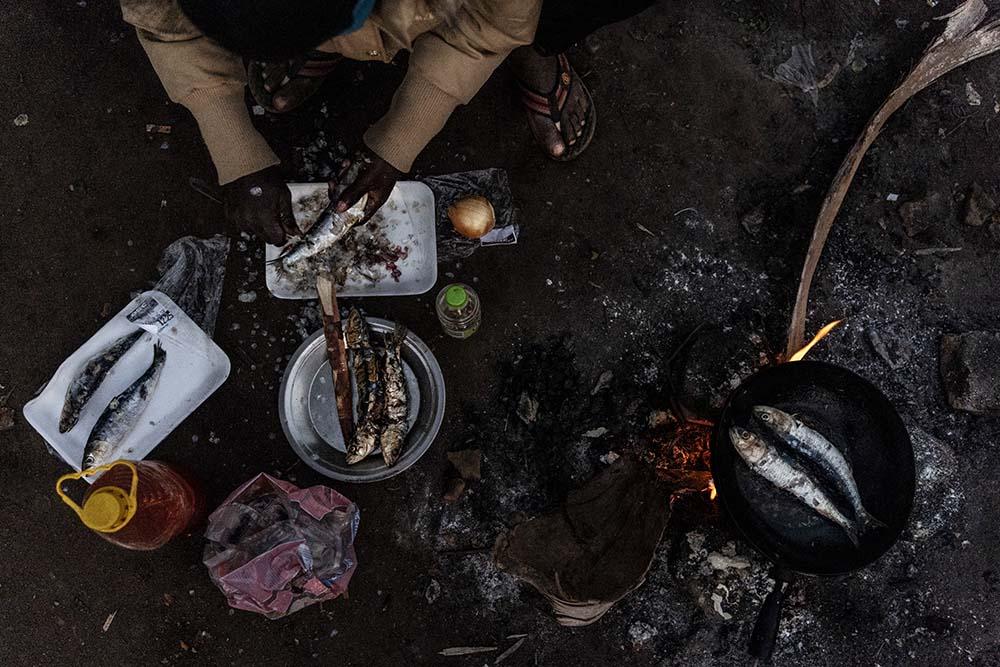 Migrants are being detained in masse in SA, and it is a major health risk 
"Interviews conducted with returning residents in Beitbridge revealed that many are spending long periods in detention facilities – a quarter of respondents had spent more than three years locked up, with limited access to healthcare and basic services! This is a real problem, both from a medical and human rights perspective," Uenishi says. 
Migrants are often detained summarily due to not having valid permits or when their papers have expired. According to the South African Human Rights Commission (SAHRC), migrants held in police cells are not allowed to be there for more than five days before being transferred to Lindela deportation facility. However, SAHRC has received reports of migrants being held in police cells for up to 3 months before being transferred to Lindela for deportation. 
There are three main facilities where international migrants in South Africa are sent to following arrest: police stations, prisons and the Lindela Repatriation Centre. The survey found that respondents had been to more than 2 facilities on average, with living conditions in police stations reported as being poorer than in Lindela, or most prisons. Only 26% of the interviewees had been tested for HIV and 9.4%, for tuberculosis, most in Lindela or prison. In police stations, the rates are much lower.
"Many of those whose papers expire before they are able to renew them must endure inhumane and often illegal conditions of arrest and detention prior to deportation, heightening the risks of contagion during the COVID-19 pandemic,"
Vinayak Bhardwaj, regional migration adviser for MSF in Southern Africa.
"We have long known about high rates of transactional and forced sex in certain facilities, yet respondents reported very poor access to condoms in detention, especially in Lindela," says Uenishi. Israel Chingosho, the lead counsellor for MSF in Beitbridge, recalls the particular case of a young man who was arrested by police in South Africa whilst taking a walk in the neighbourhood of South Africa's capital, Tshwane.
"His crime was not having his passport on him, and for this, he was detained with hardcore criminals, who raped him. He exhibited great fear towards other migrants and refused to be released together with the whole group. He was referred to the Beitbridge district hospital psychiatry unit for further assessment and management. Whilst in hospital he started having visual hallucinations of inmates trying to sexually abuse him. He had no money with which to travel home. We administered psychological first aid, and he was given money to get home," Chingosho says.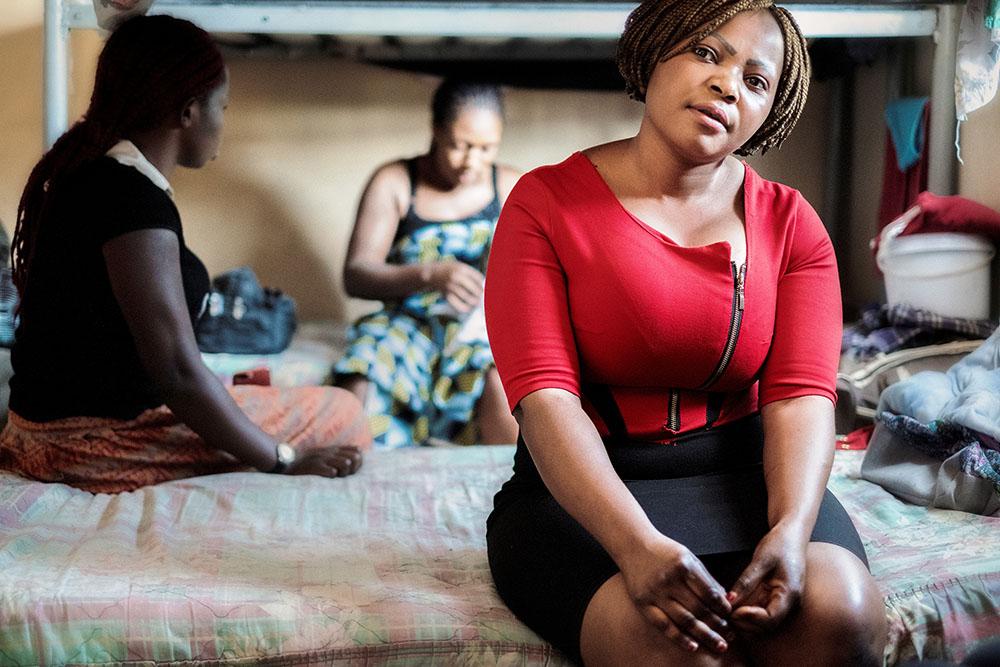 Frozen in transit
Across the border in Musina, a different set of insights were reported by interviewees, including the fact that displaced populations get trapped for lengthy periods of time, 9 months on average – 16 months in the case of Zimbabwean women,  in the border town. 
"This is much longer than what would be common for a transit point, and it has caused the infrastructure of support to mobile populations in Musina, including shelters and health facilities, to come under extreme pressure," says Vinayak Bhardwaj, regional migration adviser for MSF in Southern Africa, adding that migrants are becoming stuck due to South Africa's policy that asylum seekers and migrants renew their permits at the office of first application, forcing a large number of people to return to Musina, which was their first port of entry, in order to renew their documents. "This creates a huge backlog of people waiting to renew their papers," he says. 
 
MSF teams found that Central Africans in Musina are particularly hampered from accessing medical care, primarily due to language barriers. "To get around this for the period of the survey, MSF hired translators and accompanied patients to facilities, ensuring that they were seen and often experiencing significant resistance and resentment in the process," says Bhardwaj.
MSF does not have a permanent presence in Musina, however. "In terms of a longer-term solution it would be so good if South Africa's department of health could ensure that clinic signage and health promotion materials are available in other African languages in clinics near border posts, at the very least," Bhardwaj says. 
The survey also found that 23.74% of all Musina-based migrants reported having suicidal or thoughts of self-harm on at least some days, with the percentage rising to 37.66% among Burundian respondents. "We have definitely noted an increase in the number of women who have psychological or psychiatric problems, serious problems," says Sister Francis Groban, a social worker in the women's shelter in Musina.
"I think it's because of the traumatic situations that they're coming from in their home countries, but lengthening processes for asylum seekers are part of the problem, because this leads to overcrowding in the shelters, causing additional stress for residents who might have family they want to get to, maybe friends, but they can't leave because they don't have a permit," she says.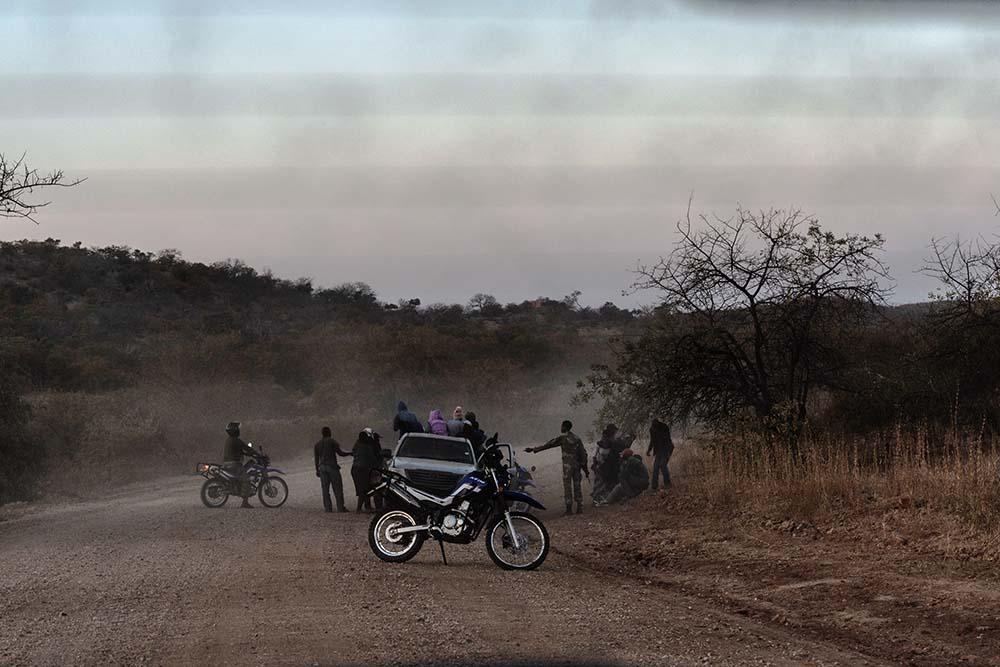 Single women at risk on a dangerous road
Back across the river, in Zimbabwe, Malawians in transit congregate in a very specific place – Magogo's House, owned by Ma Gogo, a Malawian traditional healer in her 80s. This informal shelter is located on the edge of town, near a forest but close to the bus terminal where Malawians travelling from home, or returning home from South Africa, would pass. A tent in the yard functions as a mosque and as overnight accommodation for Malawians in transit. "Others sleep in the forest and nearby wrecked cars, and only use the washing facilities at Magogo's," says Chingosho.
MSF teams spoke to at Magogo's place reported the highest levels of sexual abuse during their journey."Single female migrants were found to be particularly vulnerable, with 36 per cent having gone through an episode of sexual violence very recently," Chingosho says. He explains that the area is known for its smuggling and human trafficking activities, "and so the survey points to a possible connection between these activities and the sexual and reproductive health needs of respondents, as well as the concerning levels of sexual abuse that were identified."
During the COVID-19 pandemic, MSF rendered assistance to Malawian migrants staying in and around Magogo's, but longer-term solutions to address health gaps in this community are needed, including the provision of more options for mid-and long-term family planning methods in Beitbridge, with health promotion efforts particularly directed at unmarried women.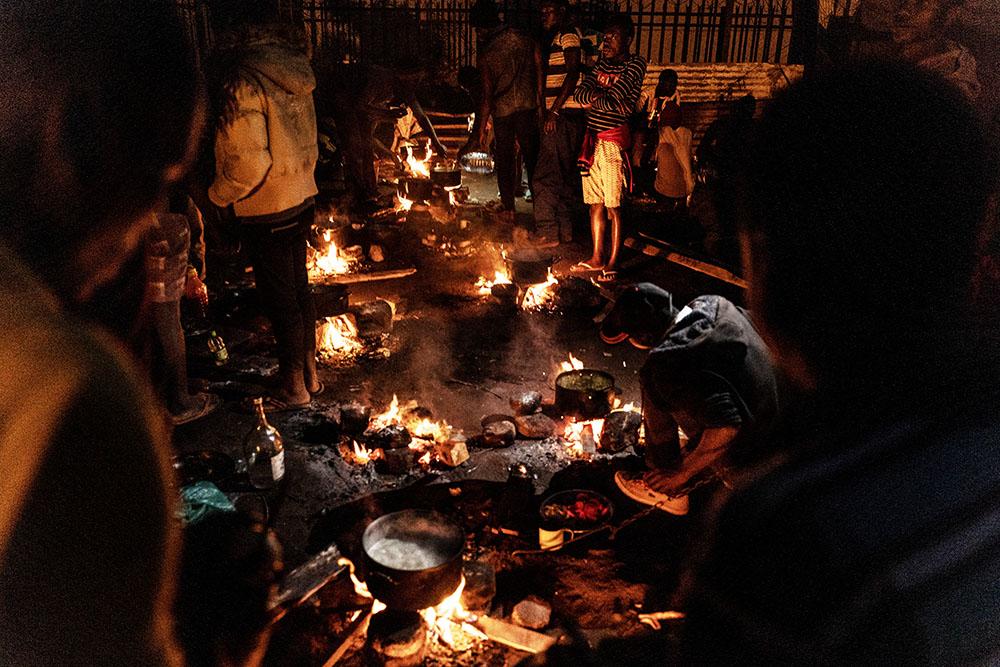 Progressive policy change is urgently needed
Bhardwaj says that while The Limpopo Migration Study does not point to an acute health crisis at the border, "it strongly outlines the risks of the current process, which often requires migrants and asylum-seekers to travel from the rest of the country to the border towns in order to renew their permits."
"Many of those whose papers expire before they are able to renew them must endure inhumane and often illegal conditions of arrest and detention prior to deportation, heightening the risks of contagion during the COVID-19 pandemic," he says, pointing out that the MSF team in Beitbridge reports an 80 per cent positivity rate among returning residents who are tested for COVID-19 at the border.
The survey highlights unmet medical needs that should be urgently addressed, but beyond this MSF and partners have been calling for a more considered approach to migration policy, one that acknowledges the reality of migration while promoting wider public health imperatives.
Doctors Without Borders (MSF) runs a project in Beitbridge, Zimbabwe which provides pre-departure healthcare support to migrants and asylum seekers in transit, as well as care for returnees and deportees arriving at the Beitbridge Reception Centre. The package of care includes both preventative and curative services/treatment as well as family planning and sexual and reproductive health services geared to the needs of people on the move. Recently, in 2020, MSF conducted a brief intervention in Musina targeting the various shelters and providing support to the Nancefield Clinic in rendering primary healthcare services to migrants and asylum seekers in transit to cities within South Africa.