Although a period of relative calm has been observed over the last two weeks in Rutshuru territory, the situation remains highly tense and volatile following the resurgence of the M23 armed group and the violent clashes that took place with the Congolese army.
According to recent estimations, over 190,000 people have been forced to flee their homes since the end of March 2022. Displaced people live in very precarious conditions, either in host families or overcrowded sites such as schools and stadiums. Far from their villages and fields, displaced families are deprived of their livelihoods, exacerbating the food insecurity for thousands of people.
MSF teams have been adapting their response to the evolution of the crisis and needs, but globally humanitarian assistance has been slow to deploy and has struggled to respond to all the needs so far. Here are the testimonies to highlight the living conditions of the displaced people in Rutshuru territory.
Ponsie Benda
54 years old - married, 13 children and he arrived in Rumangabo in June 2022 with five of his children. They sleep outside, against the wall of the Virunga National Park's primary school. They have no space in the school classrooms because they arrived after the others.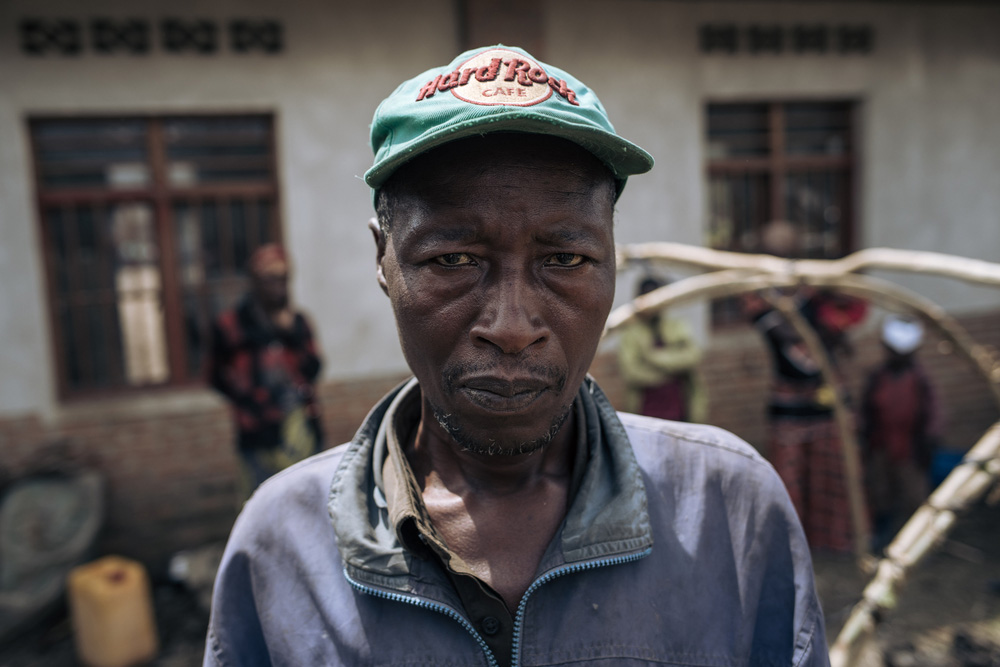 "I came to Rumangabo with five children; the others are in Goma. They fled on their side when the shooting started on the hills. We are here only with the youngest ones.
The whole family was in the field working when the shooting started. We ran away and walked for three hours to Rumangabo in the rain. We couldn't get back to the house. We left with what we had on us. We have not gone back to the village since.
Our biggest problem is food. We eat boiled leaves from Monday to Sunday. My wife takes it from other people's fields. She asks the owners first, but if they refuse, we spend the night without food. There is mutual help because the community knows how much we are suffering. They share the little they have.
We sleep outside. We don't have a house. There is nowhere to find shelter when it rains. We just try to protect the few things we have. I built this little shelter because I was lucky enough to find these wooden sticks, but I don't have a tarpaulin. I'm going to get some banana and eucalyptus leaves to cover it. That way, at least, the children will be a bit protected. 
No NGOs, no government, no one has come here. If we had received aid, we wouldn't be standing outside like this, and we would at least have food.
I am a farmer, that's how I feed my family, my children. I don't know how my children can grow up in the war. If we were at home, I could take care of them with my crops and pay for their schooling. 
Why is there still war in North Kivu? This is not the first time we have had to flee. There have been other wars before, and each time we have to leave our village."
Obed Mashabi
20 years old - single, no children and he arrived at Rugabo stadium in Rutshuru centre on 28 March 2022. He is staying in one of the tents (community shelters) set up in the stadium, on a mat on the ground.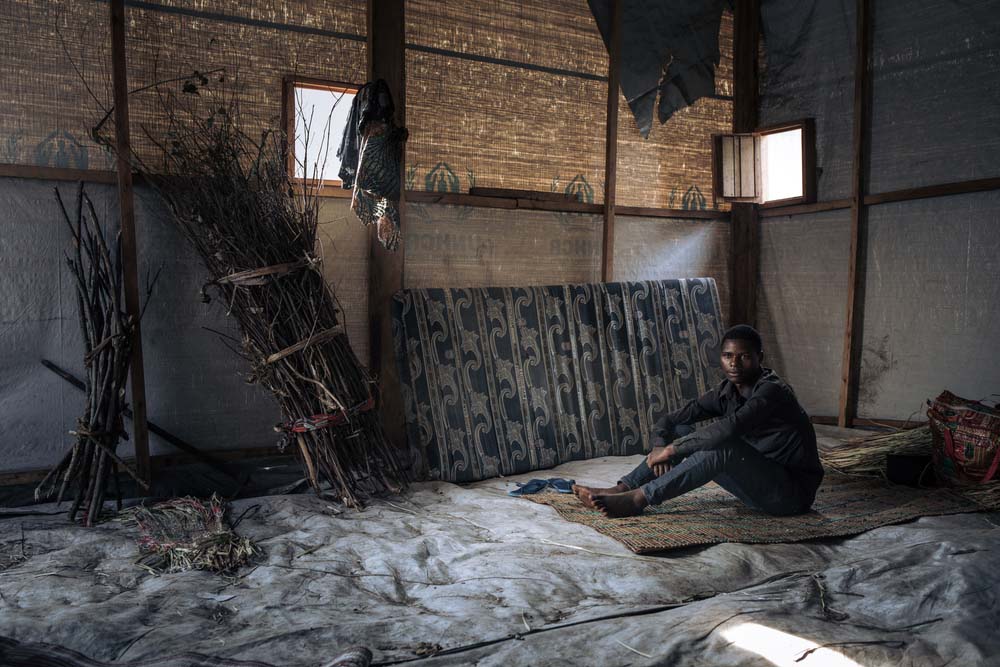 "From 20 March onwards, we started hearing gunfire and bombs. I was outside when a bomb fell on our neighbour's house and it caught fire. I ran away by myself, with nothing, just the clothes I had on me. I left first for Busanza. I stayed there for three days but there were new clashes, and I preferred to come to Rutshuru centre to be safe.
At the beginning, we slept in the stands of the Rutshuru stadium. There were no tents, like now. We have no pots, no cups... We have nothing to eat. Sometimes people, I know from my village give me some food that they collected from the neighbourhoods. 
We have food in the village, in the fields, but we can't go back. The war continues there. Everything must be rotting. I have no hope of returning soon.
I haven't heard from my family since 28 March. Some people told me they had fled to Uganda, but I don't have any details."
Agrippine N'Maganya
53 years old - widow, 10 children and she arrived at Rugabo stadium in Rutshuru centre on 28 March 2022. She is staying in one of the tents (community shelters) set up in the stadium.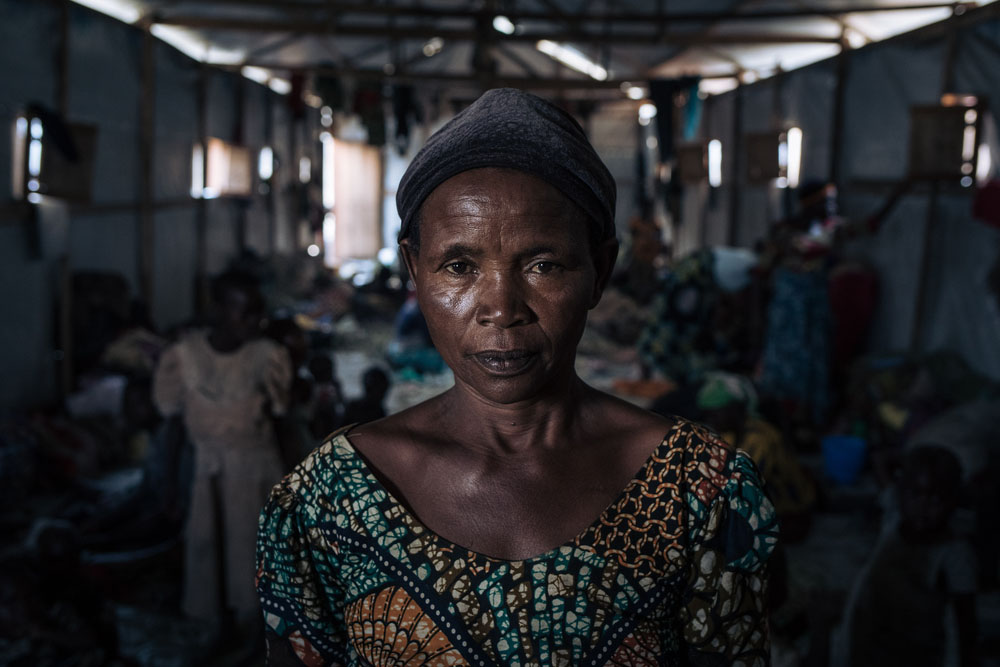 "We were already hearing gunfire, but when it became bombs, we ran away. That day I was out in the field planting bean racks. I tried to go home to get a few things, but it was impossible. 
We changed our route and went through the fields and forest. I came on foot to Rutshuru with one of my children and five others joined us afterwards. The others must be in Uganda. I have had no news since we fled. 
I have no family here in Rutshuru. I ask in the neighbourhoods for food for my children. I have never received any food distribution or basins and pots; nothing. When it rains, the water floods the ground in the shelters, and we spend the night in the water.
Since the end of March, I haven't been able to go home, even for a day. I have no hope of going home soon. There is no improvement.
After every war we go back to our village. We have no other place to go anyway."
Rachel Irakiza
35 years old - married, 8 children and she arrived in Kalengera in March 2022. She is staying with a host family in Kalengera. Her six-month-old child is being cared for by MSF in the intensive therapeutic nutritional unit in Rutshuru general referral hospital.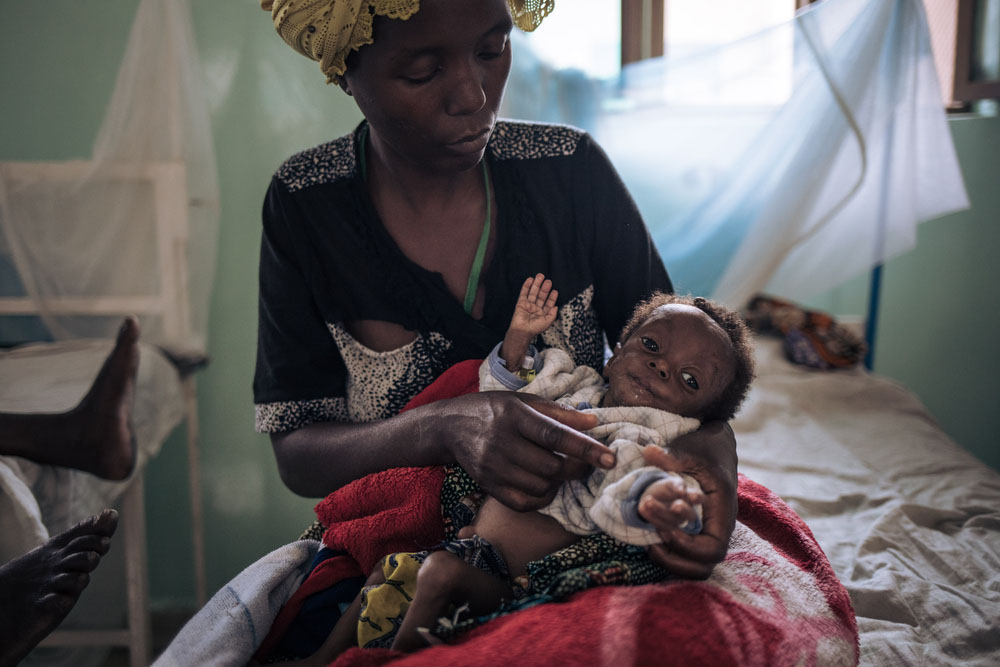 "We fled because of the clashes between the M23 and the FARDC (Congolese army). Around my house, several people have been killed and wounded. Houses caught fire because of the bombs that were falling. My uncle was injured in the fighting. I haven't heard from my husband since then. He was in the field when the attack took place and he fled on his own. I have been told that he is probably in Uganda now.
When I ran away, we got lost with the children. With the shooting, we each went in different directions. I was alone with the baby. When I arrived in Kalengera, I found my seven other children; people from our village had taken them with them.
We do some day labour in other people's fields to be able to buy food. But it's not enough. 
I came to the hospital because my child was crying; he had abdominal pains and was losing weight. Since he was born six months ago, I haven't had any milk. This has never happened to me before. I don't understand it. Even now, the child still has fever and diarrhoea. He cries a lot. While I am here in the hospital with him, the other children have stayed in Kalengera with host families."
Rachel Niyonzima
20 years old - married, 4 children and she arived in Rutshuru centre about a month ago. She is staying with a host family and was treated for malaria at the MSF mobile clinic set up in the Rugabo stadium.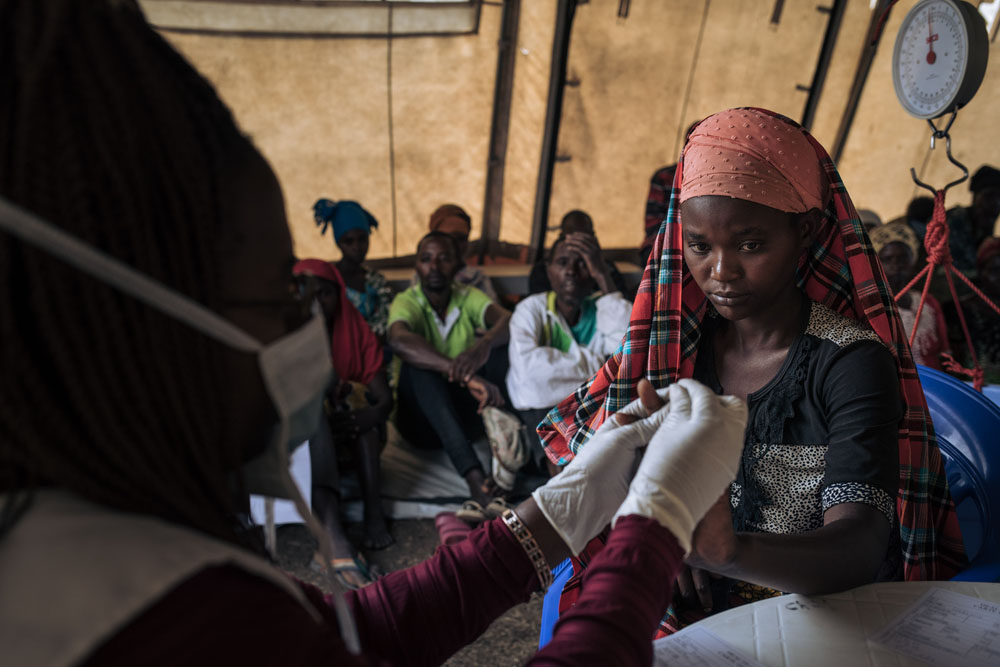 "Since yesterday, I have had chills, fever and headaches. This is the first time I've been to the clinic.
I don't know how long we have been here. It must be a bit more than a month. My husband and I had gone to the field to get food when we heard the bombs. We fled straight away without even returning to the village. Neighbours took our children and brought them here to Rutshuru. I only found my children two days later.
In the house where we stay, there are eight adults. With the children, we must be more than 20 people in the house.
"I can't go back to my house or to my fields to look for food, so I work in other people's fields here to earn some money. As soon as we have money, we go to the market to buy food, but it is not enough. I also have to go to the neighbourhoods to ask for food."