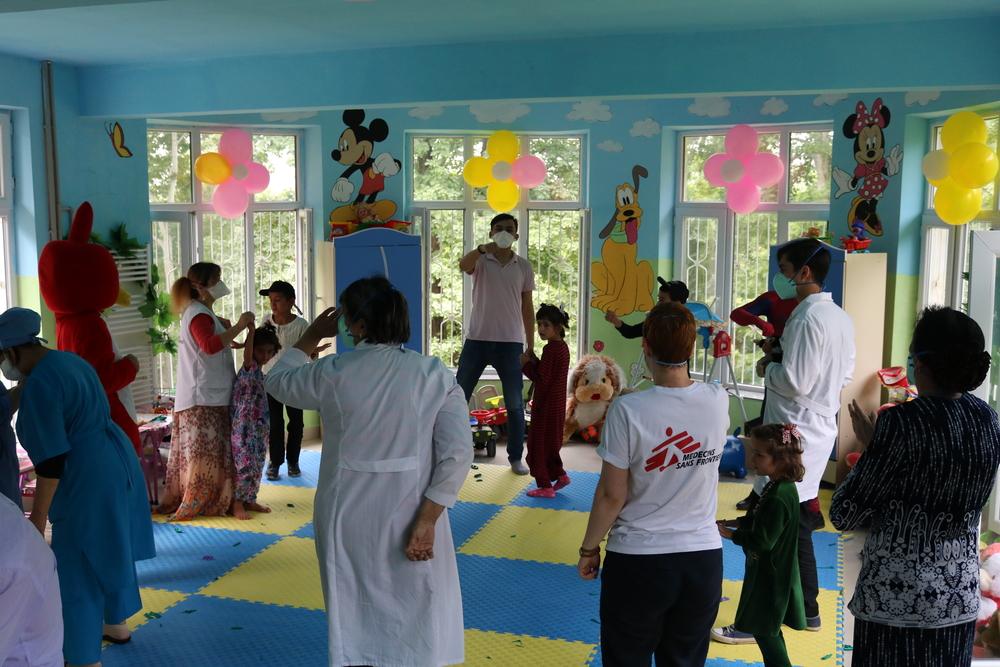 In Tajikistan, Doctors Without Borders (MSF) provided treatment and diagnosis of tuberculosis (TB) for children and their families, and adopted measures to protect TB patients against COVID-19.
During the global pandemic, MSF aimed to enrol all patients in the Family-Directly Observed Treatment (F-DOT) programme to shield them from COVID-19 as a vulnerable group. F-DOT allows a selected supporter (usually a member of the household) to administer TB treatment at home, thereby eliminating the need for the patient to travel to the health centre every day.
Our holistic model of care for TB patients also includes nutritional and psychosocial support. For those who were required to travel to a clinic for care in 2020, we developed a triage system to minimise the risk of the spread of COVID-19 within the health centres.

people started on treatment for TB
Of the new patients diagnosed with TB during the year, 66 percent were found through contact tracing activities and half of these were children. This demonstrated the urgency to adopt contact tracing as a key method to stop the spread of the disease in Tajikistan. In March, we started a pilot study in Dushanbe to diagnose and treat latent TB infection (LTBI) with new tests and shorter treatment regimens.
Standardised LTBI diagnosis and treatment protocols, based on the 2020 World Health Organization guidelines drafted by MSF in cooperation with the Republican Centre for Protection of the Population from Tuberculosis and other partners, will contribute to effective control of TB in Tajikistan.
In April, we handed over to the Ministry of Health and Social Protection of the Population the waste management zone at Machiton hospital (National Centre for Tuberculosis, Pulmonology and Thoracic Surgery), the construction of which was started by MSF in 2019 to improve waste management and infection control.
Our teams also ran a paediatric and family HIV project in Kulob city and the surrounding area from 2016 to 2020. The project raised the quality of care available for paediatric HIV patients and significantly improved infection prevention and control measures to reduce transmission.
It was successfully handed over to the Ministry of Health and Social Protection of the Population in March, after achieving its objectives of reducing the rates of sickness and death for paediatric HIV in Kulob.
No. staff in 2020: 76 (FTE) » Expenditure in 2020: €2.2 million MSF first worked in the country: 1997
Filter Tips
Try a different country, year, format, or topic.
Clear one or more filters