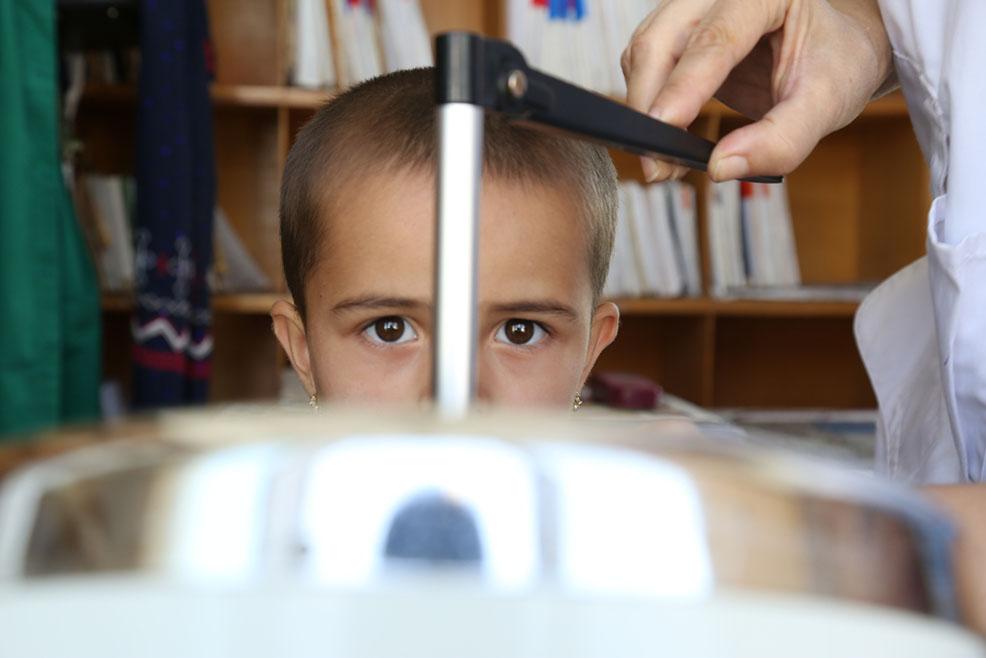 We are working with the Tajikistan Ministry of Health and Social Protection to diagnose and treat children with drug-resistant tuberculosis (DR-TB).
Where possible, we aim to treat TB patients at home and demonstrate that the comprehensive TB care model is feasible. This includes patient follow-up, active testing for new patients, laboratory diagnosis, individualised treatment and psychosocial support (including play therapy).
In the south of the country, we run the Zero TB project in Kulob, aiming for TB elimination. This project focuses on TB prevention and care in households, places where people seek care and where they work.
We have also started working in the penitentiary system with the aim of improving the quality of TB care and other comorbidities in the central prison hospital and strengthening TB screening in prisons and pre-trial detention facilities.
Our teams in Tajikistan are currently preparing to respond for the potential influx of refugees from Afghanistan.
Our activities in 2021 in Tajikistan
STAFF IN 2021 (FULL-TIME EQUIVALENT)
YEAR MSF FIRST WORKED IN THE COUNTRY
MSF IN TAJIKISTAN IN 2021
In Tajikistan, we expanded our comprehensive tuberculosis (TB) care programme to address gaps in the provision of treatment in the penitentiary system.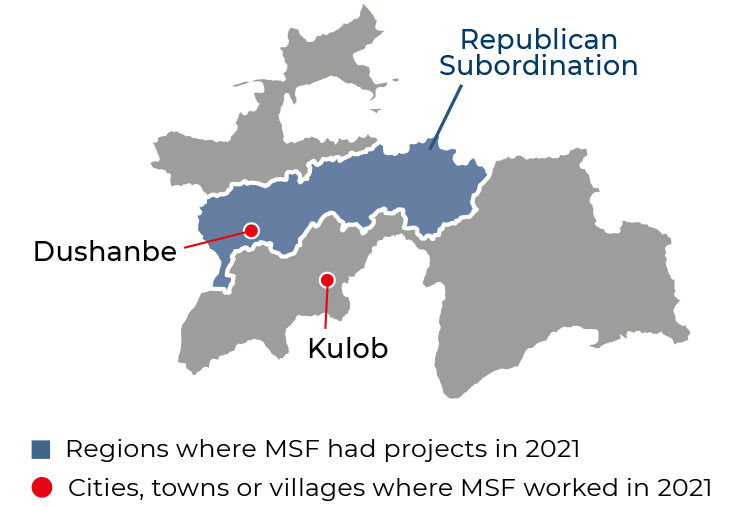 In 2021, for the first time, Doctors Without Borders was granted access to the Tajik prison system to offer TB screening and treatment to inmates. We started to provide treatment in the central prison hospital in the Vahdat district, which included the implementation of directly observed therapy, a practice whereby a trained health worker at the prison hospital watches the patient take their medication, as well as adherence counselling to help them comply with treatment. To minimise treatment disruptions, we ensured the continuation of TB treatment for people after release from prison.
Our teams continued to offer TB care to children and their families using family-directly observed therapy (F-DOT) as part of a holistic patient-centred care approach. The F-DOT programme allows a selected supporter (usually a family member) to administer TB treatment at home so that the patient does not have to travel to a health centre every day.
In 2021, we started implementing our 'Zero TB' project in the Kulob district, which aims to demonstrate the feasibility of eliminating TB by decreasing the incidence in the district to less than one case per 1,000,000 people through four key elements: detection, treatment, prevention and education. Zero TB focuses on TB prevention and care in households, workplaces and health facilities where people seek care. This unique approach engages various stakeholders, including the local community.
From May, we conducted various assessments to help identify existing gaps and define implementation strategies. In May, we also supported the emergency response to floods in Kulob by donating hygiene kits to affected households.
In October and November, we sent mobile clinics to provide basic healthcare and psychosocial support to Afghan refugees living in Romit, Vahdat district, following political upheaval over the border in Afghanistan.

PEOPLE STARTED ON TREATMENT FOR MDR-TB
Filter Tips
Try a different country, year, format, or topic.
Clear one or more filters