MSF's Project Coordinator at Epworth Clinic on the outskirts of Harare works with a team that has provided free, quality medical care to more than 30,000 HIV patients over the past decade..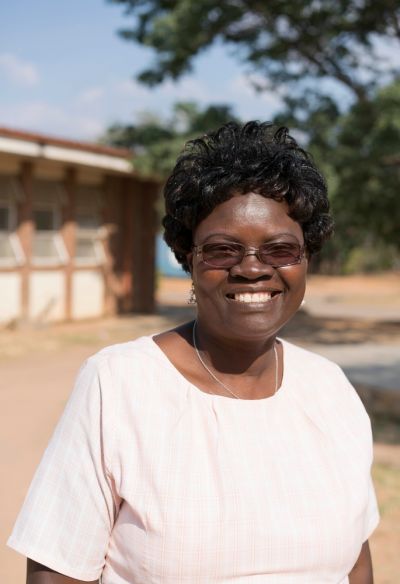 It's 8:00am and Alice Otiato walks through the grounds of Epworth Clinic in the bright morning sun, smiling as she greets patients and staff. It's already close to 30⁰C and Alice's work day has only just begun.
She stops at the day clinic where sick patients are assessed, and scans the room. Her eyes fix on a baby hanging listlessly over her mother's shoulder. Alice can see this child is unwell and asks the nurse on duty where the ambulance is.
The nurse says it has not yet been dispatched as they await confirmation that the cost will be covered by health authorities. It may only take another 20 minutes, but with the mother unable to pay the fee, and a life hanging in the balance, every second counts.
Alice is quick to react, reassuring the nurse that Doctors Without Borders (MSF) will pay the fee. The nurse calls the hospital. Within 10 minutes, the ambulance arrives, taking the sick child to the central hospital for urgent treatment.
The situation is critical, but this day is not much different to most days for Alice, who is MSF's Project Coordinator at Epworth Clinic on the outskirts of the Zimbabwean capital, Harare.
"My typical day at Epworth is busy. You never know what's going to come up," Alice says. "We have a cohort of over 11,000 patients, so on average we see 350 to 400 patients every day. All of them are different: you have children coming in who are HIV positive, you have mothers, fathers, you have adolescents, so it is a mixed bag really."
In the late 1990s, and at the height of the HIV epidemic, Zimbabwe was one of the countries worst-hit. At its peak in 2000, over 30% of the population was HIV positive, many without access to even basic treatment.
In 2005, MSF set up Epworth Clinic in partnership with the health ministry. A year later the clinic's HIV programme was established. Since then it has grown from one humble building into a fully fledged community medical services hub, featuring a laboratory, pharmacy, consultation rooms, a day clinic, meeting facilities and a youth-friendly corner, where counseling sessions and support groups take place.
Along with providing general health care, Epworth Clinic has in the past 10 years ensured more than 30,000 HIV patients receive free, quality medical care.
Addressing gaps in treatment
Today, the number of people who are HIV positive in Zimbabwe has reduced to 15%, but major gaps in treatment remain. This is what community programmes like the one in Epworth seek to address.
The ministry of health is overburdened, the cost of antiretroviral (ARV) treatment is high and staff are in need of training, Alice says. But since MSF started working in the area, "HIV patients now have access to medications they need and nurses are trained to prescribe that medication (ARVs)," she adds.
"MSF has campaigned for access to ARVs and donors are helping pay for those drugs and now we have the National Pharmacy distributing them to health facilities around the country."
Alice, who joined MSF in 2012, has worked on previous assignments with MSF in South Sudan, Ethiopia, and Angola. The MSF's humanitarian imperative what keeps her committed to the organisation's work, and she was drawn to working at the Epworth project in particular because her sister has been living with HIV for 20 years.
"There is life beyond HIV if you talk to the HIV patients," Alice says. "I have my own sister, who is HIV positive, and has been taking HIV medication and is coping very well. She's living positively, she works with the city council of Nairobi ... She has seen her children grow, she now has grandchildren and is going to retire in a few years' time."
"There is hope, people should not give up," Alice says, recalling the young children who arrive at the clinic dehydrated, HIV positive and seriously ill. But after they begin treatment, their condition improves and they are soon running around and playing.
"That is what keeps me going," Alice says. "MSF is able to help the vulnerable, is able to lobby for the voiceless, is able to make a difference. And that difference for the patient, when they tell me 'thank you', is what drives me."
Find out more about MSF's work in Zimbabwe.