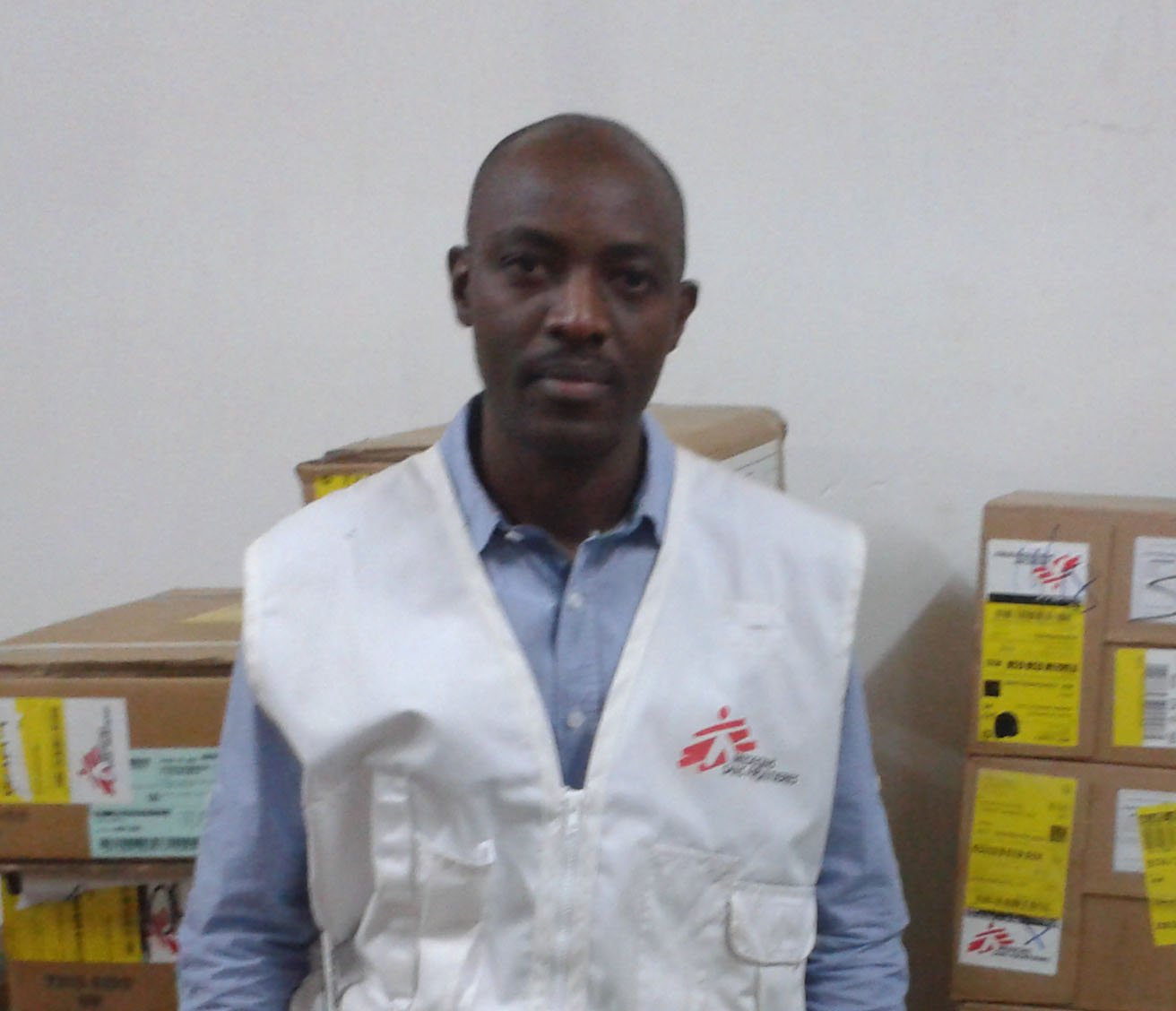 Jean-Claude Mwitende, aged 32, returned from the Central African Republic (CAR) where he worked for 6 months as the central Pharmacy Manager in Bangui, the capital. He was responsible for coordinating all the pharmacy activities supplying medicine to the three MSF sections and several projects in CAR.
Can you describe the context in CAR?
Security was a huge challenge and it severely affected our activities and projects a lot. During September we had to evacuate the majority of our staff following some shootings. I was among the seven staff members left to do the work following this incident. The team was quite small and it was virtually impossible for national staff to come to work because there were barricades on the roads.  We were just three at the Central Pharmacy and work pressures were heavy. Although it was a good challenge, I worked even on Saturdays and at times on Sundays. The refrigerators had to be checked constantly at least twice a day to ensure the correct temperatures were maintained at all times for vaccines and other medicines.
 
What was the hardest part of your job?
Making medicine and other medical supplies available to our operations was not easy, but it had to be done. MSF's operations in Central Africa are extensive, the projects are big and because of the medical needs, the activities would be increased at any time. These were not planned and provision of medicines was not always easy to manage. So, I had to adjust to accommodate the new activities and ensure they had the necessary medical supplies. By managing such a huge project, I increased my competency and skills. It was a really rewarding and good experience. 
 
What motivates you to keep working for MSF?
I am part of the medical team and if I help people who need our medical services by managing medicine supplies I am satisfied and this keeps me motivated. MSF's principles of independence, impartiality and neutrality, also drove me.
 
Which of the team members made an impression on you?
Our stores manager, Prudence, really impressed me. She would try hard to come to work even when there were barricades on the roads that made it difficult for local staff to come to work. I saw a dedicated person in Prudence and for that, I am eternally grateful to have known her and to have her in my team.
 
What was the most memorable moment for you while in CAR?
Being able to help resolve the problem of stock-outs of essential medicines was the most impressive moment for me. I organised a full charter of medical supplies. The supplies arrived on the 25th of September and the evacuation of staff happened a day later. We had to work until 10pm every day to ensure we sorted the orders and also provided the different project pharmacies with the medicines. The supply co-ordinator and I were the only two people available to work on this huge stock. This is such an outstanding and most fulfilling memory for me because we even managed to do it.
Why did it matter for you to go to CAR?
I was in Niger before CAR where I worked as a Project Pharmacy Manager. Niger is a stable environment and very much different to CAR. So when this assignment was proposed to me, I leapt at the opportunity because I wanted to have a different experience.
 
How does your family feel about you working with MSF?
My family is quite supportive, especially my fiancée. They always checked on me while I was away on this assignment. CAR was a different and difficult context, so they were extremely worried about my safety and well-being. Whenever they heard anything on the fighting in CAR on radio or TV, they would call me and I always assured them that I was fine.  
Find out more about MSF's work in CAR