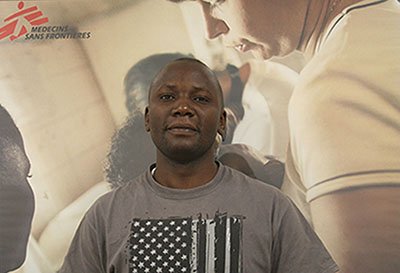 A Kenyan nutritionist treating people displaced by conflict in Nigeria's Borno State says MSF's work helps ease the crisis for those worst affected.
Deep in northeast Nigeria's restive Borno State, the Sambisa forest is out of bounds to civilians. Boko Haram fighters use it as a refuge in their ongoing war with the Nigerian military, while the nearby towns and villages become the frontlines of the conflict.
Bama, a town on the outskirts of the forest, is mostly abandoned today, consisting of little more than a large camp housing thousands of people displaced by the fighting. "Bama is war-torn," says Job Kamanda, a 29-year-old Kenyan nurse nutritionist with Doctors Without Borders (MSF) who recently spent six months treating patients in mobile clinics around Borno State. "It is a big town but it's been destroyed by war. It's just the camp for internally displaced people, or IDPs, that's left there, and the military camp."
Job worked from the capital, Maiduguri, and travelled around Borno conducting short, focused medical interventions for children suffering from malnutrition in camps across the state. "We did mobile medical treatment in many IDP camps, including in Bama. We'd travel from town to town, set up tents and run the hospital for 3-4 days from 7am to 6pm. When we were done – even if it was after two days – we'd dismantle everything. We couldn't have permanent presence in the camps because of insecurity. It's too much of a risk."
Months of intense fighting have left Borno State devastated. Job says in towns like Bama, the distant sound of gunfire and explosions often kept him awake at night. "Bama is about 1km away from Sambisa forest, which is where the Boko Haram fighters stay. We would often hear explosions."
'Devastating situation'
Compounded with the conflict, the persistent crisis has trapped ordinary people in enclaves and security controlled IDP camps where they are often cut off from basic humanitarian aid and supplies, including food and healthcare. This is one of the factors that has worsened the nutrition crisis.
"The first time we went to the camp in Bama, we saw kids so desperate, so wasted, in so much pain. These are devastating situations where people are cut off from having their most basic needs met– they can't even get food, shelter, water. People cook leaves, not food. Some have nothing to cook at all," Job says.
The lack of essential food items has left pregnant women and small children worst affected. In June 2016, MSF found extremely high rates of malnutrition across Borno State; a rapid nutritional screening of 800 children in Maiduguri at the time found that 19% suffered from severe acute malnutrition. As a result, MSF also added food distributions to the organisation's medical interventions in the region.
"We saw a lot of improvements after we started treatment and food aid," Job says. "Initially in Bama, we found more than 300 kids with severe acute malnutrition and 600 others who had moderate malnutrition. When I returned to the camp just a month later, none of these children were even moderately malnourished. They were all okay."
'The results of your work are felt almost immediately'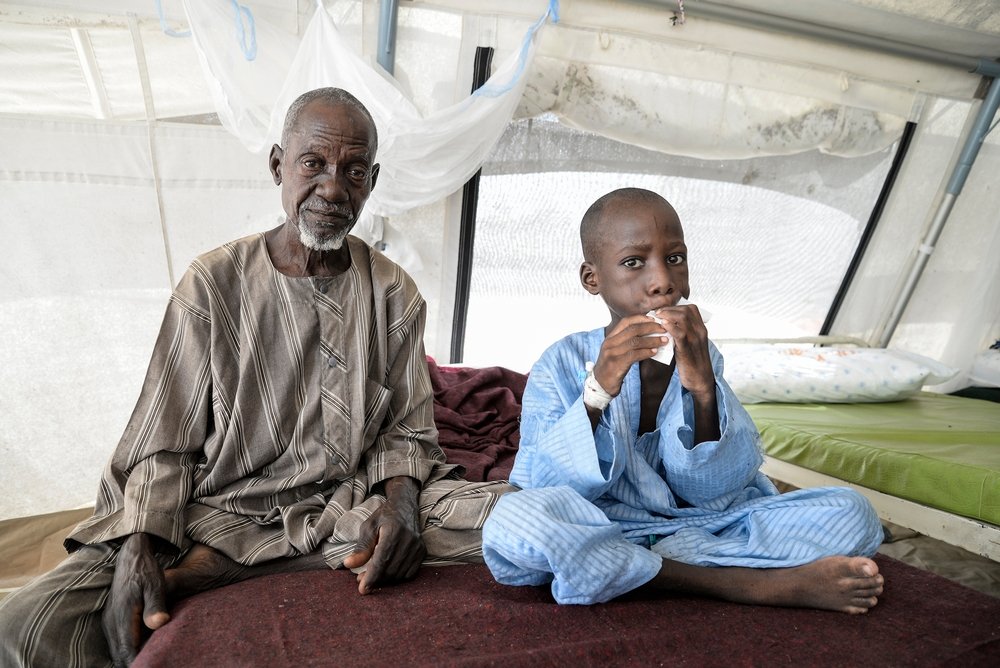 "What is good about treatment of malnutrition is that when you do it well, you see the results," Job says. "I love working on nutrition because it is one of the fields in the medical world where the results of your work are felt and seen almost immediately."
He says the intense security situation coupled with the high number of patients made Borno State a challenging assignment, but seeing the results of his work gave him hope. "We saw very many cases, some were really bad, but they eventually improved so much that the same kids were running around and playing a month after we first saw them. With other areas of medicine such an outcome would depend on many factors in the situation. But with malnutrition you know you can help and the patient will survive."
"There are security threats in northeast Nigeria, but there are also huge needs. I believe what MSF is doing on the ground is more important than anything else. If we don't go there because we fear insecurity, a lot of lives will be lost. If I have fear, and someone else has fear, and we all do nothing, there will be more of a crisis than there is today."
 "It really felt good working in Borno State, in spite of insecurity, in spite of what was happening on the ground," Job says. "We are there giving people the help they needed most. We really touch people's lives in a very positive way and they remember how we helped them."
Find out more about MSF's activities in Nigeria.