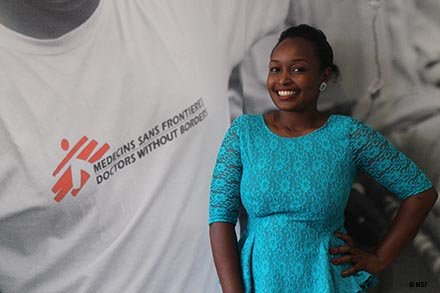 MSF's outreach team leader in Dolo Zone in the Somali region of Ethiopia brought primary healthcare to patients in the most remote areas.
The Dolo Zone of northeast Ethiopia, near the border with Somalia, is a remote semi-arid desert region where communities of Somali pastoralists have their temporary homes. For six months last year, Kenyan clinician Stella Nthiga worked there as the outreach team leader responsible for 11 Doctors Without Borders (MSF) primary healthcare outreach posts.
"These communities are nomadic pastoralists who rear animals such as camels, goats and sheep. In such a dry region where there are only a few wells, people moved from one place to another looking for water for pasture," she says. "What MSF did was target the areas where people moved to find water, and set up outreach clinics to treat them where they were."
From MSF's health centre in Danod and a bureau of health hospital in Wardher that MSF supports, Stella and seven colleagues would load themselves into one vehicle, with a week's worth of supplies – including drugs and equipment – packed into another. They would then venture out to do daily interventions which included maternal and child care, immunisations and nutrition treatment.
While some outposts had small buildings in place, in at least half of them, the team had to set up temporary structures in which to treat their daily patients. "At first, in some locations, we even did consultations under a tree," Stella recalls.
Many of these communities settle in isolated areas, some over 80km away from any medical care. "If you expect everyone to come walking all the way to the health centre, they will never come. I think it's better to go out to them every day than being in one main structure waiting for the people."
Stella believes in taking a proactive approach to her work – going out to find the patients where they live, doing health promotion in the communities MSF serves, and empowering teams of local staff and community members to make stronger decisions in the face of a challenge.
"I'm more concerned with prevention than just cure. I understand that in these remote contexts we might not reach everyone. So I think it's best for people to own their own health. And I used that approach as a way to empower people," she says.
 'With MSF, I feel I am giving the best to the patient'
Across the region, Stella's a main concern was the low number of pregnant women they would encounter. Because of the far distances patients would need to travel to get to a hospital, most chose to deliver their babies at home – even women with complicated pregnancies. As a result, the team piloted the idea of 'homestays' for especially at-risk pregnant women to live near the hospital until they delivered.
"We convinced these pregnant women that since they needed to come from far we would provide a home near the hospital where they could stay together and be monitored in their last month. I personally made up a small room at Danod health centre to start the first homestay. The structure was already there – one of the outpatient rooms– I put two mattresses down, cleaned it up and it was ready to be a homestay for the two first women we brought in."
Stella also led a community driven health promotion project which used songs and drama to educate the population about disease prevention. "There was a song we taught the community about good hygiene, a song about the Five Fs: 'fingers, flies, faeces, fluids, food'. We taught it to a few children at first and soon we heard everyone singing it randomly. They had all taught each other!" she says.
"The communities were able to take up the messages from health educators and make them their own, in their own contexts and in their own language. It was the most meaningful thing for me to just be able to work with these communities, to see people adapting and accepting, and getting into a system where they are now able to help themselves."
"I see my work as a calling," Stella says. "For me, when a patient is well and happy and going home – especially the ones who were really, really sick, but who are now running and walking when you discharge them – that's the best feeling."
"When I see a smile on a patient's face who has recovered, it gives me a lot of satisfaction. With MSF, I get that. When I work with MSF I feel like I am giving the best to patients with the greatest needs. If I was in their position, that's the care I would like to receive; I'd want MSF to be helping me. So giving that help gives me that satisfaction. I know I am able to reach those people who really have no one and nothing else."
Find out more about MSF activities in Ethiopia.