As at 24 April, the total number of people who have been diagnosed with COVID-19 in South Africa was 3953. One person has been diagnosed with COVID-19 in Eshowe, KwaZulu-Natal, where Doctors Without Borders (MSF) has a project and is exploring site options for a field hospital for moderate cases.
In Khayelitsha, Western Cape, 77 people have been diagnosed with COVID-19. Our team is developing a 60-70 beds field hospital (level 5). 
The national lockdown continues, although phased deregulation will commence on May 01. The World Health Organization (WHO) this week applauded South Africa's COVID-19 infection control strategy as "incredible", while UN secretary-general, António Guterres, named South Africa among nations guilty of a disproportionate response to the crisis.
MSF is an independent medical humanitarian organisation providing impartial medical care and speaking out to raise concerns of people in distress. In South Africa we work in partnership with the national & provincial Department of Health, however, we reserve the right to speak out when we witness instances of risk and possible harm.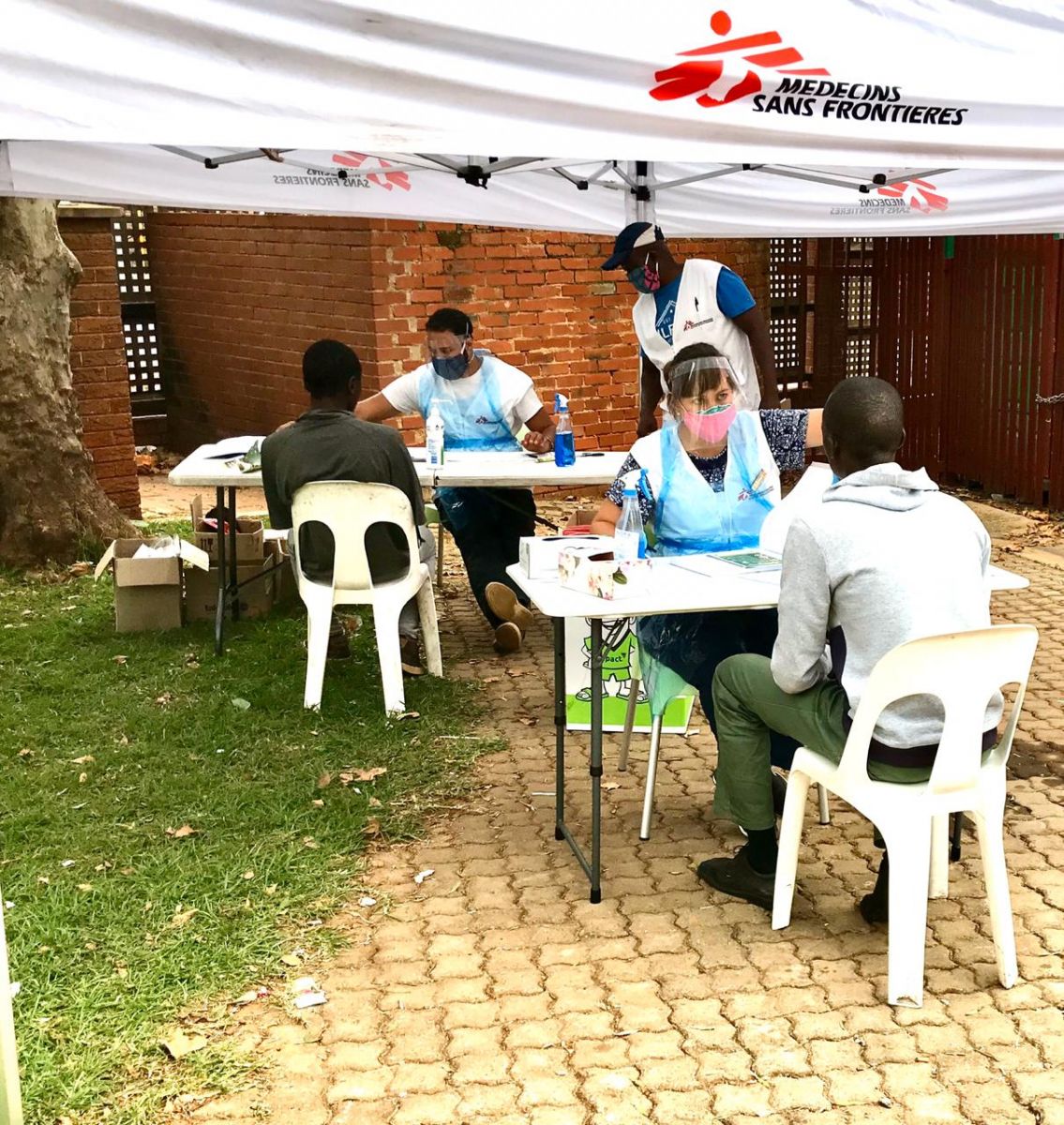 Snapshot of MSF operations in South Africa 
COVID-19 response in Khayelitsha
MSF will begin establishing a Level 5 facility in the Thusong Community Sports Hall adjacent to the MSF Khayelitsha office, which will practically function as an extension of the Khayelitsha District Hospital. A pharmacy order has been made, although procuring certain supplies remains a challenge.
The project aims to transition from community screening and testing to support on facility screening and testing. To limit non-essential clinic visits for people living with HIV the Khayelitsha, MSF drivers have picked up over 2,800 medication parcels from central dispensing units, delivering them to community pick-up points throughout Khayelitsha.
Community collaboration in Eshowe, KwaZulu-Natal
To safeguard TB/HIV patients, MSF is supporting the establishment of 35 medication pick up points in communities, as well as a call centre that is working to establish the addresses of 17,000 people on chronic medication. The team is supporting the pre-packing of the medication parcels, and has organized that the District's 27 MDR-TB patients will receive treatment and care at their homes. MSF was instrumental in establishing the local COVID-19 task force, comprising government, civic and religious role-players. A sub-committee of the task force is scouting potential sites for a field hospital for moderate cases, to be established by MSF. 
Supporting Triage and patient flow strategies
MSF has been supporting triage and patient flow strategies in two community health centres in North West Province, and is in discussion with the provincial hospital in Rustenburg to do the same. Rustenburg team members are currently supporting the Johannesburg team with Health Promotion strategy and implementation, and MSF Rustenburg nurses support contact tracing, screening and testing in neighbouring Gauteng Province. 
Covid-19 screenings and testing in Johannesburg
The Johannesburg team has conducted 406 COVID-19 screenings and 124 HIV tests in 3 shelters for the homeless, giving cloth masks and dignity kits to all residents. Access to healthcare for shelter residents remains a major concern. 
Caring for the homeless in Tshwane
MSF works in 11 Tshwane shelters for the homeless, providing primary healthcare services, mental health services, social services, health promotion, water, sanitation and hygiene services, and is exploring being able to support methadone provision in shelters.
Read more about MSF's activities in South Africa.