As fighting in eastern Ukraine continues to escalate, Doctors Without Borders (MSF) urges all parties to the conflict to halt shelling of hospitals and ensure civilians can reach safe places.
In response to the surge in violence over the last two weeks, the organization is urgently expanding its support to hospitals on both sides of the frontline as continued heavy fighting traps civilians in frontline towns and doctors struggle to deal with influxes of wounded patients.
Medical facilities continue to be shelled, forcing staff to flee and depriving thousands of people of vital health care. In just the last two weeks, five medical facilities supported by MSF have been damaged or destroyed by shelling or rockets.
"Civilians and medical staff on both sides of the frontline are bearing the brunt of this conflict," says Stephane Prevost, MSF head of mission in Ukraine.
"At the same time, the rapidly deteriorating security conditions mean that access for organizations to provide humanitarian aid to people who desperately need it is severely limited."
Thousands Trapped
On January 29, an MSF team reached Gorlovka, one of the hardest-hit cities on the frontline. Thousands of civilians who were unable to flee the fighting are now trapped, with only one narrow and extremely dangerous entry road in and out of the city.
The team visited the main trauma facility, Hospital #2, which MSF has been supporting with medical supplies since June 2014.
During the visit, there were more than 100 wounded patients in the surgical wards, with the deputy director of the hospital reporting that between 30 and 100 emergency cases are arriving every day.
"Many of the hospital's doctors have fled," says Hugues Robert, MSF's emergency program manager. "The remaining ones are working around the clock trying to care for all the wounded, in addition to other patients.
We are scaling up our support to the hospital this week in order to relieve the pressure on the staff and ensure they have the necessary medicines and materials to continue treating patients."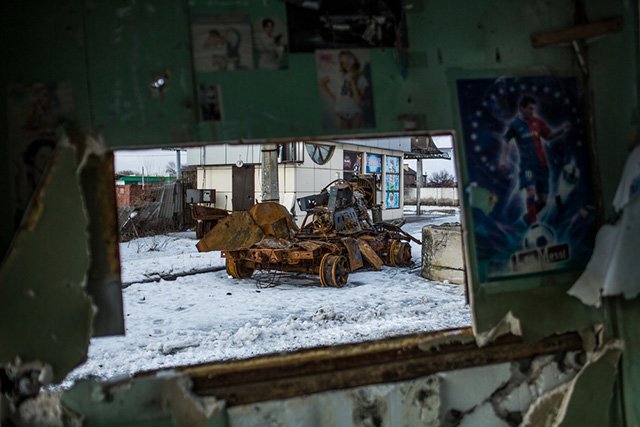 Hospitals Under Fire, Health Staff Fleeing
Some 25 miles to the east of Gorlovka, fierce fighting has cut off all access roads to the town of Debaltseve, leaving thousands of people trapped.
The head doctor of the town's main hospital has reported to MSF that after the facility was damaged by shelling several times since January 23, the majority of staff fled for their lives.
As the sole remaining physician, he is limited to providing only basic first aid to patients.
MSF has been supporting the hospital with supplies since September 2014 and, January 31, the team managed to send more medicines and medical materials, including sutures and dressings.
The nearby Svitlodarsk hospital, also supported by MSF, was also hit by shelling on January 26, and all staff members have left.
"We are doing all we can to give further support to the remaining hospital staff in Debaltseve, but intense fighting is preventing our team from reaching the town," says Prevost.
Slideshow: Delivering medical care in the warzone
With Debaltseve and Svitlodarsk hospitals no longer running, wounded patients are flowing into Artemovsk hospital, 25 miles away.
It is now the only functioning hospital for the surrounding area and is receiving wounded from all along the frontline, as well as non-trauma patients evacuated earlier from Svitlodarsk and Debaltseve.
In the last two weeks, MSF has provided enough medical supplies to treat 400 wounded patients as well as medicines for primary health care and treatment for patients with chronic diseases.
On January 30, an MSF team also returned to Marinka hospital, about 22 miles west of Donetsk city, where they had delivered medical supplies five days earlier.
January 26, the day after the delivery was made, the hospital was hit by shelling and all staff were relocated to a nearby town. MSF has supported the hospital in nearby Kurakhovo and will distribute relief items to people in Marinka and surrounding communities.
More Than Wounds
Since the fighting began to intensify two weeks ago, MSF's teams have been focusing efforts on assisting medical staff working in the hardest-hit areas on both sides of the frontline.
In addition to providing support in Gorlovka, Debaltsevo, and Artemovsk, they have also delivered medical supplies for treating wounded patients to medical facilities in Donetsk, Konstantinovka, Krasny Luch Kurakhavo, Luhansk, Mariupol, Popasnaya, and Yenakijeve.
With medical supply lines to many health facilities cut for more than six months, MSF is also supporting doctors to treat patients with chronic illnesses such as diabetes, heart disease, asthma, and hypertension, by providing medicines to hospitals, health centres, and hospices for elderly and disabled people.
Teams have also begun supporting a number of maternity wards with supplies in order to ensure women can give birth safely.
As the conflict stretches into its tenth month, the psychological impact of the protracted fighting is also becoming increasingly clear.
MSF currently has 14 psychologists providing individual and group counselling sessions for people affected by the conflict, including displaced people, wounded patients, health workers, teachers, social workers, children, and elderly people, and is providing training to local psychologists, social workers, and medical staff working throughout the affected region.
Since May, MSF teams have provided medical supplies to around 100 medical facilities on both sides of the frontline in Donetsk, Luhansk, and Dnepropetrovsk regions, enough to treat more than 15,000 wounded patients, 1,600 pregnant women, and 4,000 patients with chronic diseases.
MSF is also continuing its drug-resistant tuberculosis treatment program within the regional penitentiary system in Donetsk, which has been running since 2011.
Find more about MSF's work in Ukraine