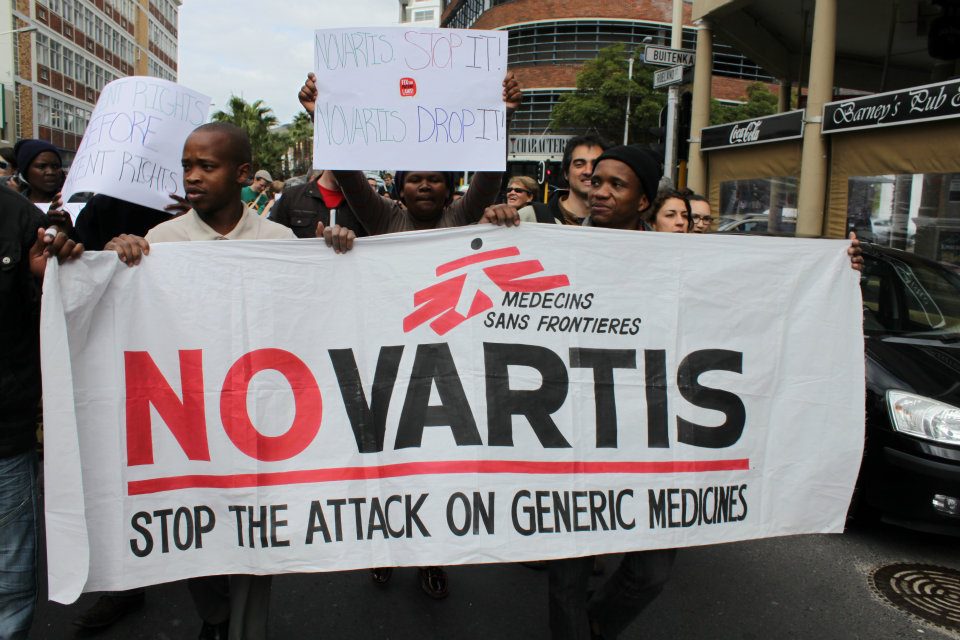 Photos by: Mary-Jane Matsolo
Cape Town – Health activists, academics, medical doctors, government representatives, and lawyers today held a rally protesting the drug company Novartis' court case against the Indian government, warning that the case could have a devastating impact on access to affordable medicines. The rally was part of a closing march of the 3rd People's Health Assembly, which took place from July 7-July 11 at the University of the Western Cape. Representatives from Doctors Without Borders (MSF), the Treatment Action Campaign (TAC), Section27, and the People's Health Movement spoke at the rally.
"A win for Novartis will restrict generic access to medicines both within my country and across the world," said Leena Menghaney, manager of MSF's Access Campaign in India. "The threat to the developing world is real – millions of people rely on affordable drugs from India. If patents are granted more easily in India, patients across the world will see their supply of life-saving drugs dry up."
Ever since India refused to grant a patent to Novartis for a cancer drug more than six years ago, the company has been seeking to weaken the core part of India's patent law that formed the basis for the patent being rejected. 'Section 3(d)' of India's Patents Act limits drug patenting in the interest of public health, requiring new drugs to show improved therapeutic efficacy over existing ones in order to deserve a patent. This provision complies with international trade rules and is specifically designed to prevent pharmaceutical companies from abusively extending their patent monopolies for making obvious improvements to existing drugs. The case is meant to have a final hearing at the Indian Supreme Court on August 22.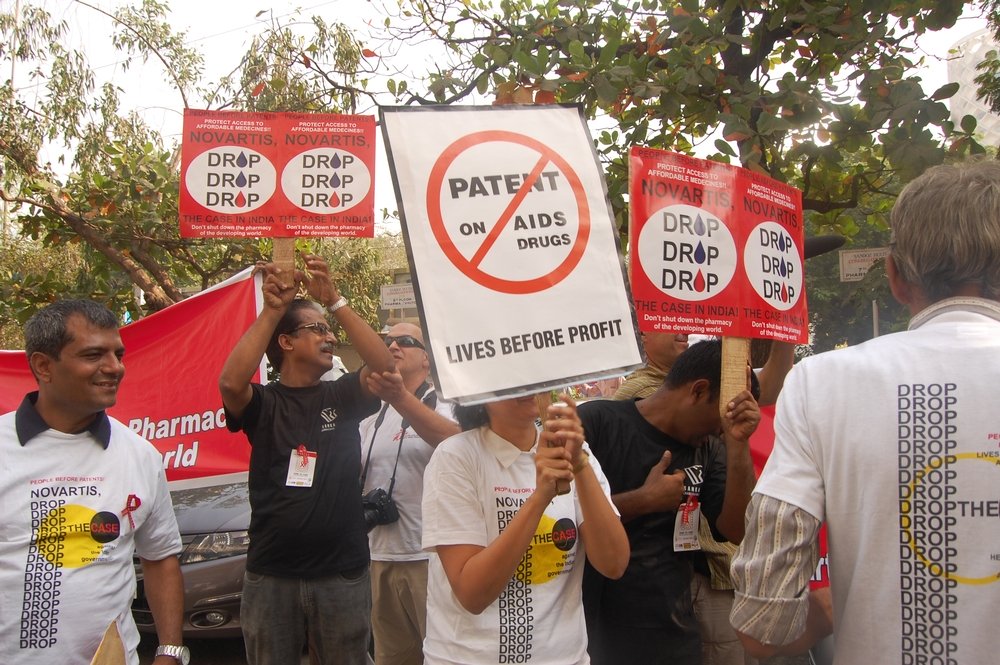 Should Novartis win, patents would be granted far more broadly in India, blocking the competition among multiple producers that drives prices down. It would also mean that other big pharmaceutical companies who have pending patent applications on important HIV medicines in India will be easily be able to push for patents on new forms of these medicines, including on their fixed-dose combinations (when the drug is combined with other medicines into a single pill), paediatric versions and formulations that are better suited to warm climates. This will make generic producers vulnerable to expensive lawsuits, which have a chilling effect on generic competition in the long run.
"As a person living with HIV, and reliant on generic medicines, I call on Novartis to drop the case against the Indian government. This may be about profits for them, but it is about life and death for me," said Sydney Makgai of the Treatment Action Campaign. More than 80% of the anti-retrovirals in Africa are sourced from generic producers in India.
"3d has been important in blocking patents on fixed-dose combinations and paediatric versions of drugs in India. Because South African law does not have a version of 3d and allows for new patents on old medicines, FDCs and paediatric versions of medicines, which are crucial to the battle against HIV and TB, can be patented here," said Daygan Eager, Researcher with Section27. "Patients groups and medical organisations look to Indian law as a positive example that other developing countries facing a high burden of disease can follow. If Novartis wins the case, this sets a negative precedent not only in India, but around the world."
FOR MORE INFORMATION PLEASE CONTACT:
Borrie LaGrange, Doctors Without Borders [email protected], +27 832 875 294
Find out more about MSF in South Africa