Katsikas Camp, Greek city of Ioannina, near Albanian border.
 
In Katsikas, a Greek camp for asylum-seekers, members of the Yazidi religious community have counted themselves and they are 242. They didn't know each other before they only met in Greece's Piraeus port, and decided to stay together to help each other.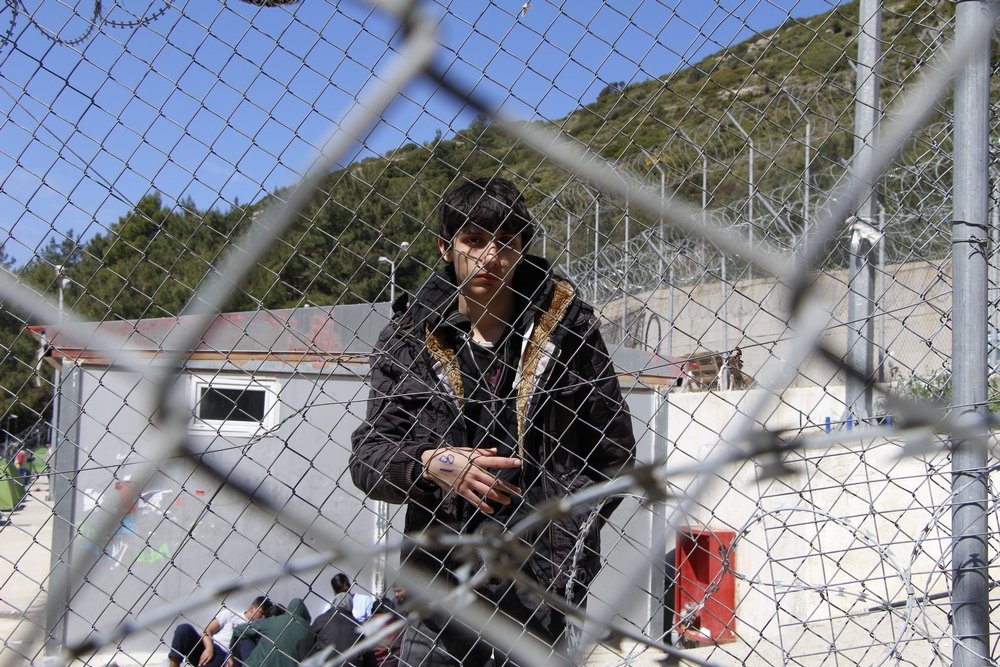 Khaled's family
 
Khaled, 36 years old, comes from a village called Kojo south of Sinjar, Iraq. He is in Katsikas with his wife, Dalal, 34, and their son Barakat, one and a half year old. They left Sinjar on August 4, 2014, to Dohuk, Iraq, spent there three days, and then went to Turkey to Diyarbakir where they stayed until February 27, 2016. They left from Izmir to Mytilene, Lesbos, and then Athens, then stayed on a basketball court in a town near Ioannina, where there were 500 Iraqis and Syrians who were all brought to this camp. They've been here for about two weeks.
 
"One day, Daesh [the Islamic State] came to the area and they told us to convert to Islam," Khaled said. "We refused. Then on August 3, they attacked, there were small clashes near Kojo, but there were no weapons to fight back. They defeated the little resistance, and then they started to shoot the men and the teenagers on the street. There were shooting and beheading executions. They took many children and kidnapped the women, including old women. There was a state of hysteria. They kidnapped some 5,000 people—women and children. The women were kept in an area of Iraq.
 
"One of the women told me after she was freed—people paid for her to be bought and freed. They were still being kept in Iraq. They were raping them whenever they wanted. They were being kept in a place without a shower, and they couldn't wash except when someone wanted to rape her, he would bathe her first. There was selling or giving the women as gifts, and also giving women in exchange for weapons between the fighters in Iraq and Syria." 
Shemi, Khaled's mother is 74 years old. She is wearing a traditional white robe. "I love everyone in the world," she said. "In our religion the first thing that we pray for is for everyone to live in peace. We are such peaceful people. I don't know what the problem is with everyone in the world, including our neighbour villages that became our enemies and watched while we were being murdered. I can't understand what problem the world has with us. We just want to live in joy, we love music and we love to dance. The Yazidi people have never attacked anybody. I think this is the worst moment in Yazidi history. We thought that Europe might protect people who have suffered the kind of suffering we have undergone. But we feel like criminals, forced to hide in the mountain. Look at where we are. We pray that someone hears us, so that the road opens. I don't want to die here. I don't want to die watching my grandchildren suffering. I don't have much time left on this Earth, so I don't have much longer to wait. Ever since what happened in Sinjar, I haven't sung anymore."
 
The family apologised twice because they had no tea to offer, and offered to share the food distributed by the NGO.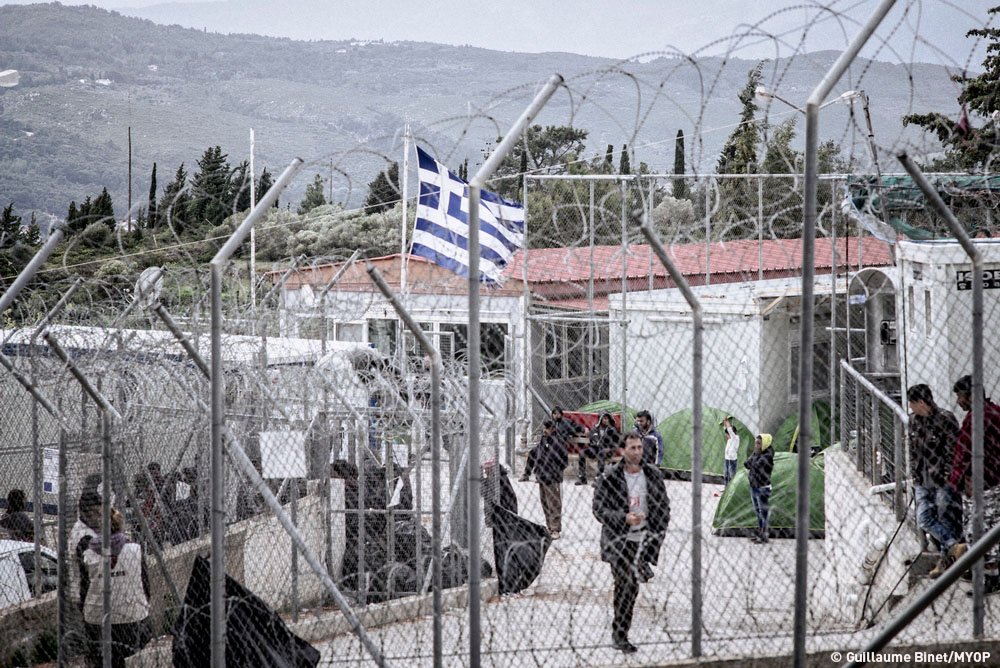 Nayef Khudur's family
 
A driver in Sinjar, Nayef Khudur is 28 and his wife Zeina Khalaf is 26. They are in the camp with their three daughters, Manal, 9, Maram, 7, and Katherine, who is one and a half. Their son went four months ago to Germany with his grandmother.
 
Nayef's house was badly damaged by a blast in Sinjar. He is a poor man. After they lost everything they went to Suleimaniyeh by walking and hitchhiking. Friends of his got him a job in a chicken farm. The salary was good so he managed to put together the money he needed to go to Turkey. They took a plane to Istanbul with a visa. When they reached Izmir, the whole family was detained and thrown in a cell. The situation there was very bad, and they felt like they were "treated like dogs."
On February 28, 2016, he left Turkey from Bodrum and went to Greece. "We are here, and thank God our situation is better than in other parts of Greece," he said. "And thank God our situation is better than prison in Turkey or for those still in Iraq." He is convinced that "the sun will rise again and we will be with our son again in Germany." When he was in his village he weighed 75 kilos. Now he weighs 55 kilos. "Thank God for everything and that our children are well," he said. "As Yazidis we are used to crisis but this time it was too much. Between being refugees now and what happened to us with Daesh, it's too much to bear. I hope this nightmare ends."