Maryam Sherif, 35, lives in Muna camp in Maiduguri, the capital of Borno state in northeast Nigeria. Muna camp houses more than 40,000 people displaced by the conflict between the Nigerian military and non-state armed actors.
I used to live in Dagumba village in Marte local government area in Borno state. Now I live here in Muna Camp with my seven children and others who have fled the violence.
Last year during the rainy season, my two-year-old son Ibrahim died of malaria. He fell ill all of a sudden and there was very little I could do to save him. I did not have money to take him to the hospital and I did not know anyone who could have helped me. The last time I saw my husband was two years ago. Boko Haram attacked my village and I have no idea if he is dead or alive.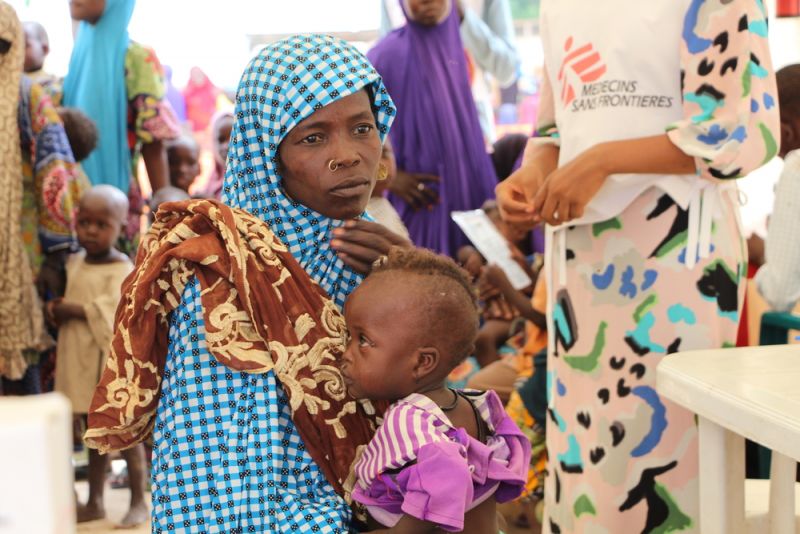 I do not want to lose another child to malaria. This is all I can think of since the rains started. I heard of the free malaria prevention program, so I decided to come here. Last night, I could not sleep well as I was so anxious to get this medicine for Aisha, my two-year-old daughter.
Despite coming here early in the morning, I found a big crowd. I feel some people here need this medicine more than I do; they seem more desperate. I also became a little frustrated and worried about not being able to get the medicine. I thought, "What if I lose another child?"
Then I saw MSF teams organizing the queues, setting up tents and giving medicines to the children. I felt better when I saw the queue moving quickly.
I am happy that Aisha was able to receive this medicine. She will be protected against malaria. We also received a mosquito net, which we can fix in our tents as the old ones are worn out.
---
More than 1.7 million people have been displaced in the conflict between the Nigerian military and armed groups in the north east of Nigeria. Of these 78% live in Borno. MSF provides free medical care to vulnerable groups, including women and children. In light of the onset of the rainy season, MSF provided preventive malaria treatment to 6,886 children under five years of age in Muna, Faria and Custom House camps for internally displaced persons (IDPs) and to 5,151 children in Gajiganna, a settlement north of Maiduguri.
Find out more about MSF's work in Nigeria.