The violence of South Sudan's ongoing conflict has displaced about two million people since 2013. In the last few weeks civilians have been exposed to increased  levels of violence and fresh waves of displaced people are on the move.
Doctors Without Borders (MSF) is on the ground, providing essential medical care to people in six South Sudanese states. MSF's Dr Niamh Allen reports.
I am working with MSF in a Protection Of Civilians (POC) site outside the town of Malakal, Upper Nile State where about 30,000 people displaced by civil war are living.
Escalation of the conflict
Thousands of new arrivals have come here in the last two weeks looking for shelter, food and water security; a result of the escalation in conflict which is now affecting many parts of South Sudan.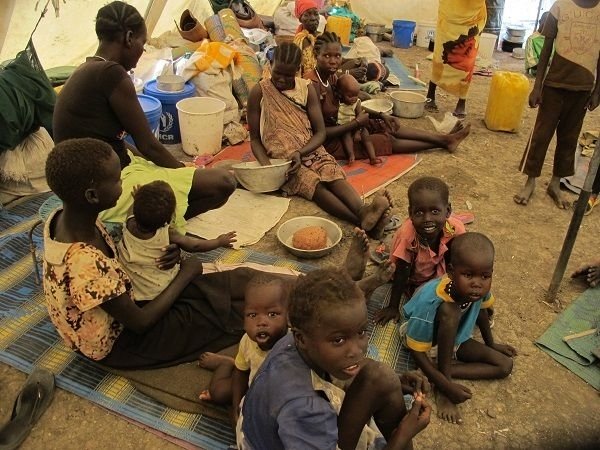 We are treating people wounded in recent fighting; clashes which prevented us from working here last week and still prevents us from entering the town of Malakal itself.
The situation has been tense, with many hours spent in the bunker in the boiling heat, surrounded by sandbags, listening to shooting and shelling close by. I can see the red heat of bullets flying through the air.
MSF base in Malakal
Our base is just a few tents which we sleep in like dorms. The living space in the middle has a tin roof that accentuates the intense heat.
The hospital consists of two large white airy MSF tents. Clean and bright, it often feels like a happy place; where patients help to look after one another, and where national staff are eager to learn and improve their skills, in a country that has been unable to offer much training over all these years of unrest.
The whole camp is basically tents and porta-cabins; a plastic world only 10 minutes drive from a relatively well-constructed city, which is now empty and partly shelled to the ground.
Medical services affected
One of our patients was only 10 months old when he died. He was being treated for severe dehydration from diarrhoea.
It was such a reminder that the people who suffer from war are not just the injured, but also those who cannot access health care because of conflict.
His mother stayed in the bed her son had occupied, waiting for the situation to be safe enough outside the camp for her to return to her village.
The widespread fighting in South Sudan is exposing civilians to violence and severely restricting the provision of desperately needed aid. Conflict has led to medical services being suspended, health structures being destroyed and medical staff having to be evacuated.
MSF appeals to all parties to respect medical facilities, to allow aid organisations access to affected communities and to allow patients to receive medical treatment, irrespective of their origin or ethnicity.
Find out more about MSF's work in South Sudan.