1. From Fear To Hope
Testimony of Silvère collected in MSF centre for Victims of torture in Mexico City.
Silvère G. is a 26 years old Congolese man currently living in Mexico City. He left his whole family behind, including his six-year-old son in Brazzaville, in the Republic of the Congo. - His height, his dancer's physique and his dark skin set him apart from most Mexicans.
But his solitude also comes from not knowing when or if he will be able to safely return to his home country, and from the horrific trauma he experienced before he was able to escape. He is plagued by suicidal thoughts caused by the torture he suffered while in Brazzaville. He spoke with MSF at our Comprehensive Care Centre (CAI) in Mexico City, which treats victims of torture and abuse.
The journey that ended with Silvère in Mexico began in October 2015, in Brazzaville, more than 12,000 km away. Silvère had joined a popular protest against President Sassou Nguesso's planned change to the constitution that would allow him to remain permanently in power, having already dominated Congolese politics for 31 years.
The protest was repressed with lethal force by government forces. Silvère says, "they shot us, they did not care that there were children and women in the protests." When he went to help a friend, "the military, the police had shot him in the side." He was arrested and taken to a military prison, where he was brutally tortured for many months. 
"They took people at night; they beat us every day… my arm was broken, my wounds were infected, my head had swollen, I thought I was dying."
He was only saved by good fortune. A general in charge of the penitentiary knew his family and helped him escape. "He told me to make myself look like I was dead, that an ambulance would take me out of prison and that, at a specific location, someone would pick me up.
I could not even speak I was so traumatised and in so much pain. But we did it. After 30 minutes in the ambulance, I was dropped off next to a taxi and there, waiting for me, was my older sister. My sister and I crossed into Kinshasa [the capital of neighbouring Democratic Republic of Congo (DRC)] with the help of a fisherman. I was admitted to the hospital there for a month." 
Thanks to his training as a dancer, Silvère knew people in Kinshasa and was able to join a dance troupe there. He tried to return to Brazzaville to visit his family, but he was warned that the police were looking for him. They ransacked his parents' house as a punishment. From then, he knew that returning to his country would be impossible for some time to come. He dedicated himself to dance.
His dance troupe toured Dubai and Brazil, but memories of what had happened followed him however far he went. Silvère was in Brazil when he decided he could not return to DRC or any other country which had diplomatic relations with the Republic of the Congo. He took a flight to Mexico, as the first one that was available. 
"I was at the airport in Mexico. Not knowing what to do, without knowing a word of Spanish. I spent two days there without eating anything. In the end, a man from Haiti helped me. He called the police and they took me to a shelter. I was sick, I could not move, I was bleeding from my nose. I was having suicidal thoughts and not eating. I finally got help from MSF."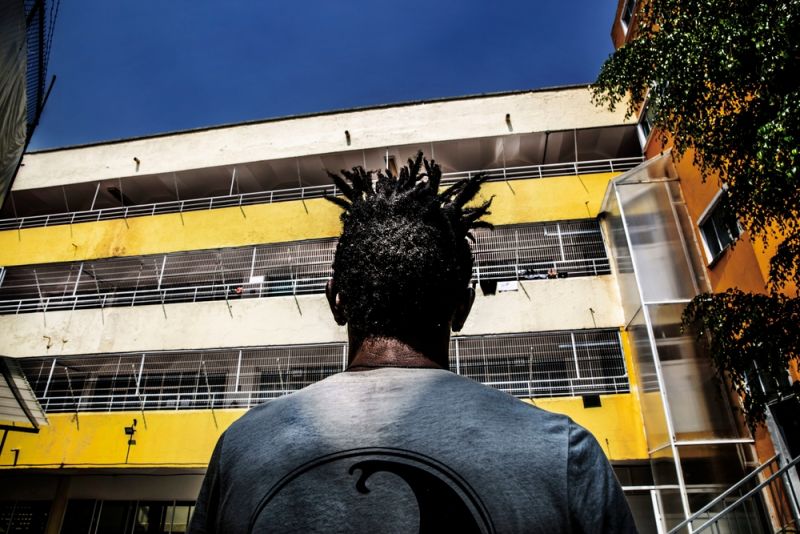 When he arrived at the CAI, Silvère was suffering from insomnia, nightmares, fear, depression and anxiety. He also had chronic headaches, shoulder pain and episodes of anorexia and palpitations caused by these. His arrival in Mexico, the complexity of the asylum application process, the lack of communication due to the language and the physical pain he still felt caused him to suffer from intense symptoms of depression and suicidal thoughts.
At the CAI he was treated by the doctor and a psychologist and supported by a social worker. He was referred to psychological trauma specialists. To help him integrate into Mexican life, the staff at the CAI gave him social guidance and help with joining the workforce. In the centre, Silvère lived with Central American patients who had fled violence and torture in their countries.
Little by little, Silvère has recovered his strength and has also taken a welding course. In April 2018, he felt strong enough to leave the CAI. Language is still one of his main problems and, when he tells his story, he does so in a slow way, savouring being able to speak French.
He is considering if Canada could receive him, as there he might be able to express himself more confidently, and maybe life could be a little bit easier for him. 
2. What I Would Ask To European People Is To Listen To The People Who Left
Testimony from Dieumerci*, Democratic Republic of Congo collected in our centre for victims of torture in Athens.
"When I finished my studies I worked for some time in my country and then entered in a political group of young people. I was already sick at the time. Once in Kinshasa, myself and a friend of mine were arrested. We were sent to the prison, but then some people gave us fake documents to leave the country because they told us that we would have died inside the prison in our medical status. We took a flight and arrived in Turkey where we were put in a detention centre.
My medical situation and especially my friend's situation continued to deteriorate and we were allowed to look for health in Turkey. Some refugee organisations helped us to receive some drugs to calm the symptoms, but they told us that they were limited in their capacity and that our medical situation was problematic. So we found some money to give to the smugglers to reach Europe. That's how I reached Greece.
Here in Athens, I was helped by MSF to find a place to stay, I take some medicines regularly, I had some help to find food. They follow my health, and I feel that they can help me also to give me moral support. The situation in Athens continues to be difficult if there is no organization helping you it can be very hard. 
What I feel to ask the European people is to listen to the stories of the people who left, it is not easy to abandon your family and come here. There are real problems and it hurts, there are very difficult cases in Africa but also in Asia.
There are people suffering, people dying. There are places where there is no right, where people die in prisons. I hope people can understand that there are many people who need help."
*Name has been changed.
---
Read MSF´s Heads of Mission in the Middle East where she describes how patients receive care from a team of medical professionals here.