There has been an influx of internally displaced people (IDP) from Sa'ada to Khamer, fleeing their homes due to the deteriorating situation and airstrikes in Sa'ada governorate.
Many have been living with families in Khamer or in rented houses, while some occupy public places such as schools, and others live in tents on the outskirts of the town.
Doctors Without Borders (MSF) has been running mobile clinics to provide basic healthcare to the IDPs in Khamer, and has also been providing water, hygiene kits and NFIs.
So far at least 500 families have living in public places beside the hundreds of families who are living with their relatives in Khamer. The number of IDPs is increasing every day. So far, there are more than 2,400  IDP families in Khamer alone.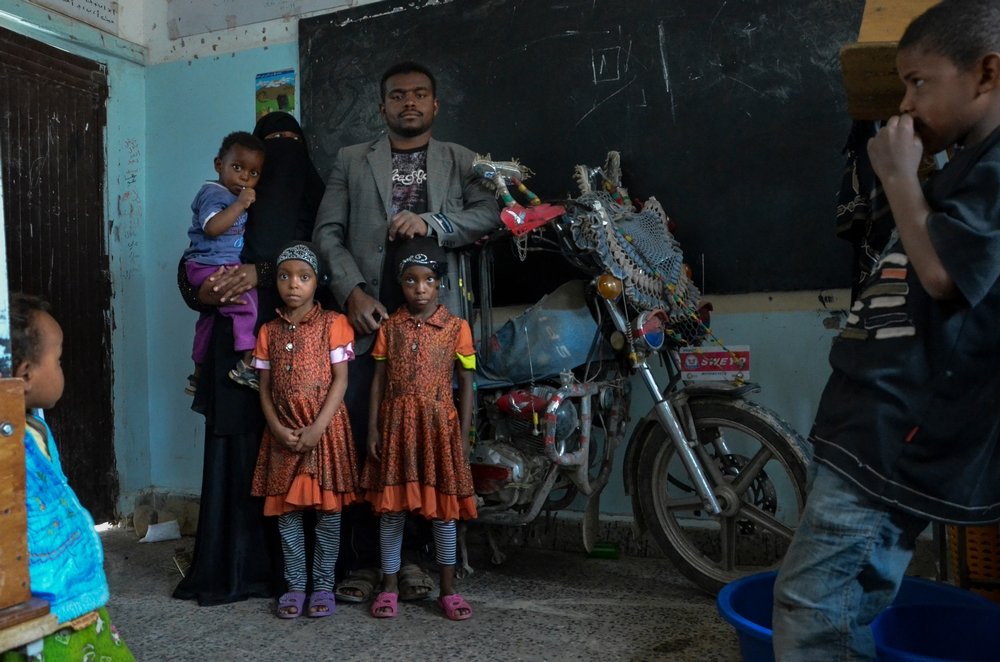 Mazen Abdu, Khamer, 25 May, 2015
12 days ago, Mazen Abdu of Sa'ada, his wife and three children escaped Sa'ada on his motorbike. The family keeps the motorbike in the classroom where they live since they arrived Khamer.  
"When the airstrikes were so close from our house, we decided to go to a safer place and leave everything behind," says Mazen. His only way to escape was his motorbike.
The five of us travelled from Sa'ada to Khamer on this motorbike. We could only take 10 kilos of flower and a small blanket. Our trip from Sa'ada to Khamer was not easy. We spent two days and one night travelling.
We did not have money to stay in a hotel or buy food and to crown it all, one of the motorbike's tires was punctured. I was waiting hopelessly in the road with my family until somebody helped me fix it and we continued our way to Khamer. Some good people offered us food and hosted us in their home for the night."
Mazen's wife, Um Alia, said that her children were scared of the bombings that they lost their appetite and that when she tried to force her two daughters to eat when they were travelling, they both vomited. "My daughters were terrified by the sound of the bombings and were shivering."
The family lives now in a classroom in one of Khamer schools. Some 500 IDP families live in public places and some of them live in tents.
"We left everything behind; our home, our neighbors, our life. In fact, I doubt there is life in Sa'ada and I still ignore what happened to our house."
Second testimony
"We had a normal life before the war started. I lost two of my younger brothers in an airstrike.
They were at home. This war does not differentiate between army or civilians.
Now, I live with my husband and four children in a tent in Khamer. Life is not easy here and it gets difficult for us when it rains. We feel cold and cannot sleep. We live a miserable life. "
Find out more about MSF's work in Yemen.