MSF nurse and former refugee, Dodo Kibasomba, reflects on her time working among Rohingya refugees in Bangladesh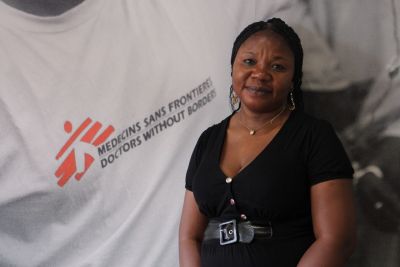 "They brought her on a stretcher, looking hopeless and very sick. No one knew what the matter with her was. Our medical team and I tried everything we could. When we asked her what was wrong she did not respond – all she did was stare aimlessly and looked very lost, like she was in her own world," says Dodo Kibasomba, a Doctors Without Borders (MSF) Southern Africa nurse who spent a month working at Hakimpara health facility in Bangladesh's 's Cox Bazar area.
This health facility serves around 33, 000 Rohingya refugees who live in Hakimpara makeshift settlement, one of the settlements set up to accommodate some of the 655,000 refugees who fled extreme violence in Myanmar since August. At the MSF facility in Hakimpara, refugees have access to 24-hour health services including reproductive health, primary healthcare, outpatient care and psychological support services.  
"The people who brought her to our MSF health facility, told us that she had not spoken to anyone, refused to drink anything, eaten anything or even bathed for two full days. After doing all we could, we realised that physically there was not anything wrong with her so we referred her to our other clinic in another settlement for a second opinion.
"When she got there, our colleagues confirmed that indeed she was not physically sick. People who knew her told our team she had actually lost all eight of her children in the wake of the violence in Myanmar. Her last surviving child died when they were now fleeing from Myanmar to Bangladesh. We then concluded that this probably explained why this 45 year old woman was in such a catatonic state," Dodo explains.  
"Those who knew her said she lived alone in the settlement and had no one to help her. When food, blankets or any form of relief was delivered, she would not get anything because she cannot walk to the distribution centre to collect or send anyone to do so. Her only hope was the community health workers who managed to bring her something, but this is hard enough. Even the shelter she is living in was put together by other refugees who offered their help. She can't do anything on her own, so without this help she would be much worse off."
The tragic reality of this woman is one among many Dodo encountered during her month-long assignment as a nursing activity manager at Hakimpara.  
Dodo has completed nine MSF assignments in different countries, but this assignment was unique and she says she will never forget it.
"I have never seen so much suffering in my entire life. The Rohingya people are suffering. This is real. Reading this in the newspapers or listening on radio just gives you an inkling of it. I saw the suffering first-hand. We saw patients coming in critical condition, some with complications, distressed and in shock. We saw them coming empty-handed, having lost everything in Myanmar," Dodo explains.
On average, the MSF medical team attended to at least 180 patients in the facility every day. Many people were suffering from diarrhoea, measles, respiratory tract infections, jaundice, skin diseases and most recently diphtheria. By the time Dodo left on 9th December more than 400 cases of diphtheria were identified and the numbers kept rising.
Despite the intensity of the assignment and feeling overwhelmed at times, Dodo kept going, felt proud and fulfilled given what she was able to achieve. She got her motivation from the 46-member team she managed.
"Our team was great! They were very positive, energetic and they learned to be flexible –putting in a lot more effort. I know we cannot save the whole world, but we are always happy to see lives regained from the effort we put in."
Dodo is a qualified nurse who is originally from Bukavu in the eastern Democratic Republic of Congo (DRC). In her career, Dodo has worked with thousands of refugees and remains passionate about helping people fleeing crisis situations around the world. She has worked with MSF in South Africa, Mauritania, Niger, South Sudan, Mali, Nigeria and Bangladesh.  
Find out more about MSF's work in Bangladesh.