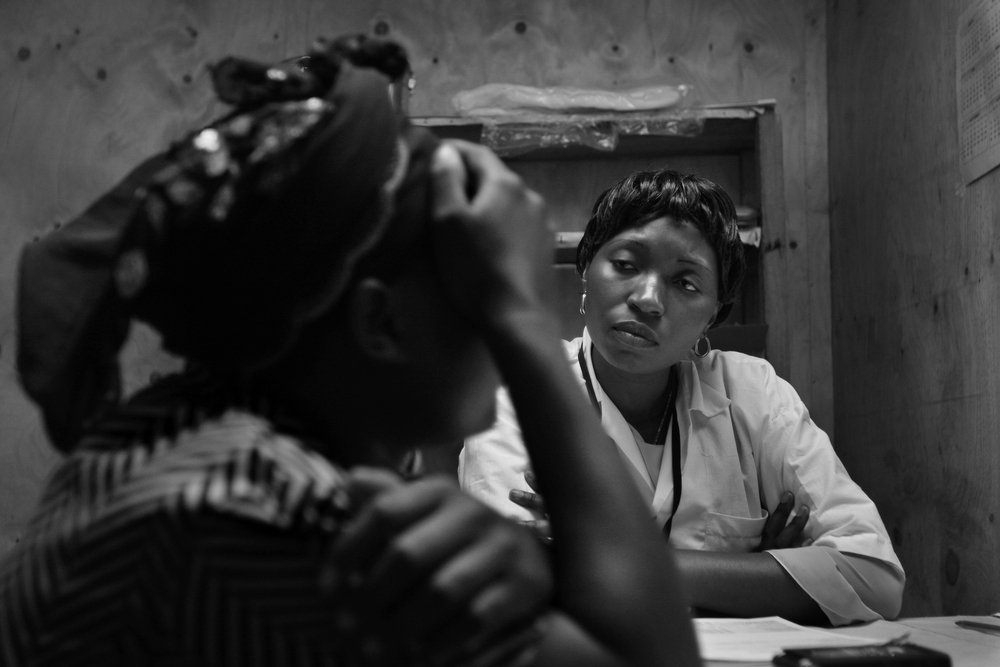 To my friend
Kinshasa, Democratic Republic of Congo
Hello,
My dear friend, it has been so long, nearly two years since I went away, and life has not been easy for me and my family during this time. We had a long and dangerous journey to reach Morocco.
Life here is very harsh, but my dream is to cross to Europe and have a better future for my children. I can never stop hoping for a better life...
Full story
I was living in Kinshasa, in the
Democratic Republic of Congo
, with my husband and our three children. In 2007 heavy fighting erupted in the city. Every day there were attacks, robberies and rapes. We could not stay there any longer, we did not have any choice but to take the children and seek refuge in the neighbouring
Central African Republic
. We thought that this would be a temporary solution and that we would eventually return home once the situation stabilised. Back then I never imagined that I would end up in
Morocco
.
We stayed five months in Central African Republic. Life was very difficult for us there, we had no work and no money and, in order to survive, my husband was trying to sell things on the streets. But one day he suddenly disappeared. He left the house in the morning to go to work and he never came back. I still don't know where he is and if he is still alive. After his disappearance I had no one to take care of me and my children, I was left completely alone. I had no money to pay for the rent, so the owner of the house threw us out of the place where we were staying. Having no place to stay, no money and no work, I decided to leave Central African Republic to find a better place for me and my children. We could not go back to DR Congo as the conflict was still raging in the country.
So we travelled in buses all the way through Cameroon, Nigeria and Niger. During the whole trip I was begging in the bus stations to earn some money to be able to continue our journey. And during all this time I never gave up hope of finding my lost husband. Everywhere we went I was asking people if they had seen him, but nobody could help me.
When we arrived in Niger, we stayed in Arlit for one week. During this week we received some help from the local church, some food for my children and also a small amount of money that I used for paying for the bus tickets to reach Tamanrasset in
Algeria
. From there we started the difficult journey though the desert to reach Morocco. We paid a lot of money to get on a jeep with six other passengers to cross the desert. The journey lasted three days and during this time we had only biscuits to eat and very few drops of water. It was very hot. During this trip, we managed to stay alive only because God protected us. When I think of what happened there, I cannot stop crying. There are people who died there because of the heat.
When we managed to reach the border of Algeria and Morocco, we had to walk to get to the city of Oujda. There, at the border – I don't know if we were still in Algeria or we had crossed to Morocco – I was raped by two men. The children were very thirsty, so when I saw a man on the street I asked him where I could find some water. He directed me to a nearby house. There a man gave water to my children. While my children were drinking the water outside the house, two men forced me inside the house and raped me, one after the other. They beat me and they raped me. And then they threw me and my children into the desert to die. Luckily we were found by some migrants who were crossing the desert, and they brought us to Oujda. There MSF helped me receive medical and psychosocial care.
After a few days, thanks to the support of the Congolese community, we left for the city of Rabat. There I learned that I was pregnant after the rape I had suffered, I was pregnant with twins. The MSF team in Rabat helped me and supported me during my pregnancy, but I was very weak. The twins were born prematurely in March 2009 and after a few days they both died.
I had given up every hope of finding my husband, I was desperate and tired. Life was very difficult in Morocco, I had no work, I could not have papers as an asylum-seeker and could not receive any help. And then I started thinking of leaving Morocco and going to Europe. There I would find a job and be able to take care of my children. In Rabat I met A, he is Congolese and has lived for many years in Morocco. We have been together now for a few months. I feel safe with him, he cares for me and my children. K advised me to return to Oujda, where I live now. From Oujda we can try to take a small boat to cross to Spain, to Europe.
I have dreams for our future in Europe. In a developed European country we will be able to work and support our children and have a better life. Things might not be ideal, but at least our children will not be living as animals, we will have better living conditions.