The consequences of the earthquakes have exacerbated the already precarious humanitarian situation for people in northwest Syria. Fifty-five medical facilities in Syria were damaged and several others have been completely destroyed, hindering their capacity to respond. In this context, both medical and relief support remain priorities for the thousands of people who lost their homes and are exposed to cold temperatures. 
Our teams in northwest Syria are supporting medical facilities by providing donations as well as staff to help treat injured patients. We are also supporting ambulances to facilitate the referral of patients, providing relief items to people affected, setting up mobile clinics in shelters and reception camps for essential medical services, and offering psychological aid. So far, our teams have donated 27 tons of medical supplies in Syria.
In south Türkiye, Hatay, Gaziantep and Diyarbakir appear to be the areas most affected by the earthquakes. Our teams are conducting relief activities in collaboration with local partners through donations (providing over 27,000 hygiene kits, over 14,000 relief items and over 20,000 litres of water). We have also provided mental health and psychosocial support to people affected by the earthquakes, including volunteers and search and rescue teams.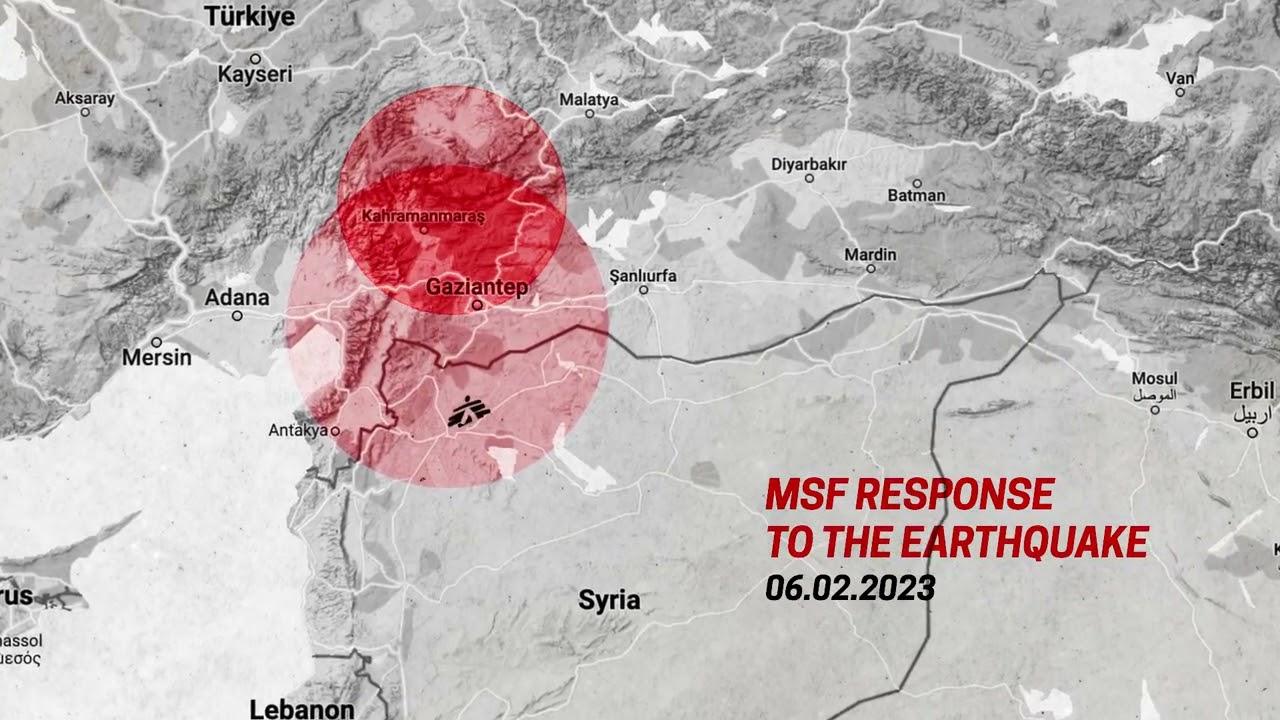 MSF emergency response in Syria
MSF emergency response in Syria
Supporting healthcare provision In Idlib and Aleppo governorates:
MSF supported 32 hospitals and health facilities through donations of emergency kits, trauma kits, medical supplies, and blankets. This includes facilities in Idlib, Azaz, Afrin, Mare', and Bab El Hawa, among other towns. We also sent medical staff, including surgeons, to support hospitals dealing with the influx of wounded.
In 4 health facilities (hospitals and clinics) in Idlib governorate, we treated injured patients and increased the capacity of the hospitals we're working in by adding triage tents in the outside wards.
In addition, we deployed our ambulances and support 90 ambulances to facilitate the transfer of patients needing emergency assistance to the closest health facilities.
Two weeks after, we scaled up efforts by deploying mobile clinics and distributing relief items to affected populations.
Mobile clinics: We set up mobile clinics deployed in three reception centres and eleven camps in northwest Syria. The aim is to offer essential medical services to people affected by earthquakes.
Mental health services: Our teams launched a mental health hotline that is accessible to people that is being communicated in the community through our health promoters and mental health specialists.
Offering relief support to affected families: In Aleppo governorate, with our local partners, we distributed food and blankets to more than 500 families in the reception centres in Afrin.
Similarly, we distributed over 800 kits, including hygiene items, kitchen kits, winter kits and blankets, to affected people in Jindires, one of the most affected cities, and families in reception centres in Azaz and Mare' and surrounding villages.
A total of 19,594 blankets have been distributed in northwest Syria.
Offering immediate relief support to people affected by the earthquakes, particularly those without shelter in this cold weather, will remain a priority for our team. We will continue to assess the needs and adapt our response accordingly.
Donations/ MSF aid into northwest Syria:
In an effort to continue our support.
On Sunday, February 26th 2023, MSF brought in a convoy of 15 trucks, including 1234 tents and winter kits, to be distributed in the following days.
In addition, 24 tons of medical items have been imported in preparation for scaling up activities.
Northeast Syria:
No major damage or injuries have been reported at or near our projects in Northeast Syria. However, the team is actively investigating opportunities to provide support to earthquake-affected areas elsewhere in Syria.

MSF in Türkiye
All MSF relief activities in Türkiye are carried out in collaboration with local partners. MSF is not registered in Turkiye so this is the model we have to use to help people affected. Although this limits our capacity we want to keep the focus on the people and not ourselves, please bear in mind that our activities in Turkiye are not huge given the scale of this disaster.
Key data as of February 25, 2023:
More than 27,000 hygiene kits distributed
More than 14,000 Relief items distributed
More than 20,000 litres of water provided
More than 180,000 meals served
More than 9,000 food items distributed
More than 34 tones of wood distributed
Mental health support: Hatay, Kahramanmaras, Pazarcik and Kayseri
MSF has provided mental health and psychosocial support for people affected by the earthquake, including volunteers and search and rescue teams engaged in the response through individual and group work and by donating pedagogical material for psycho-social workshops.
Prior to the earthquake, MSF signed an agreement with a Turkish organization called IBC (International Blue Crescent) to operate in the region and to establish an MSF coordination team in Gaziantep.
The MSF team has been officially hosted by IBC Turkish NGO in Gaziantep since March 2021, as agreed in the MoU we signed in October 2020.
MSF is in the process of signing a first sub-agreement with IBC to scale the response to the earthquake in terms of relief and medical actions depending on the authorisations of the Turkish authorities. This activity has already started on 8 February.
A team is assessing the needs in the most affected areas of southern Türkiye, with the first assessment carried out on Tuesday, 7 February. We have offered our support to the Turkish authorities and are ready to assist.
SYRIA
The devastating earthquakes have resulted in thousands of deaths and injuries and displaced millions, leaving them needing homes, food, and water. 
The disaster compounds an already precarious humanitarian situation for millions of people. The 180,000 people displaced by the earthquake add to the two million already living in difficult and dangerous circumstances after being repeatedly displaced during 12 years of war.
The massive consequences of this disaster will require urgently an increased international aid effort that is up to the scale. 
In the two weeks since the earthquake, the humanitarian aid coming into northwest Syria has been too little and too slow. International support must be urgently scaled up to preserve the lives and dignity of people living in affected areas and match the scale of the humanitarian crisis. 
MSF's primary intervention is in northwest Syria, as we already had teams on the ground there, working with a network of medical facilities. 
Initially, MSF focused on bolstering local medical teams' emergency response capacity and donating essential medicines and medical supplies to health facilities and rescue teams. Today, MSF has scaled up its activities in northwest Syria, running four mobile clinics and distributing essential relief items, including mattresses, hygiene items, cleaning materials and kitchen utensils.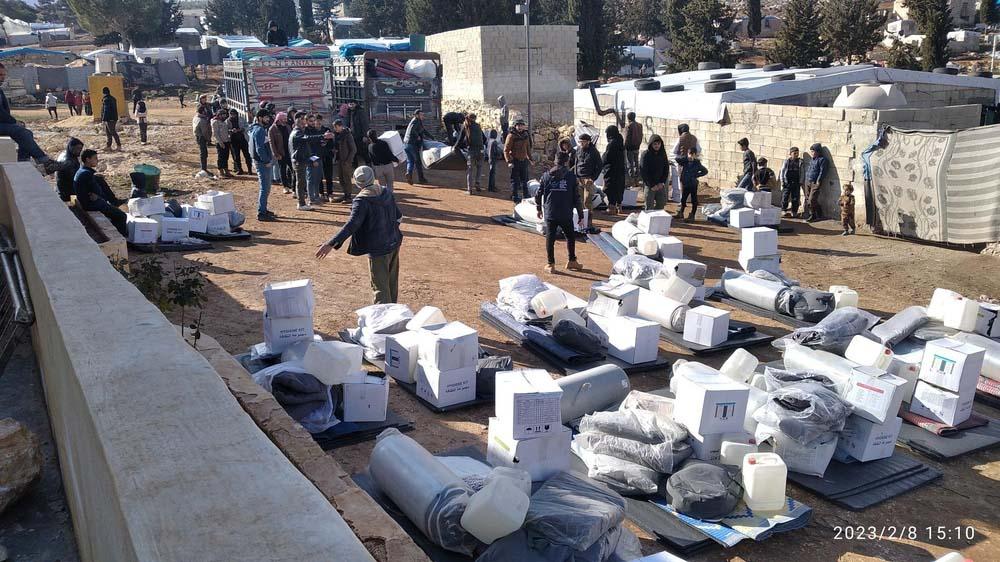 MSF IN PARTNERSHIP WITH LOCAL NGO's/CIVIL SOCIETY ORGANISATIONS IN TÜRKIYE 
Hundreds of thousands of people in Türkiye have been left homeless, and millions have been affected by the devastating earthquakes, which have impacted eleven provinces in different degrees, hosting 16% of the country's total population. Despite the significant response by the authorities and the solidarity of the Turkish civil society, there are still unmet needs for many people affected by the earthquake.
As search and rescue activities have been nearly completed, it is urgent to continue to offer immediate relief support to the people affected. At this moment, some people require medical assistance, shelter, latrines, showers, water, heating systems, winter clothing, generators, blankets, hygiene kits and cleaning products.
Many people have lost their homes and economic activities; they have lost relatives and their loved ones and are living through very hard conditions. Some people are sad, desperate, anxious and uncertain about the future. Many relive the experiences in their minds and believe it could happen again. The provision of mental health support is crucial following all this suffering.
Some of the quake-hit areas of Türkiye were already hosting millions of Syrian refugees in a very vulnerable situation and living in precarious shelters.
MSF is not registered in Türkiye, so our medical footprint in this intervention may be extremely limited. We have contacted the Turkish authorities to offer our support and stand ready to contribute our experience in emergency response when needed. At present, we are working in partnership with different local NGOs and civil society organisations to provide much needed humanitarian and relief assistance. We focus on neglected areas where our intervention can have an added value.