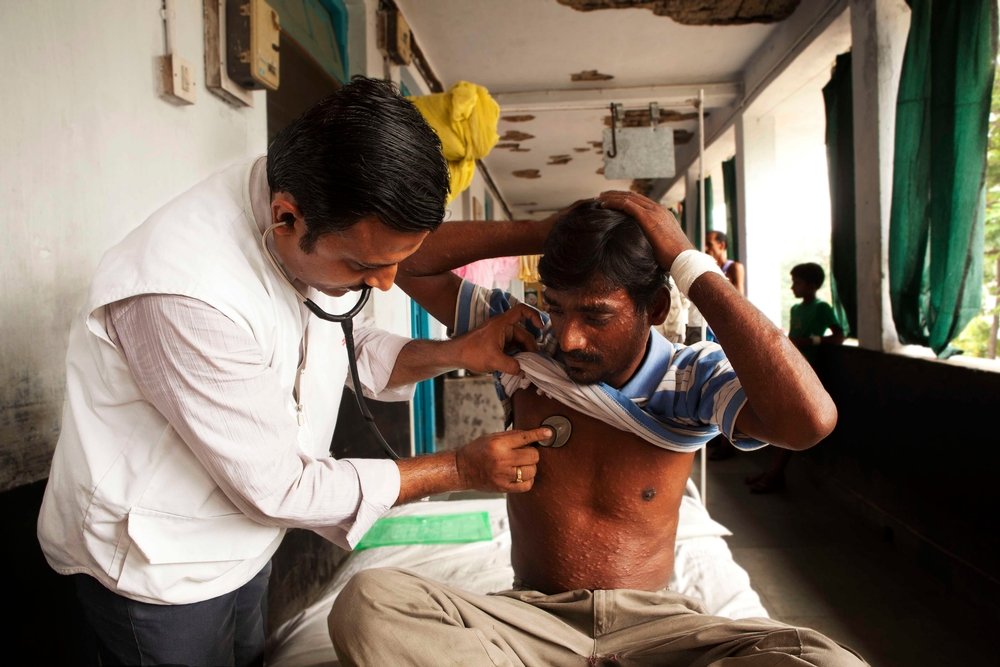 India - Largely unknown in the developed world, Leishmaniasis is a parasitic disease that affects more than 12 million people worldwide. Kala azar, the visceral form of the disease is particularly prevalent in some areas of India, Nepal, Bangladesh and East Africa.  Fatal if not treated, kala azar is transmitted by the bite of a sand fly. There is no accurate data on cases numbers but it is estimated there are around 500,000 new cases reported each year and up to half of them are in Bihar in northern India.
In July 2007, MSF began treating kala azar in Hajipur hospital and supports several primary health centres in the district of Vaishali using liposomal amphoteracin B, commercially known as AmBisome, an effective treatment with few side effects and an excellent success rate.
It's treatment time at Hajipur hospital in Bihar state, northern India. Patients lying on their beds stretch their arms while MSF nurses hang yellow bottles of AmBisome to their beds and prepare their daily IV.
Disease of the poor
35-year old Rambabu Rai is waiting for his second dose of treatment. His emaciated face tells of the weight he lost in the two months before getting appropriate treatment. "I was working as a construction worker in Patna when I got sick. I had fever, I was coughing and had lost my appetite," he recalls. "My employer told me to take some pills for the cold and I'd get better. I didn't get better and finally I couldn't work. I could hardly move."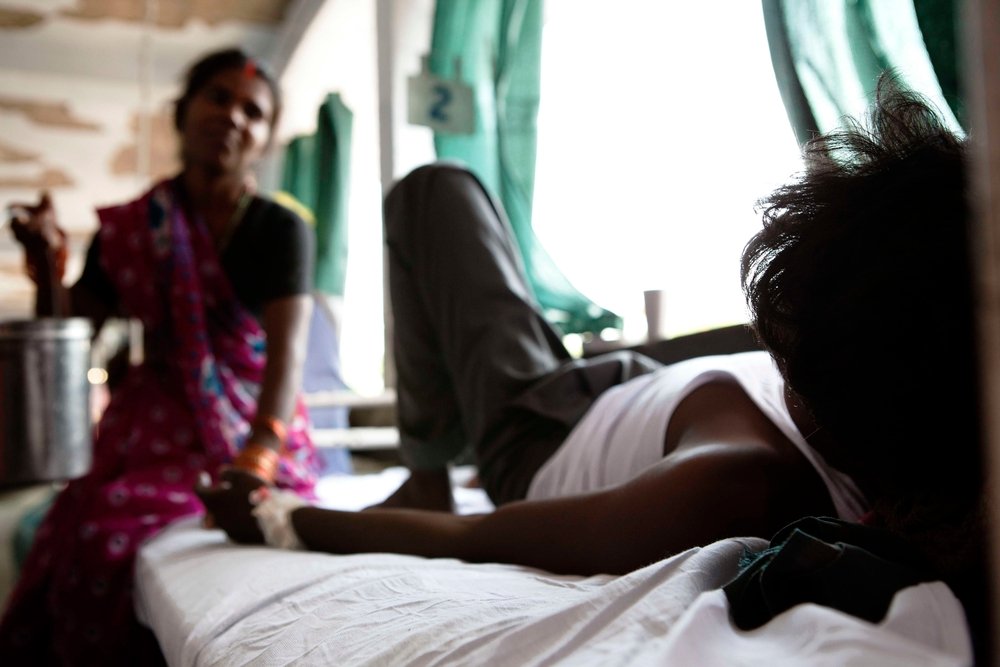 Rambabu dragged himself from one private clinic to the next, accumulating debt, while his health continued to deteriorate. Finally he heard from a friend that he could get free treatment at Hajipur hospital where he was diagnosed with kala azar for the first time.
"I came here because I heard the treatment was free. I'm the sole bread-winner of the family and I can't work until I'm well. I earn 6,000 rupees a month and I've borrowed 30,000 rupees. I hope I'll be soon on my feet but I don't know how I'll be able to repay," he worries.
Rambabu echoes the story of many other patients. In Bihar, one of the poorest states of India, kala azar is endemic. It affects mostly rural and remote areas where people often live in dire conditions. "A lot of our patients live in dung houses with their animals around them. They are exposed to sand flies and do not know how to protect themselves. They rarely know about this disease and don't recognise the first symptoms," explains MSF doctor Gaurab Mitra who has been involved since the beginning of the project.
Patients tend to come at a late stage often because they have little access to health facilities, or because they were not diagnosed or treated properly in the first place.
"Most of them belong to the poorest caste; they are the poorest of the poor and have a history of being neglected when seeking medical assistance.  Here, we provide medical assistance without discrimination. Everyone receives the same care and attention whatever their caste or background," continues Gaurab, "but being able to provide good treatment is of course critical."
Most efficient treatment
The most common symptoms of the disease include headaches, anaemia, prolonged fever, enlarged spleen and serious loss of weight. Kala azar weakens the immune system making people more vulnerable to infections, and children are particularly at risk.
At the Hajipur hospital paediatric ward, Rajakalidebi sits by the side of her nine year old daughter, who was diagnosed with kala azar a few days ago.
Rajakalidebi knows about the disease, having caught it herself more than 20 years ago when she was exactly the same age as her daughter.  "I was treated with injections of SGG at the time, but I remember it very well! It was so painful! I kept getting abscesses on both sides where I had the injections. It was really bad so I'm glad my daughter was spared this"
High resistance rates to common drugs such as SSG (sodium stibogluconate) prompted MSF to use the efficient but more expensive drug AmBisome as a first line treatment. The drug has shown excellent results with a 98% cure rate and few side effects. MSF has since stepped up its activities and is providing the medicine to four primary health centres in Vaishali district as an outpatient therapy. MSF has trained Ministry of Health staff and visits twice a week to monitor patients.
"AmBisome has been a real blessing for us," says the Ministry of Health's clinic officer Tranti Kumari. "Before we used SSG to treat patients. They would get sick and vomit and many would relapse or develop resistance. Now it's so much simpler. The treatment is much shorter. They can come and go every day and there are very few side effects." But she stresses that poverty and lack of education are two huge challenges to controlling the spread of kala azar. 
Health and education in the communities
In order to improve access to diagnosis and treatment and raise awareness of the disease among communities, MSF carries out education and information activities. "These are important because we are dealing with the poorest parts of the population and there is a very high level of illiteracy. Our teams go round with pictures and explain how the villagers can protect themselves from the flies, using mosquito nets, and where they can get treatment and diagnosis," explains Hari Shankar Kumar, MSF Health Education Manager. A theatre troupe has also been touring villages to pass on the message.
MSF also undertakes treatment camps in other areas in Vaishali District. Treatment camps provide   diagnosis, treatment and health education over a 10-day period using an existing primary health centre as a base.
Treating kala azar with AmBisome is straightforward in most cases, but MSF refers more complex cases to the Rajendra Memorial Research Institute of Medical Sciences (RMRIMS) in Patna, where it manages a ten-bed inpatient ward. This Research Institute serves as a specialised referral and support centre which receives patients co-infected with
TB
or
HIV
, relapses, as well as those suffering from PKDL, the form of the disease which can be highly disfiguring.
In two years MSF has treated over 4,000patients and AmBisome has shown excellent success rates. But although the drug is made available at a reduced cost for the treatment of kala azar, it remains too expensive for widespread use by the government despite a recent price reduction by the producer Gilead.
  "There are several clinical trials under way now looking at different combination therapies to treat kala azar. But for the time being AmBisome is the best treatment. It is highly effective, there are few side affects and the treatment course is short. We would like to see it included as a first line treatment in the Indian national protocol but we recognise it is expensive. For this reason we would like to see further price reductions and a registered generic version to ensure it is a viable and affordable solution for widespread use by the government in the near future," says MSF Head of Mission Liza Cragg.
Find out more about MSF in
India