Thursday, October 26, 2017 — As clashes ensued in Kenya's presidential election re-run, a Doctors Without Borders (MSF) ambulance was attacked and staff harassed earlier today, while picking a patient in Mathare, Nairobi.
The ambulance was hit with a stone and the windshield and mirrors broken.
So far, MSF teams have already received and treated 19 wounded people during the poll-related violence. Four of the injured were received at MSF clinic in Eastland in Nairobi, 10 in Kisumu (2 with gunshot wounds), and five in Homa Bay County (2 with gunshot wounds).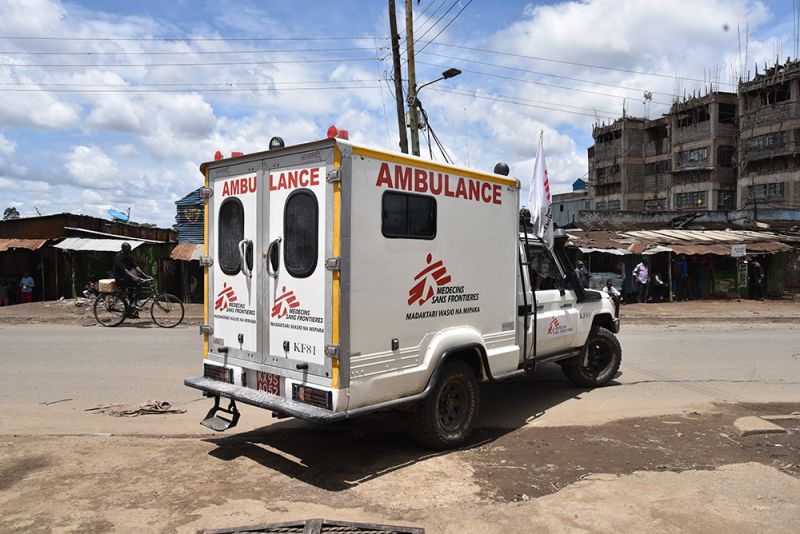 MSF is calling for safe access to the wounded by medical teams and ambulances.
"I call on all communities to provide and ensure unconditional and safe access to those affected so that casualties are attended to in a timely manner," said Abubakr Bakri, MSF's head of mission in Kenya.
MSF has 12 emergency response teams to respond to any casualties: 5 in Eastlands and 1 in Kibera (Nairobi County), 2 in Kisumu County, 2 in Homa Bay County, 1 in Likoni (Mombasa County) and 1 in Garissa County.
---
 MSF presence in Kenya is one of the biggest interventions out of a conflict zone. MSF established operations in Kenya in response to emergencies and crises in surrounding countries including South Sudan, Tanzania and Uganda.
Find out more about MSF's work in Kenya.