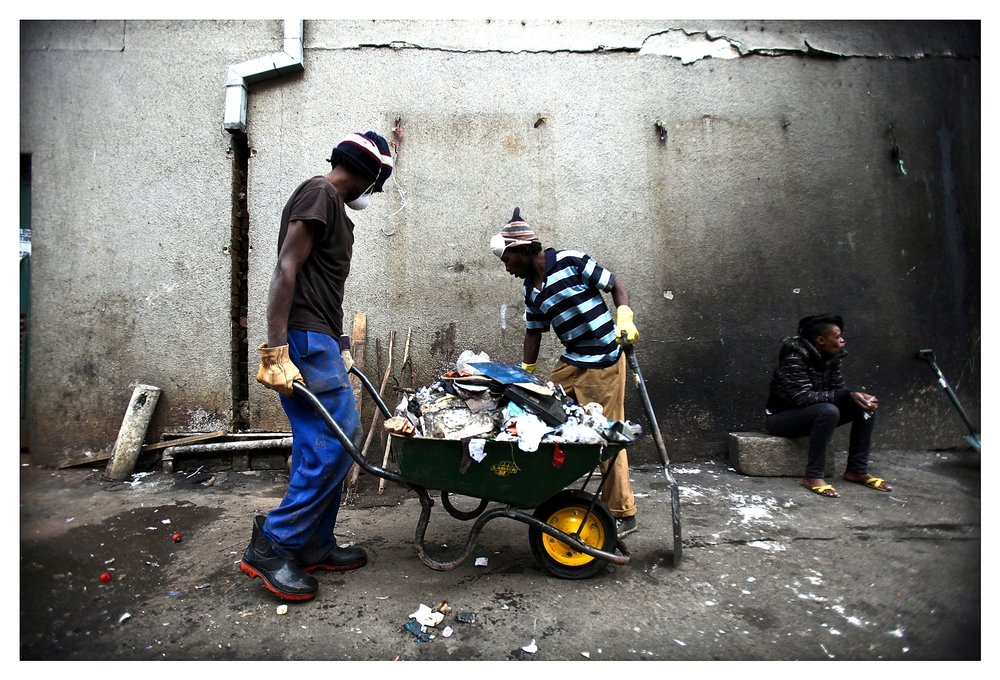 Johannesburg - The man-made crises in Zimbabwe, Democratic Republic of Congo, Sudan and Somalia force thousands of people to flee because violence, economic meltdown, and collapsed health systems threaten their survival. Some of them make their way to South Africa, and on arrival many find that the struggle is not over yet...
Doctors without Borders (MSF) and the University of Johannesburg (UJ) have partnered to establish a series of high-level public debates. The series aims to raise awareness and bring together practitioners, academics and policy-makers who deal with key challenges based on their operational experience, serving to improve their interaction. The series will address public health and humanitarian issues affecting people left vulnerable when they are excluded from healthcare and their needs are unmet or remain ignored. 
The first in this series of public debates will focus on people seeking refuge in South Africa and their subsequent struggle to survive in overcrowded, and inadequately-resourced urban settings. 
"Migration for survival and survival on arrival" is the central theme of the inaugural debate, which brings together a panel of individuals representing civil society, government, academia and faith based organisations, whose actions have influenced policy change in the lives of the poor and vulnerable.  
Panellists include: Bishop Paul Verryn, Central Methodist Church; Zwelinzima Vavi, General Secretary of Cosatu; Dr Liz Thomas, Medical Research Council / Wits Policy Unit; Liesbeth Schockaert, Médecins Sans Frontières; Mark Heywood, Aids Law Project; and Russell McGregor, SA Government and UN Programme on Communities of Diversity and Peace.

According to UJ's Professor André Swart, Executive Dean, Faculty of Health Sciences, the MSF and UJ partnership will promote broader public health matters, focusing on advocacy, lobbying and policy formulation to influence change. "Our goals include utilising field experience to influence curricula and policy, linking and developing research areas, and promoting regional thinking and planning," says Swart.

Ms Sharon Ekambaram, Director of MSF in South Africa says: "As an international medical humanitarian organisation, MSF witnesses firsthand through its medical operations the experience of people caught up in conflicts and crises across the globe. MSF in South Africa wishes to bring their plight to bear on informing public opinion, thus creating discourse for change. The MSF-UJ partnership can expose what we see in the world's forgotten crises to policy-makers and the general public in South Africa."
The debate is scheduled for 
18:30
 on 
Wednesday
, and is open to the general public,
Date: 
17 March, 2010
Venue: the Council Chambers, Auditorium, Kingsway Campus, Auckland Park, Johannesburg   
For more information, visit: 
www.msf.org.za
; or 
www.uj.ac.za
Kindly note: Advance notification of your attendance is necessary in order to secure seating. For more information on the debate, or to RSVP contact Ayanda Msibi on (011) 559 6928 or email 
ayandam@uj.ac.za
.
Note to the journalist/news editor/producer:
Prof Andrè Swart, Executive Dean: Faculty of Health Sciences at the University of Johannesburg (UJ); and Sharon Ekambaram, MSF Director in South Africa are available for interviews.
For details and to arrange an interview, please contact:Herman Esterhuizen
, UJ Media Relations Coordinator, Tel 011 559 6653, Mob 072 129 0777, Email 
hermane@uj.ac.za
Baikong Mamid
, MSF Communications Officer, Tel 011 403 4440, Mob 079 872 2950, Email 
baikong.mamid@joburg.msf.org