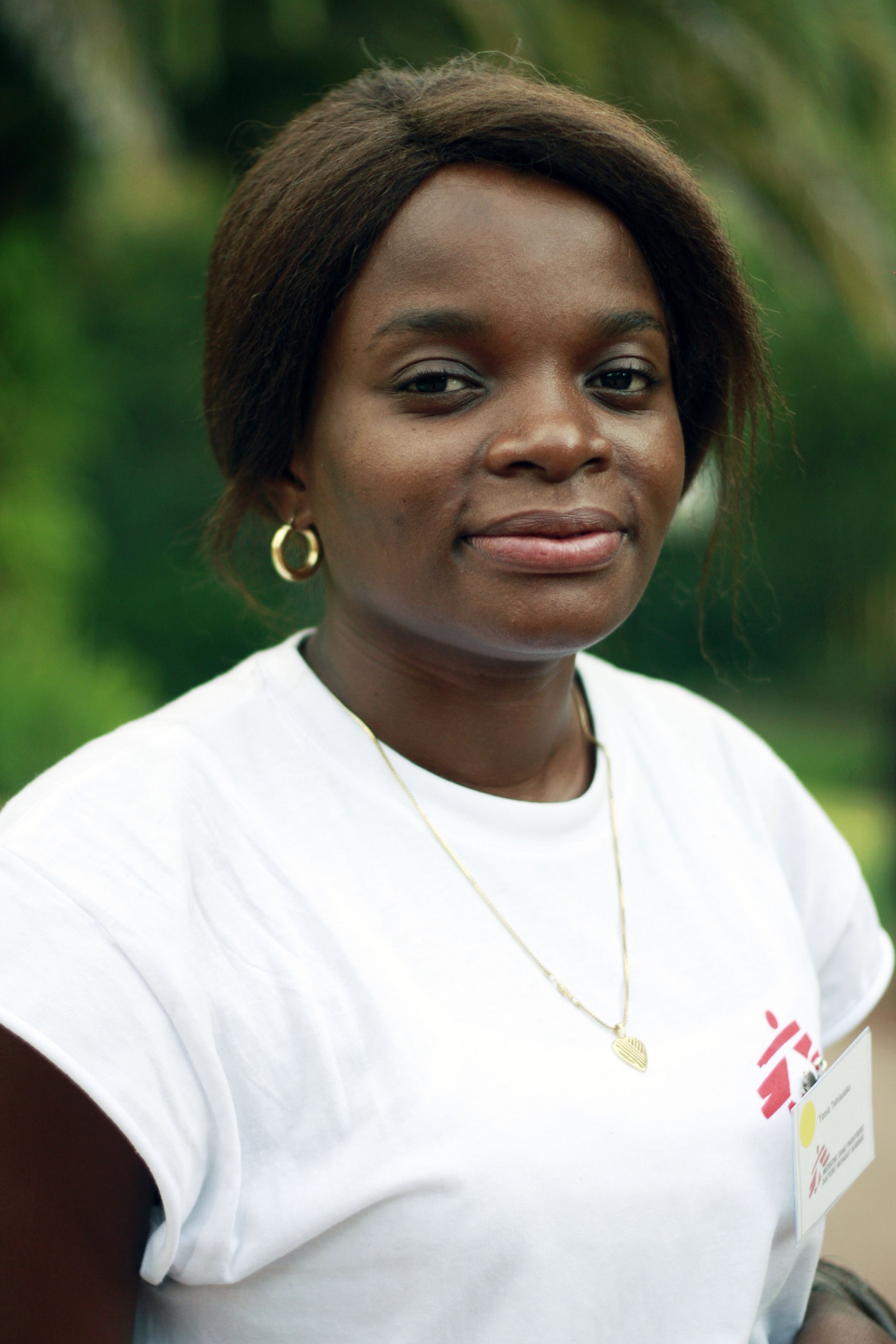 Yonie Tshisuaka, 32, a doctor from the Democratic Republic of Congo, has come back from Haiti, a Caribbean nation suffering high rates of poverty and crime.
While in Haiti, on her second assignment with MSF, she managed a cholera project and a clinic offering services to people exposed to sexual and gender-based violence. Over her year in the country, she made a huge difference in many lives, while growing her clinical and managerial skills.
Yonie carried out her first assignment as a medical doctor in South Sudan. Working in the remote Pibor area, she trained healthcare workers to provide primary healthcare services and address malnutrition through MSF-run mobile clinics and a primary healthcare unit. 
Why did you choose to become a doctor? 
When I was in high school, my younger brother got really sick. I decided I wanted to become a doctor to help suffering children. I plan to specialise as a paediatrician in the near future.  
Why did you join MSF?  
I joined MSF because I wanted a change from the routine clinical work I was doing at a hospital in Liberia. I was excited by the opportunity MSF offered to work in areas without easily accessible healthcare.   
What type of work were you doing in Haiti?
I worked as a medical team leader for three months where I supervised an emergency response surveillance team made up of MSF staff to respond to cholera cases around the country. 
I spent the rest of my time in Haiti working as a doctor treating survivors of sexual and gender-based violence in Pran men'm (Hold My Hand in Creole) Clinic in Port-au-Prince, the capital of Haiti.
My work involved supervising staff as they carried out their consultations, which mainly focused on providing rape-related treatment. This included the provision of emergency contraception, post-exposure prophylaxis (antiretroviral treatment to reduce the likelihood of HIV infection after potential exposure to HIV), treatment of sexually transmitted infections and vaccinations against Hepatitis B and tetanus.  I ensured the staff I supervised followed MSF protocols for treating survivors.   In addition to this, I managed nurses in the pharmacy. 
What were the challenges of your job? 
I found it very emotionally draining – we helped children as young as three who had been raped.
Some patients had terrible stories of robbers breaking into their homes, stealing everything and then raping the women in the house. 
What kept you motivated?  
The huge appreciation of our patients and seeing them rebuild themselves gave us motivation and made us proud. 
What did you love about your work?
I loved the collaboration with the Haitian colleagues; they were all so warm and committed to what they were doing. It was very rewarding to witness more people coming to the clinic month after month. Every patient would come as a victim but leave as a survivor.
Which incident will you never forget?
I'll always remember a 9-year-old girl who had been raped by two men. When she arrived at the clinic, she was very depressed and humiliated. She couldn't look us in the eyes. Through psychological support, she was smiling and more confident after just three days. Whenever she came to the centre, she hugged and kissed everyone to express her gratitude.  
What did you learn while working in Haiti?
This was my first time working on projects to address sexual and gender-based violence and cholera, so I learnt more about these issues, while also growing my management ability. I also built my confidence and presentation skills through making presentations on MSF's cholera project to the local health authority.
What advice would you give to someone who is thinking of joining MSF?
While you may have to work in very harsh and remote contexts with MSF, the enormous gratitude of the people you help makes it all worth it. In South Sudan, where I worked, the villagers crowded around the MSF plane when it landed to help us carry our backpacks and other belongings. They were really grateful as we were the only organisation bringing them healthcare. 
Read more of MSF's activities in Haiti