Mariana, 49, is living in a makeshift shelter in Altos de Portete. Here she talks about life after surviving the earthquake and losing her home.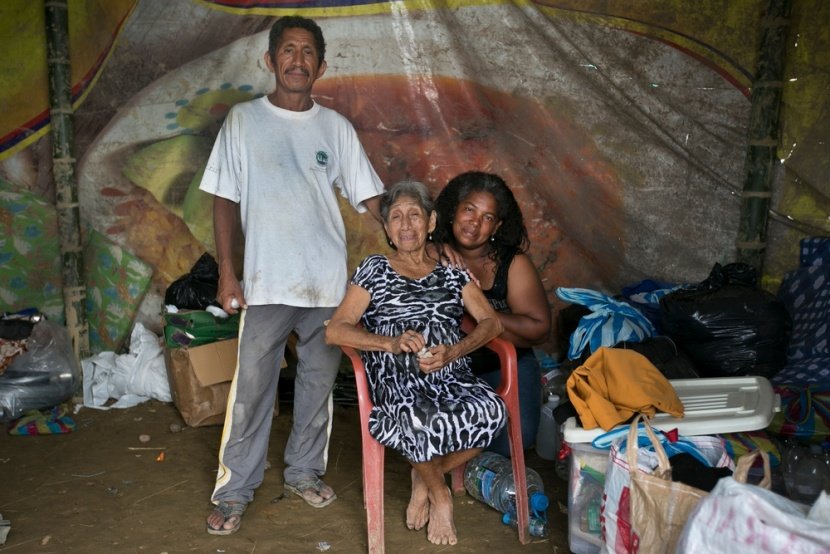 Portrait 49-year-old of Mariana Daisa Esmeralda Castillo (r) with her mother in law (c) and husband (l), inside a shelter on Portete island.
Photo: Albert Masias
At the moment the earthquake struck, on the island of Portete, we were all in our homes. First we felt the trembling, but then it was as if the earth was running away. As soon as that happened, all of the neighbors went to a common meeting place on the island. Fortunately, two days prior to the earthquake, we had received training on evacuation at a nearby hotel and that really helped us in this situation.  
We crossed on small boats, then got on a road and headed to Altos de Portete, where we set up a shelter for 50 families. There we received psycho-social support from MSF, both for the kids and the adults. My mother-in-law, who is elderly and who lost her husband two months, felt better after speaking with the team.  
Now I'm really scared to go back to my home on the island. We're waiting for authorities to rebuild our homes. Until they can provide that safety, we can't return. The children don't even say they want to go back; they are still very frightened. My husband and I ran a bar on the beach for tourists, but now we have no work because everything is destroyed and tourists won't want to come.
Our entire family is living here in this shelter we built, but in Pedernales, we lost many loved ones. Every day, I go to sleep and wake up and I continue to be grateful to be alive. After the earthquake, we were reborn to live to tell our children and grandchildren what happened to us."
 
Read "Ecuador Earthquake: People remain fearful and nervous "
You might also be interested in reading this "Ecuador Earthquake: One month on, MSF finishes its activities"
Find out more about MSF