On 7 November 2015, the Ebola outbreak was declared over in Sierra Leone. There are an estimated 15,000 Ebola survivors in West Africa, many of whom have ongoing physical and mental health problems.
The physical problems include joint pain, chronic fatigue, hearing difficulties and eye problems, which could lead to blindness without prompt access to specialised care. Survivors share their experiences after surviving Ebola.
Hassan Sillah
Hassan, 5,  got Ebola in October last year. He was treated at a treatment center in Hastings, but as soon as he was discharged he fell sick again. "I was so scared," said his mother Mabinty Bangura. "I thought the sickness was coming back. But it was only malaria. He was so weak though". 
Hassan is still going to school but the teacher says he can't concentrate. He also suffers from an ear condition and came to the clinic with a rash on his skin.
Hassan is currently receiving assistance from the Doctors Without Borders (MSF) Ebola survivor clinic in Freetown.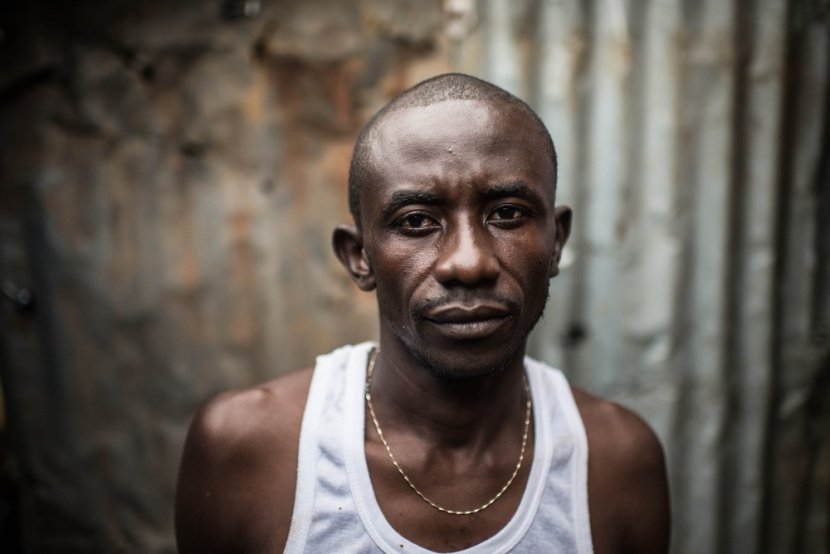 Abbas Kanu
Abbas has been visiting the MSF Ebola survivors clinic in Freetown to treat various after-effects of Ebola. But he is still not strong enough to resume working as a stone breaker in the nearby quarry. 
He also lost all his capital when his possessions were burned while he was being treated for Ebola. He says the family has been shunned by neighbours, so they no longer like to leave the house.
Yainkain Bangura
Yainkain is Abbas' wife (above), the couple lost their possessions which were burnt by fearful neighbours and neither has recovered the strength to resume working. Consequently, they have had to pull their children from school.
"I just have too much pain to work. Before I was a businesswoman and I also used to do the stone breaking work. But now I can't. And my eyes only see half."
Yainkain is currently receiving assistance from the Medecins Sans Frontiers (MSF) Ebola survivor clinic in Freetown and is being treated for eye problems at the eye clinic.
Mariama Mannah
"I got Ebola in October last year. We were all so afraid back then. Ebola killed 34 people here. We thank God that we're alive but it's not easy for us survivors here. When you get Ebola they burn all of your things. So now the survivors have no money.
The people who weren't sick are carrying on with their normal lives, but for the survivors it's different. Every time I sit down I feel pain in my back. And in my elbows too. And I'm so stressed now. When people are around sometimes I just have to go inside because I'm always thinking about that time."
Demba Mansaray
Mansaray caught Ebola while trying to treat his sick mother last October. She later died along with several other family members.
"I have a small pain in my sides and my joints but my mind is so confused after everyone died. People used to support me, but now I have nobody and I have to support my family from my work as a fisherman."
Fishing gives him pain in his sides but he says he needs the money. But even with the money, he cannot afford to send all his children to school.
Fatu Mansaray
"After I came back people were afraid to touch me. If I tried to buy food they wouldn't touch my money. Even now it's difficult for me to sell at the market because I am a survivor. And I still have pain all over. It's in my back, and in my shoulders."
"Now we have so many children on our hands because my brothers and sisters died".
Mansaray lost her husband, her parents and other members of her family to Ebola.
"My mind is still not steady. Yesterday when we went to visit the burial ground I cried so much.
Mariama Turay
"The pain in my back is so bad I can't sleep. When they discharged me I was so weak I couldn't even walk. And when I cry, my eyes feel like they are burning inside. And my chest is sore too.
The man who took care of me died. Everyone died. And when I came back here after hospital they had burnt everything so my business has gone down. So now I live here with my two children. But I can't afford to send them to school.
Ramatu Kamara
Many Ebola survivors still suffer from physical, social and psychological problems after beating the virus. "My bones still hurt all over so haven't been able to start work again yet," she said.
"If God agrees, I hope I can go back to business after this. But I have too many thoughts in my mind now to sleep properly. My husband died and three of the children died so it's not easy for me now."
Emma Kamara
Many Ebola survivors still suffer from physical, social and psychological problems after beating the virus. Koroma, who was discharged on the 14th of October last year lost her husband to Ebola and has suffered from post-Ebola complications.
"After they discharged me I couldn't even walk. My head was so sore and my back too. My eyes are itchy but at least I can see. I can't farm anymore - when my body hurts like this there's no way for me to work. The medicine makes me feel better, so I hope the pain will not come back again now".
Aminata Koroma
Koroma survived the disease after being treated by MSF in Kailahun, but four members of her family died. "After my father died they quarantined us" she said. "Then my head began to hurt so I called 117.
They sent me to Kailahun and I was discharged five days later. My granny, my uncle and my brother also died. After two weeks I went back to hospital as I had a persistent cold, and I have still have some pain in my back, but now it is not bad.
The community were not afraid of me when i came back. When they ate they would call me to come and join them."
After Koroma's father died she was forced to drop out of school. Now she sells chilli at the market to try and save enough to go back to school to complete her exams.
Sorie Kamara
Kamara, 25, used to farm rice and cassava before he caught Ebola but is now too weak. "I got Ebola in October last year. They took me to Bo and I was inside for 10 days. I felt so happy when I survived, but then three months later I started to feel pain in my chest and my joints.
I feel so weak I can't go to the farm anymore". Passionate about football, Kamara says he can still play but it's not like before. He's much less fast now, and the friend he used to play with died during the outbreak.
Unlike some survivors who were ostracised by fearful relatives, Kamara says the community encouraged and supported him after he was discharged. "They took me back just like before," he said. "Now I have no work. I just spend all day sitting down".
Sierra Leone was declared Ebola-free on the 7th November, but many survivors are still suffering from the physical, mental and social aftereffects of the virus.
Find out more about MSF's work in Sierra Leone.