Tanjima Chowdhury, a registered nurse from Chittagong, Bangladesh, joined MSF in November 2017. She works at MSF's Unchiprang Primary Health Centre in Unchiprang settlement. Around 22,000 people live in this camp, crowded together in small shelters made of bamboo frames covered with plastic sheeting.
The first thing Tanjima Chowdhury does when she arrives at the health centre in the morning is to finalise the nurse assignments for the day.
It is her responsibility to organise and supervise 11 nurses and a team of nurse aides. Each day, she reviews the needs and available staff and decides who will be working in the different areas of the clinic: registration, triage, vaccination, observation, emergency, dressings and maternity.
Once the assignment list is complete, she shares it with all staff.
At 8am the team gathers for the morning meeting.
"We share many things, like how many patients we saw the last week or if yesterday something happened. If they have any complications, the doctors and nurses share these," Tanjima said.
After the morning meeting, Tanjima walks through the clinic to check that all staff are at their posts, as patients begin to arrive.
Unchiprang Health Centre is a busy facility, seeing around 200 patients a day.
Part of Tanjima's responsibility is to monitor patient flow – how many patients are arriving, increases or decreases in patient numbers, and how the patients are moving through the clinic.
She also visits the crowded waiting area regularly to monitor the patients and support the staff.
"Sometimes a patient, for example, a patient with high fever, finds it difficult to wait. If they are getting worse or can't sit, we send them directly to the observation room, if a bed is available, so that we can provide them with a comfortable position. Then we can call a doctor if he is available."
A Rohingya refugee is transferred from the MSF primary health clinic in Unchiprang refugee camp to a Bangladeshi hospital in Cox's Bazar. Photo: 
Daphne Tolis/MSF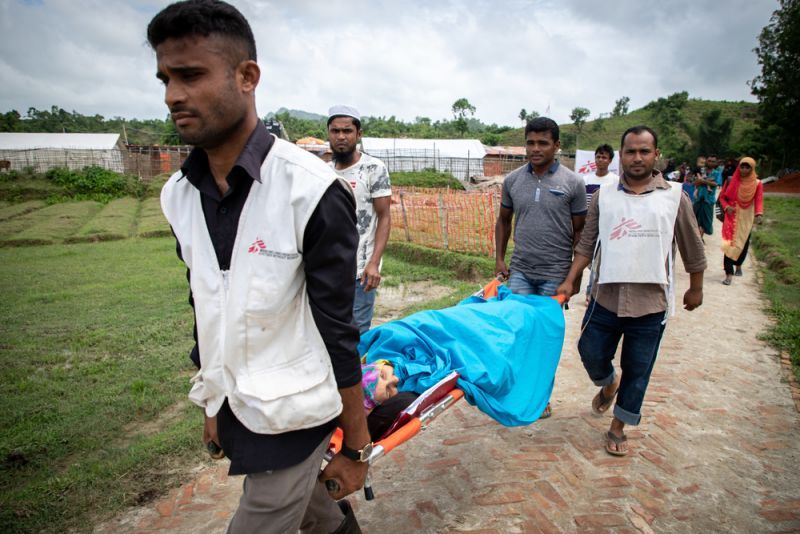 Part of Tanjima's work is helping the teams deal with challenges that arise during the day.
"Some patients refuse our treatment. Then the team calls me. If they need medication that they don't have or a patient needs to be referred, we work on this together," said Tanjima. 
"Sometimes children come without their parents. This is really difficult for us," she added.
"Sometimes the mother is really sick, like a pregnant mother, she can't come, at that time... and the father is not alive or is not available. Then they come with their older brother or sister, and this older brother or sister is also below sixteen years of age.
This is also a child, so how can we allow a 12 years old sister to act as a guardian?"
When this happens, Tanjima works closely with the health promotion (HP) supervisor and the team of Rohingya HP volunteers, who will go with the children to their home to explain the diagnosis and treatment to their parents.
Tanjima is also responsible for the distribution and management of medication, for monitoring consumption, and for checking which medications are expiring and what is still in stock.
"This is a big responsibility," she said, "because we have to provide medication to the patients in the accurate time."
Tanjima first heard about MSF while she was still at nursing college. "Now I can see here how MSF is working as independent and with neutrality and impartiality and I'm really proud," she said,
"When my friends or other people ask me where I work, I answer them very proudly: I'm working with refugees in the refugee camp. I'm giving service, I'm providing them with healthcare by my self and by my hands. And I'm learning daily and it feels good."
---
Find out about MSF's work in Bangladesh.