Exactly one year after its first reported case of COVID-19, Somalia is struggling with a deadly second wave of the virus. In March, case numbers increased by 66 per cent on the previous month, according to MSF medical coordinator Angela Ramirez.  
Our Doctors Without Borders (MSF) teams are supporting ministries of health in Somalia and Somaliland screening patients at entry points of hospitals, strengthening infection prevention and control measures, and providing personal protective equipment to front line health care workers. "This is crucial, because early detection and protection of staff is one of the best ways to handle this pandemic," says Ramirez. 
We are also raising awareness in communities about the disease and how to prevent it. Our health promoters have reached thousands of people using a variety of methods, including announcements, posters and leaflets in hospitals and sites for displaced people, and health messages shared on digital platforms.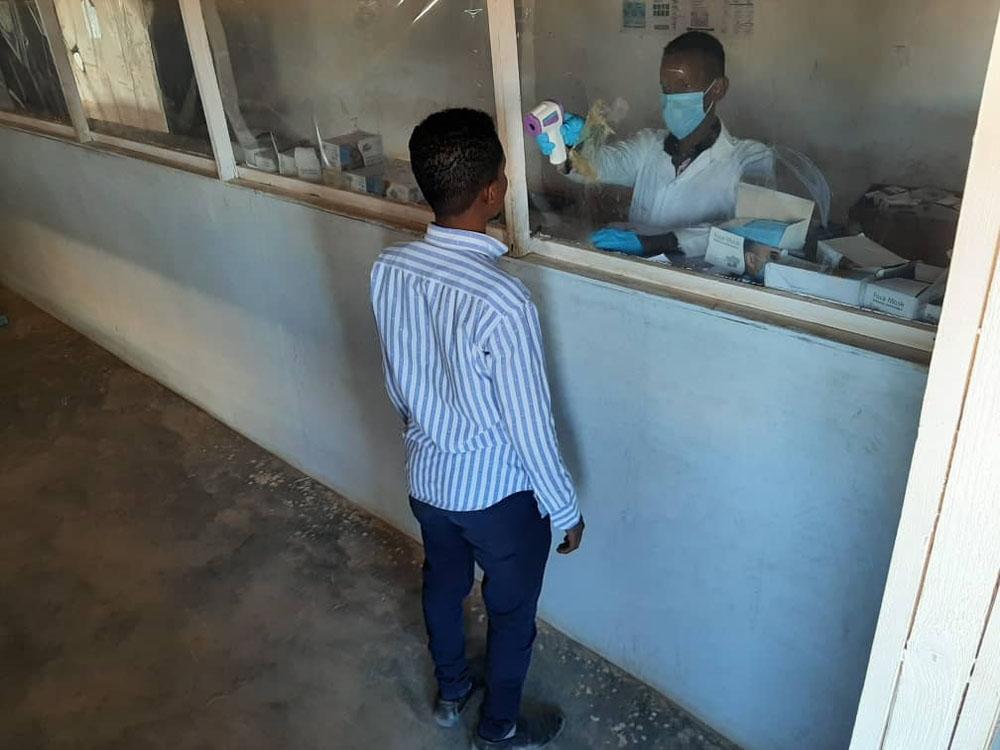 Multiple emergencies could overwhelm the health sector
"The second wave of COVID-19 is real in Somalia," says Ramirez. "From the numbers, we can see that Somalia is dealing with a new influx of infections. If the trend continues, the health sector will not be able to cope."
Over the course of the past year, the pandemic has worsened the overall humanitarian situation in the country, which has had to deal simultaneously with the effects of climate crisis, infestations of desert locusts, an electoral impasse, economic instability and recurrent flare-ups of conflict.
A pre-drought situation is also ravaging many parts of the country, including the Gedo region and parts of south-central and northern Somalia, causing severe shortages of food and water affecting both people and livestock.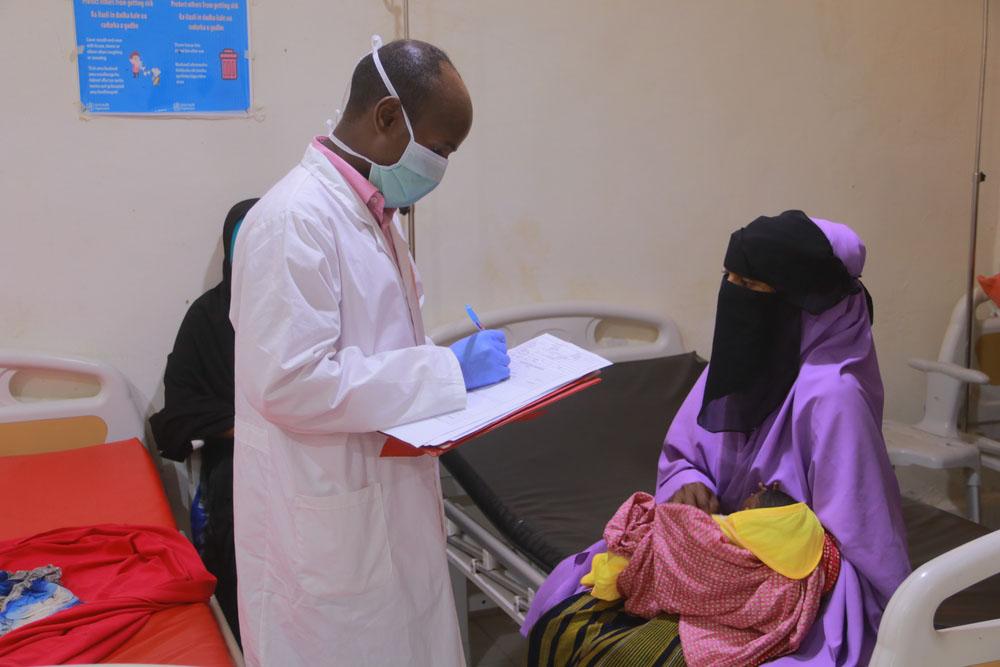 MSF's support to reduce COVID-19 transmission
To promote handwashing as a simple preventive measure that is effective against COVID-19, our teams in Jubaland have installed 32 handwashing points in 28 camps for displaced people and in three district hospitals (Elwak, Dhobley and Afmadow). Donations of digital thermometers were provided to Ministry of Health, Jubaland and are being used at screening points in different locations in Jubaland including Kismayo airport and seaport. 
In Kismayu, our teams have distributed hygiene kits to 2,000 displaced families and are working to prevent and treat acute malnutrition in children under five.
In Jilib district, a hard-to-reach area in the south of Middle Juba region, we have worked with a local organisation, the Somali Relief Rehabilitation and Development Organisation (SORDO), to raise awareness of COVID-19 prevention measures, improve household hygiene and build the capacity of local healthcare to screen for, prevent and control COVID-19.  
In Galkayo town, our teams helped set up and manage COVID-19 screening points at the main entrances of three hospitals: Mudug regional hospital, Galkayo TB hospital and Galkayo south hospital. We have also provided support at the Ministry of Health isolation centre outside Mudug regional hospital. To encourage handwashing, the teams have provided hygiene kits to pregnant women coming for consultations at mobile clinics in sites for displaced people in the area.  
In Baidoa town, in South West state, the teams have put in place infection prevention and control measures in Bay regional hospital, providing materials, training staff, installing handwashing points and distributing personal protective equipment.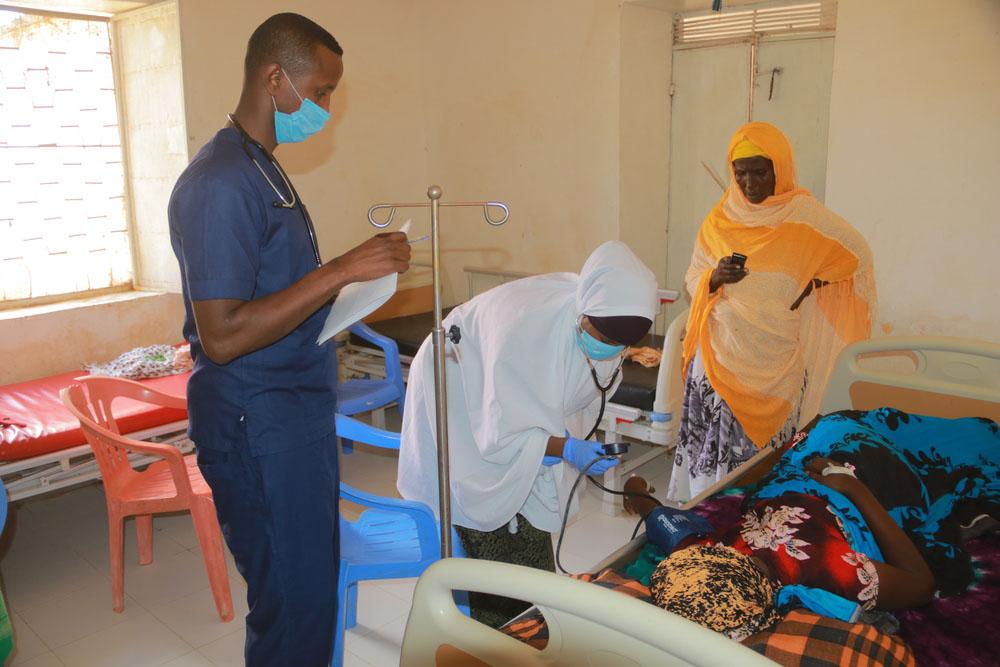 Rapid response in Somaliland
In Hargeisa, in Somaliland, we have worked with the Ministry of Health Development to train a COVID-19 rapid response team, made up of key health workers from public hospitals across the region, in infection prevention and control and safe patient management.
Donations of Personal Protective Equipment (PPE) and hygiene materials were provided to the Ministry of Health Development in Hargeisa. Between September and November 2020, our teams also conducted trainings for a Rapid Response team and emergency room staff and provided infection prevention and control support to public hospitals in the six regions of Somaliland: Hargeisa, Borama, Berbera, Burco, Las-Anod and Erigavo. In total, our teams trained 146 medical staff and 60 hygiene staff in topics including COVID-19 case management, infection prevention and control and healthcare waste management. 
In Sool region, where MSF supports Las-Anod general hospital, our team continues support with screening of patients arriving at the emergency room for COVID-19 and provided short-term support to the isolation and treatment centre in May and June 2020. 
First batch of vaccine received  
With the first 300,000 doses of the Oxford-AstraZeneca vaccine received in Somalia last week, there is hope for some of the country's population of 15 million. Despite the arrival of this first batch, our teams will continue their support to ministries of health across Somalia and Somaliland.  
"Even with the arrival of the first batch of vaccines last week, it is important to continue adhering to preventive measures such as hand washing, wearing masks and keeping physical distancing to prevent further impact on the Somali population during this pandemic," says Ramirez. "The country will prioritise frontline health workers, the elderly and people with chronic illnesses, but there are still millions of other people whose lives need to be protected."