On 30th October, the government of South Sudan declared a state of emergency across 27 flood-affected areas.
Floods are a seasonal and chronic recurrence across the country, but appear unusually heavy this rainy season. OCHA report that between 600,000 – 800,000 people have been impacted, with the most severely hit areas including Ayod, Maban, Mayom, Nyirol, Pibor and Uror in the Greater Upper Nile region.
Thousands of people are displaced from their homes or are stranded in areas now cut off from basic services, including healthcare.
The South Sudan Meteorological Department (SSMD) and the US National Oceanic and Atmospheric Administration (NOAA) forecast rains to continue through November and into December, and the rising water level in some locations is further restricting humanitarians' access and ability to respond to emergency needs of the affected population. 
From assessments already carried out by Doctors Without Borders (MSF), including in Maban and Pibor (OCB), Lankien (OCA) and Ulang (OCBA), immediate needs include access to safe drinking water, plastic sheeting to be used for shelters for families with damaged or destroyed houses, basic drugs like antimalarials and food and nonfood items.
Map of flood-affected areas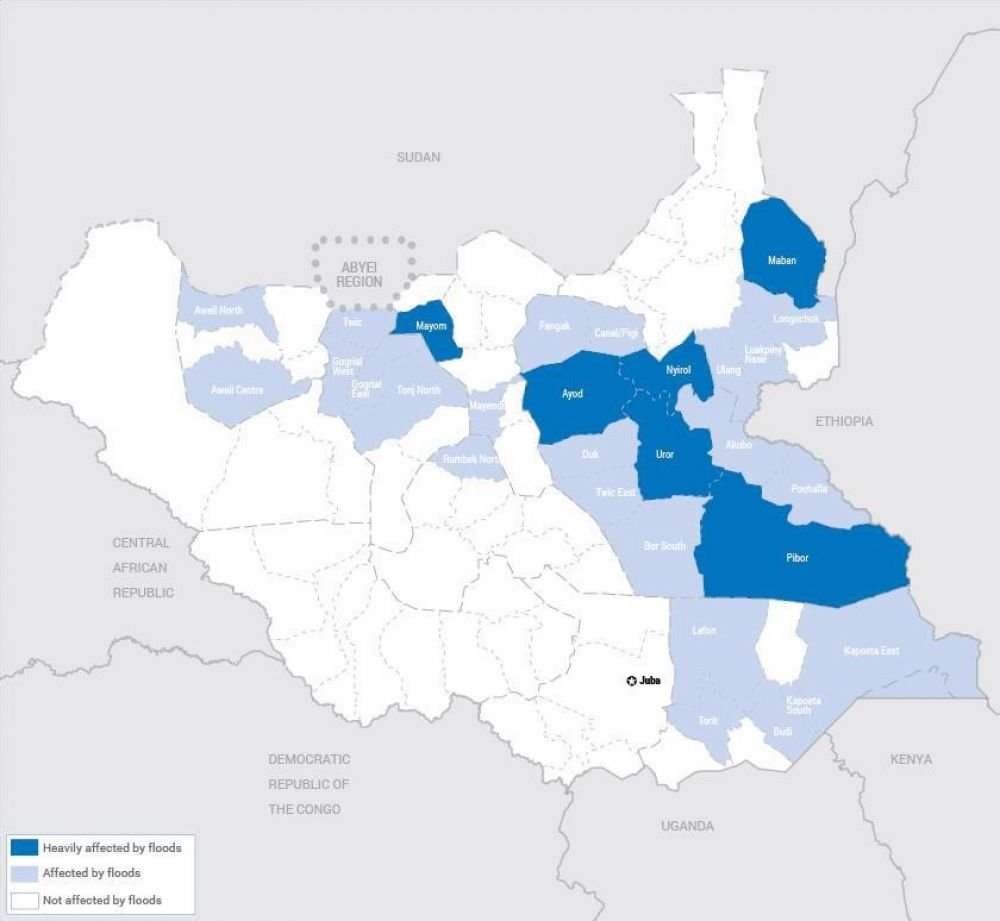 MSF response and timeline of events 
A reminder of regular activities in Pibor
MSF primary healthcare centre with surgical capacity in Pibor town (OPD, IPD, ER, maternity, sexual and reproductive healthcare and laboratory) and support to the MoH with vaccinations. 
Additionally, in two outreach locations in Gumuruk and Lekongole, which are both situated between 30-50 km outside of Pibor town respectively, MSF runs primary healthcare units with referrals to Pibor town and Juba.
Pibor – key dates
14.10.2019: Water level rises by 20cm in the compound. Adult ward in PHCC floods.
15.10.2019: Level water continues to rise. Cold chain lifting up in the pharmacy.
16.10.2019: Most of the "main road" through the compound flooded as well as OT.
17.10.2019: Started the construction of the temporary tented PHCC on higher grounds.
18.10.2019: Discharge of patients and transfer of most critical patients to the temporary PHCC.
19.10.2019: Official closure of the original PHCC. 
Impact on population: Pibor town is underwater. Thousands of people have had their homes destroyed and are now displaced. An estimated 6,000 people are seeking shelter on the last remaining island of dry land.
Living conditions for the displaced population are deteriorating. The space is increasingly congested, thick with mud, has no latrines and just one functioning borehole.
Immediate needs identified are for safe drinking water, shelter, food and adequate healthcare. MSF is concerned not only for the communities we are there to support but also for those we cannot reach in outlying areas.
Access challenges are an issue year-round in South Sudan, but with the floods, this is further cutting off people's access to basic life-saving services and impeding humanitarian actors' ability to reach them. 
Impact on operations: MSF was forced to reduce life-saving activities and discharge patients when the hospital and the compound became completely flooded, cutting off patients and the community from accessing healthcare.
After relocating some of our activities to a temporary facility on higher ground, in a very modest way, we are continuing to provide primary healthcare and maternal healthcare in a 14-bed facility – protected by a community built wall to keep flood-water from breaching the last strip of dry land.
Initial plans to set up a modular field hospital (MFH) flown in from Brussels to Juba did not materialize, as the constantly evolving situation on the ground meant identified locations became water-logged and an MFH was no longer a viable response.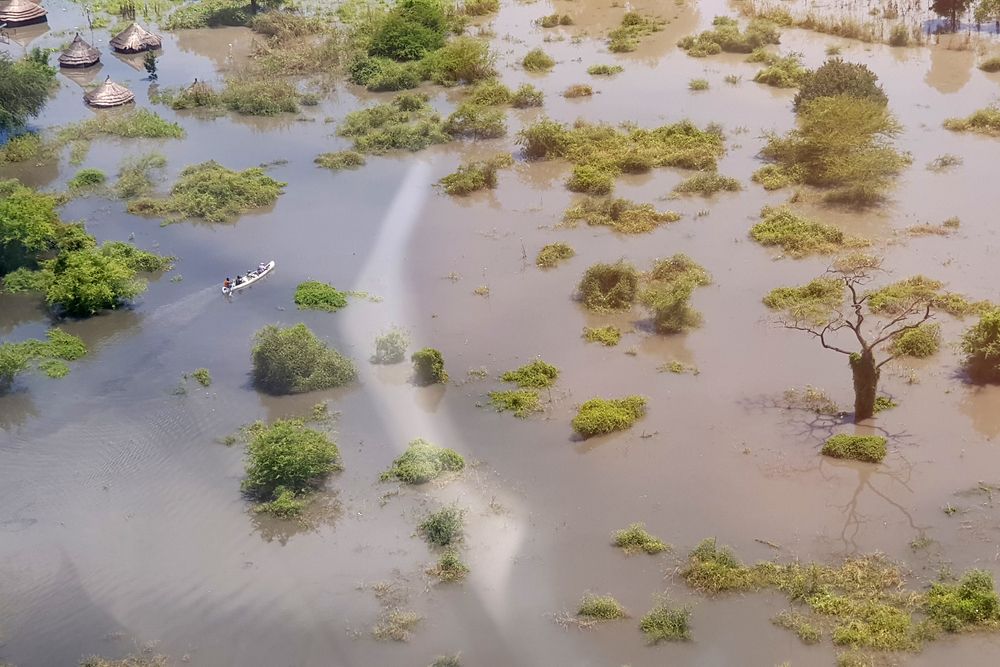 The roads leading to outreach primary health care units in Gumuruk and Lekongole are flooded, as is the airstrip, with both locations only accessible via helicopter making the transport of aid including medical supplies a challenge.
In Pibor, there is no space to store a large stock of medical supplies and no cold chain capacity meaning we can no longer carry out vaccinations. 
It's not only outbreaks of water-borne diseases like cholera we are concerned about, but also for measles. Since 7 January of 2019, there have been a total of 2,069 cases. 77.2% of cases have been aged less than 5 years. 
Up until the week ending 13th October, there were 15 cases of measles reported at Pibor PHCC and now due to the floods, with no cold chain capacity and deteriorating and congested living conditions, the area is a breeding ground for cases to increase.
MSF response: MSF's initial response involved relocating some activities to another location on higher ground in a temporary tented facility. The team continues providing healthcare to the most severe patients in a 14-bed facility.
Attention is still on carrying out aerial and ground assessments to gain an understanding of the impact of flooding for communities in outlying areas. As of 03/11/2019, the MSF team set up a water station so access to clean drinking water has improved. 
Pibor PHCC
Average of 681 consultations per week. 
Average of 38 IPD admissions per week. 
Average of 3 ITFC admissions per week, however, this varies according to the season.
Since the last week of June, the proportion of patients seen in OPD who were diagnosed with malaria has remained above 30%. This exceeded the maximum diagnosis rate observed in the past three years (2016: 30.2%; 2017: 22.9%; 2018: 27.9%)  Average of 98 ANC first and follow up visits per week.
Average of 17 deliveries.
Number of surgical interventions at Pibor PHCC varies month to month in 2019 (average: 16; range: 6–41). 
On average, 2 interventions/month are C-sections (range: 0–4).
Gumuruk PHCU:  Average 412 consultations per week, including 58 ANC first and follow up visits per week. 24 deliveries per week.  
Lekongole PHCU: Average 378 consultations per week, including 41 ANC first and follow up visits per week. 48 deliveries per week.
A reminder of regular activities in Maban
Maban/Doro: Healthcare for Sudanese refugees from Blue Nile and host population. MSF primary health care centre and outpatient health units. Primary healthcare in Bunj State Hospital.
Secondary healthcare in Doro clinic, including; outpatient department, inpatient department, inpatient therapeutic feeding centre, sexual and reproductive health (including maternity for non-complicated deliveries).
Malaria mobile clinics and mosquito nets distribution for the host community during malaria peak season. Response to emergencies. Referrals to Bunj State Hospital. Mass and routine vaccinations in the Doro refugee camp.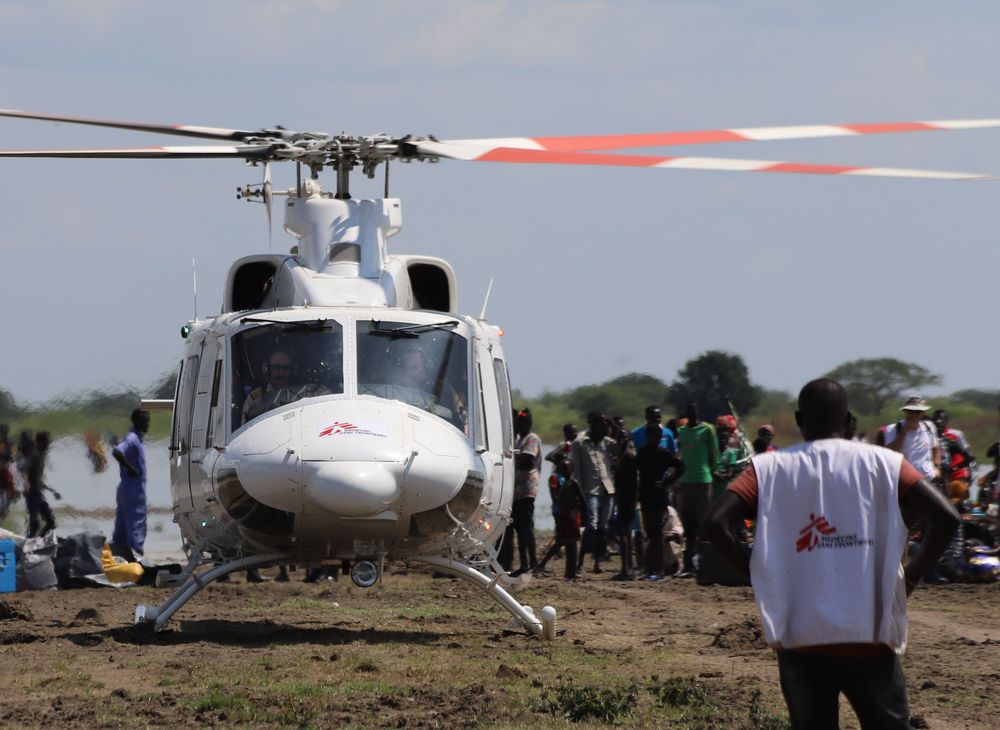 Maban – key dates 
14.10.2019: Compound starts to flood. Teams have no access to the PHCC & local staff stay behind to cover. One severely ill child died after an electricity cut made it impossible to continue oxygen therapy. 
15.10.2019: Some of the team reach the PHCC and essential supplies delivered by a tractor.
16.10.2019: Rest of the team reached three PHCC to relieve team on duty for 72hrs. Medication brought to Buni OPD by foot. 
17.10.2019: It's possible to start work on cleaning the base to move back.
18.10.2019: Initial assessments of affected areas in Doro and Buni begin.  
Impact on population: UNHCR reports that an estimated 200,000 people, including the refugee and host community, are affected by flooding.
In five areas in the greater Maban county, more than 66,000 people are affected. In Doro and Bunj refugee camps, up to 90,000 and 30,000 people have been impacted respectively.
In most areas, there was no access to MSF facilities during the flooding because of the water level, but shortly after water levels started to decrease, access to MSF facilities as possible.
From assessments carried out, the main needs identified by MSF and other organisations on the ground are for safe drinking water, food, nonfood items and shelter.
The water and sanitation situation is concerning defecation in open sites. The main diseases the MSF team are treating continue to be respiratory tract infections, malaria, diarrhoea and some skin and eye infections due to unsanitary conditions. In Doro refugee camp, there were reportedly 10 drownings.
Impact on operations: Compared to Pibor, there has been a relatively low impact on MSF operations in Maban. There was an initial and temporary inability for the MSF team to reach the PHCC, but within 24 hours, access was possible.
The compound did flood and the team were temporarily relocated, but it has not been destroyed and the team are back in the original compound.
MSF response: Assessments were carried out in Bunj, Maban and Doro. The e-team are on the ground to assess greater Maban County with a focus on internally displaced persons. 
The team is also reinforcing cholera preparation by identifying a suitable location for a cholera treatment centre (CTC). Drug donations were made to IMC and Relief International.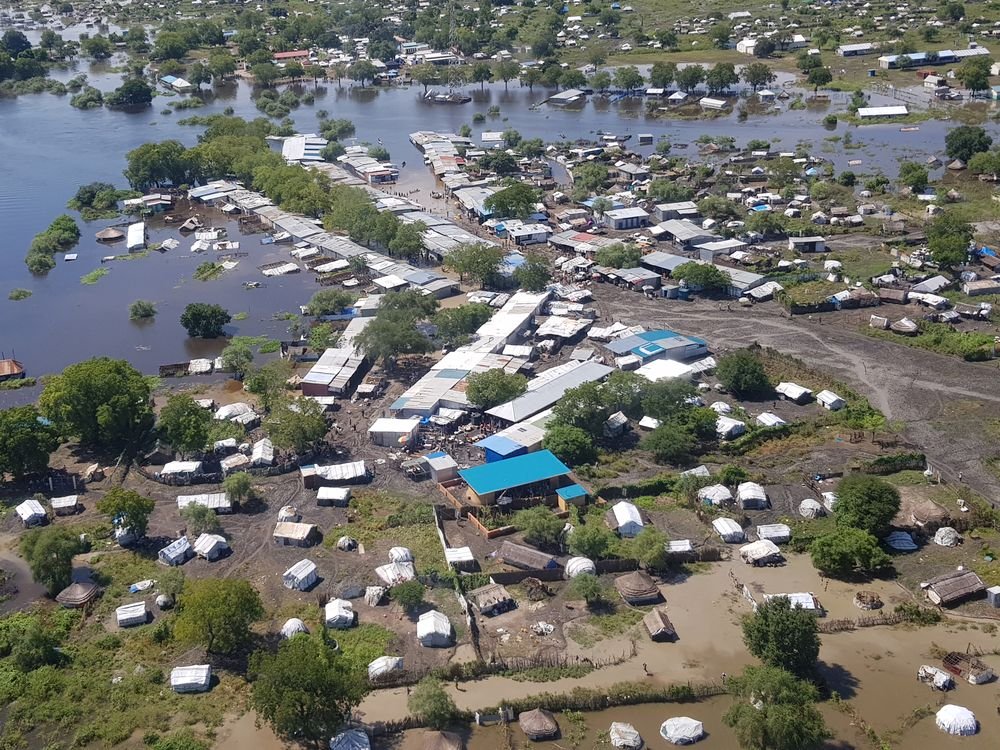 A reminder of regular activities in Lankien
MSF hospital in Lankien, including inpatient and outpatient care, maternal care, obstetric ward, treatment of HIV, TB, and Kala-azar. Primary healthcare clinic in Pieri, Maudit and Yuai. Sexual & gender-based violence programme and vaccinations.
Impact on population: Five assessments around Lankien (10km catchment area) have been completed with 2,000 households evaluated as needing urgent non-food items. 50-60% of the population are displaced and living amongst the host community.
Impact on operations:  No impact on the MSF hospital in the compound. The Lankien airstrip is always problematic in the rainy season, but access is still possible via helicopter.
MSF response: 2,000 NFI kits and medical supply have arrived at Lankien. 
On 03.11.2019: 500 kits have so far been delivered to an area called Dik-Dik. The main medical conditions seen in the NFI distribution area are acute respiratory tract infection, diarrhoea, skin infections and malaria. 
By 09.11.2019, there will be a total of 1,000 families out of the 2,000 families who have been identified as in urgent need of assistance with NFI kits. Plans to carry out explorations in two additional areas are underway and information from these assessments will be shared in a follow-up.
A reminder of regular activities in Ulang
MSF secondary healthcare facility. 24/7 inpatient department services, 24/7 emergency room. Emergency referral for urgent medical cases to Malakal, Juba and other facilities.
Active disease surveillance and scanning of possible emergencies.
Impact on population: Communities in outlying areas along the Sobat River, outside of Ulang, have been the most severely impacted.
Impact on operations: The MSF hospital in Ulang was temporarily flooded, but this did not affect our operations and water was pumped out within one day.
MSF response: The team are carrying out daily mobile clinics along the Sobat river where most villages are flooded.
Activities include treatment for malaria, respiratory tract infections, diarrheal diseases, vaccination, Mid-Upper Arm Circumference (MUAC) screening for malnutrition and health promotion for hygiene and prevention of water-borne and vector-borne diseases.
A light NFI distribution is planned for affected communities along the river. The NFI is currently in Bor and will be transported to Ulang next week. Distribution date to be confirmed. 
Communications contacts and spokespeople
Laura Mc Andrew, FCC 
Msf-ssudan-com@msf.org| +211 (0)911 637 292
Wairimu Gitau, CA (OCB)
Wairimu.gitau@brussels.msf.org | +32 477 94 754
Lauren King, CA (OCA)
Lauren.king@amsterdam.msf.org |+31 6 83159328
Field Spokespeople
Ania ZOLKIEWSKA, MSF Head of Mission in South Sudan (EN) (Juba)(OCB)
Nicolas Peissel, MSF Deputy Head of Mission for Operations (leading the flood response in Lankien) (EN, FR) (Juba) (OCA)
Claudio Miglietta, MSF Head of Mission in South Sudan (ITL) (Juba) (OCA)
HQ Spokespeople
Alberto Zerboni, MSF Operational Manager, Brussels (EN) (Brussels) (OCB)
Interviews and media visits
Interviews with MSF field staff (not based in Juba, but in the projects) are possible on a case-by-case basis. 
A limited number of media visits to the project locations can be facilitated on a case-by-case basis – depending on available rotations and the situation on the ground. 
Social Media
Please follow @MSF_SouthSudan to get the latest information on flood updates.
---
Read about MSF's activities in South Sudan