Over 500,000 Rohingya have arrived in Bangladesh since 25 August and face enormous challenges in accessing healthcare, food, shelter and water. Kate White, Emergency Medical Coordinator with Doctors Without Borders (MSF) in Bangladesh describes the current situation.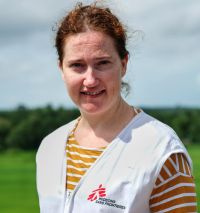 "Right now, there are hundreds of thousands of people crammed along a narrow peninsula trying to find what shelter they can. It's essentially a massive rural slum – and one of the worst slums imaginable.
There are hardly any latrines so people have tried to rig up their own plastic sheeting around four bamboo poles, but there's nowhere for their waste to go except into the stream below.
That's the same stream that just 10 meters away, others are using to collect drinking water. This has all the makings of a public health emergency.
Some people are using clothes that they've strung together to provide shelter from the elements.But after two days of torrential rain and tropical thunderstorms, some communities' shelter and few belongings have completely washed away.It's a horrific situation and you see the devastation and the absolute lack of any comfort whatsoever.
I can only imagine how incredibly terrible it must have been in their home village, if this is what they chose. If this is the better option, the other must have been a living hell.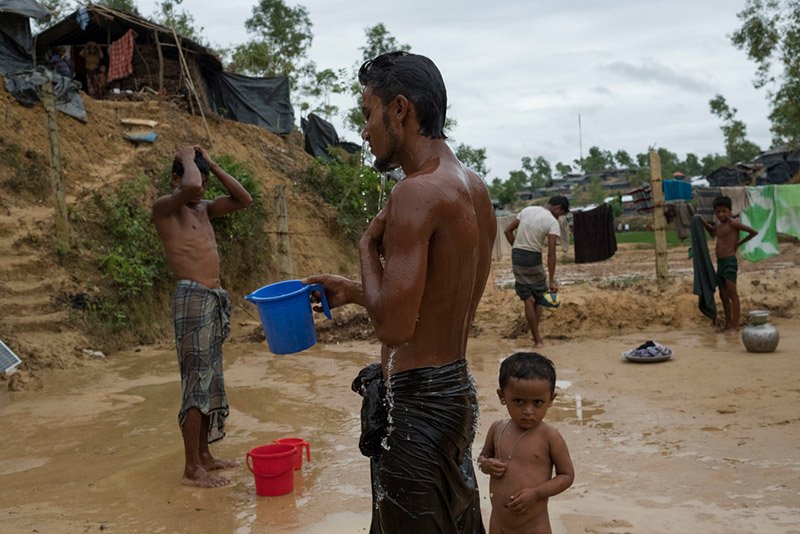 "They're so traumatised they can't communicate"
I've heard the most horrific stories from women who have lost their husbands just trying to get here. They spend days walking with their young children, along crowded roads with cars coming in either direction.
Some children have been struck and killed by cars. And in an instant, that secure future they were trying to build for their family vanishes. That's a tragedy at an individual level.
Multiply stories like that by 500,000 and you start to understand how harrowing this situation is.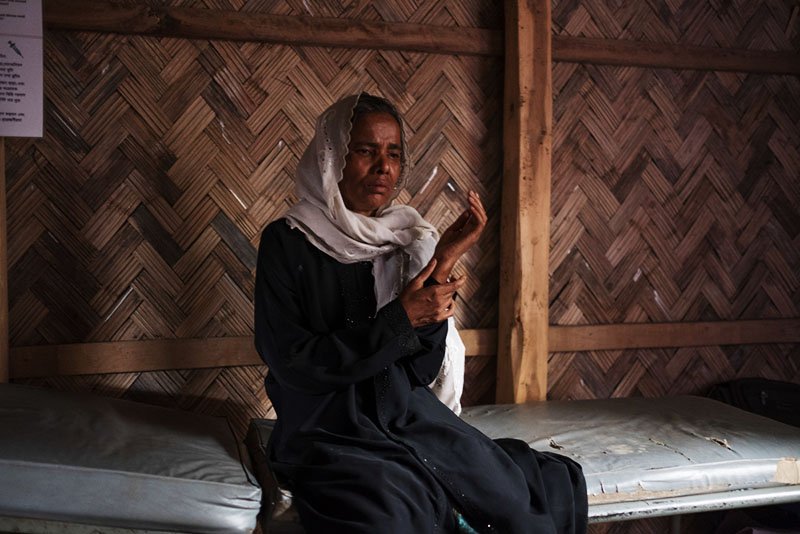 Right now, we have a baby on our ward who is dehydrated and so severely malnourished that we're not quite sure how old she is. She was brought to us by a woman who found her left behind at one of the border crossing points.
This child has no family that we know of. And yes, she's getting medical treatment, and thankfully improving every day, but where is she meant to go from here?
I have also heard really horrific cases from people experiencing violence along the way. Some cases of violence are so extreme that these people now have complex mental health issues.
I'm talking about patients that aren't able to verbalise; they're so traumatised that they can't communicate with the outside world. They've retreated into themselves to cope.
And let me be clear, these are young people who have their whole lives ahead of them and shouldn't have to endure this.
"Patients don't want to leave"
Our top two medical diseases right now are diarrhoeal diseases of varying kinds and with that comes severe dehydration.
We know when there are these many people with both diarrhoea and dehydration that there is a significant correlation to hygiene, water and sanitation conditions.
We're also seeing more than 100 outpatients a day needing wound care – and it's not all violence related. People are injuring themselves living in this precarious environment, and the lack of hygiene means their wound gets infected. 
People have been gradually fleeing into Bangladesh for a long time. The last large group was only in October last year and the Cox's Bazar community was still coping with that.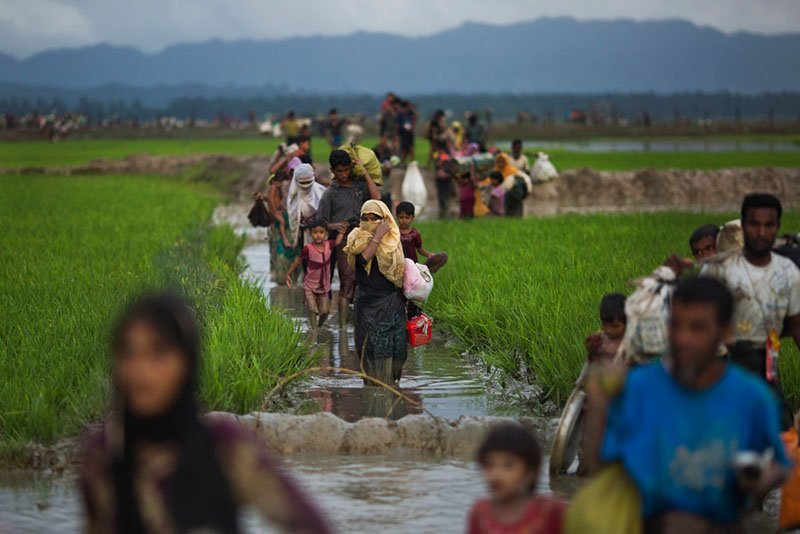 That was a fraction of the size of what we're seeing today. We thought we were stretched back then, but now, we routinely have around 115 patients in a 70-bed facility.
Most patients don't want to leave once they've been discharged. The overcrowded hospital offers a much better living environment than what's out there.
As a medical professional, it's so hard to send vulnerable patients out into what you know is a precarious situation. People know what they are meant to be doing but they have no means to do it; they can't go and wash their hands because there is no clean water to do that.
They can't go and use the toilet in an appropriate place, because there are no toilets. Add to that the incredible loss of dignity they must feel to have to do everything in the public eye. Literally everything they do is in front of massive amounts of other people.
"We need to act fast"
We need to work on managing all the basics at once, in a coordinated effort with all the other agencies on the ground. Otherwise, we have no hope of stopping this from developing into a public health emergency.
There are good-hearted Bangladeshi people who want to do something to help, but unfortunately the road to hell is paved with good intentions.
They distribute food and clothing off the back of a truck in a crowded area and it just causes people to come running. There's no crowd control, causing chaos and debilitating injuries for some.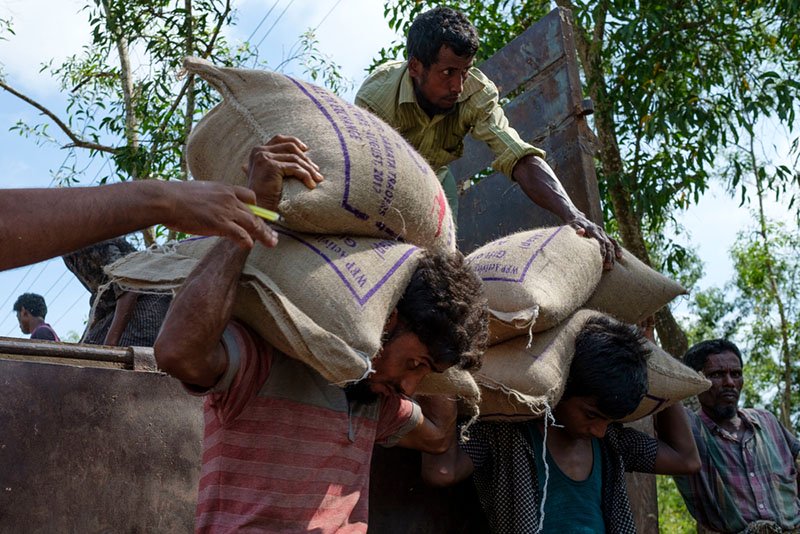 This is really where the coordination needs to come. We need to ensure distribution is done properly and with the safety and security of everybody in mind.
To have decent coverage we need to act fast. During this emergency phase, just to achieve relatively decent sanitation, we need 8,000 latrines built – that's a ratio of one latrine to 50 people.
The longer we delay that, the greater the risk of an outbreak of a waterborne disease. We need to supply 2 million litres of water per day just to provide 5 litres of water per person, per day in one camp.
We need huge amounts of food and emergency relief supplies to avoid significant numbers of malnutrition. We need everyone to scale up in terms of experienced people on the ground who can move fast.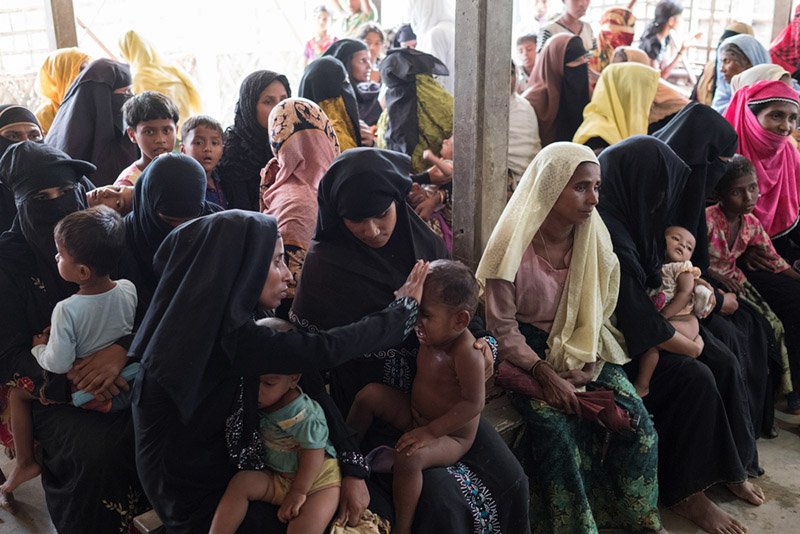 No access to roads
The numbers are massive and to top it off there are enormous logistical challenges because there are no access roads, which means everything must be brought in on foot.
You carry everything you can on your back through narrow paths and hilly terrain, up and down slippery, muddy hills to get to your destination. It is supremely difficult.
The optimist in me likes to think that it's at least humanly possible to put some very basic measures in place to try and curb the situation.
The Rohingya refugees who have settled in these areas in the last month will probably never have the sense of comfort that you and I know, and may not ever have a solid roof over their heads.
But it is possible is for us to make it better and more secure than what it is now."
---
Doctors Without Borders first worked in Bangladesh in 1985. Close to the Kutupalong makeshift settlement in Cox's Bazar district, MSF runs a medical facility and a clinic offering comprehensive basic and emergency healthcare, as well as inpatient and laboratory services to Rohingya refugees and the local community.
In response to the influx of refugees, MSF has significantly increased its water, sanitation and medical activities for the refugee population.
Elsewhere in Bangladesh, MSF works in Kamrangirchar slum, in the capital, Dhaka, providing mental health, reproductive healthcare, family planning and antenatal consultations, as well as an occupational health programme for factory workers.
Following a wave of targeted violence against Rohingyas in Rakhine State, Myanmar, more than half a million people have fled to Bangladesh since 25 August.
The most recent influx of Rohingya refugees has added to the hundreds of thousands of Rohingyas who fled across the border during episodes of violence in previous years.
Find out more about MSF's work in Bangladesh.