A Kenyan psychologist led a team of MSF counsellors treating rape survivors in slums in the Indian capital, New Delhi.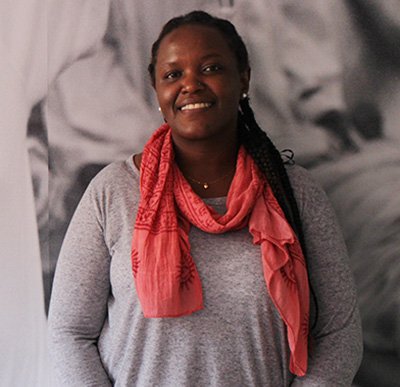 In the poor and densely populated neighbourhood of Mahindra Park at the north end of New Delhi, a bright green three-storey building has become a safe haven for women and child survivors of sexual and gender based violence (SGBV). 
The building is the Umeed Ki Kiran clinic that Doctors Without Borders (MSF) opened a little over a year ago. There, Kenyan psychologist Sandra Githaiga just spent nine months as the mental health officer in charge of a local team of counsellors providing confidential care – free of charge – to some of the most vulnerable members of the local community. 
"The biggest challenge we faced was just getting female SGBV survivors into the clinic," Sandra says, explaining the often sensitive cultural context in India where victims do not talk about sexual violence because of the stigma heaped upon it.
"Often the clinic received a lot of domestic violence survivors, but not many sexual violence survivors. The social stigma, and the fact that the abuse mostly happens within the family, makes it difficult," she says. "When victims come to us they often think they are at fault for everything. Most go back to their abusive partners at the end of the day. Some even come to the clinic with the husband who had assaulted them. It was so difficult to see that."
India has some of the highest rape and sexual violence statistics in the world. In 2012, a gang rape and eventual death of a student on a bus in Delhi made international headlines. Although that was one of the most severe reported cases, it was not an isolated incident.
Working with patients in Delhi's slum communities, the clinic's health educator team devised street plays to convey messages about sexual violence in a direct way. "There is sometimes a cultural aversion to discussing these topics. With the street plays, we were able to act things out, talk very directly about rape and show people what is really happening in their community."
'A real success story'
One of the most rewarding things for Sandra is seeing how MSF's services help patients. "One woman who came to the clinic had experienced multiple incidences of sexual violence," Sandra says.
"Although we usually see patients for about five sessions, we saw her much more than that. We offered counselling so she was able to express her anger in less harmful ways and to provide her with better coping mechanisms. We also helped her parents understand how to best support their daughter. Since then, she has been coping much better."
Sandra, who previously worked for MSF in Myanmar, Swaziland and Kenya, says her time in India taught her to be both persistent and accommodating in order "to make people understand what we're doing, why we're doing it and why it's so important".
"One thing I found about India compared to other places, was that only at the end did I see the results of the work I was doing there," she says.
"Helping all these women in need – so that they have someone to listen to them without judgement, someone who lets them cry – that was the most fulfilling."  
Find out more about MSF's work in India.