Since 25 August, more than 620,000 Rohingya refugees have fled from Myanmar into Bangladesh. Their arrival comes on top of hundreds of thousands more Rohingya who arrived in previous years and were already living in difficult conditions.
In addition, there are reports of several thousand Rohingya who remain stranded on the beach in Myanmar and are desperately looking for a way to flee into Bangladesh. The reception of new arrivals in Bangladesh remains chaotic. We are gathering reports of ongoing violence in Myanmar from the Rohingya who continue to arrive daily at camps in Bangladesh.
MSF has significantly scaled up its medical, water and sanitation efforts in support of the growing population. Many other entities, including the government of Bangladesh, have responded with food, shelter, healthcare and water.
But the absence of roads into the huge densely populated camps means that aid is still not reaching many. Living conditions in the makeshift settlements remain extremely precarious and hazardous and are further putting people at risk. The situation must improve to avert a public health emergency.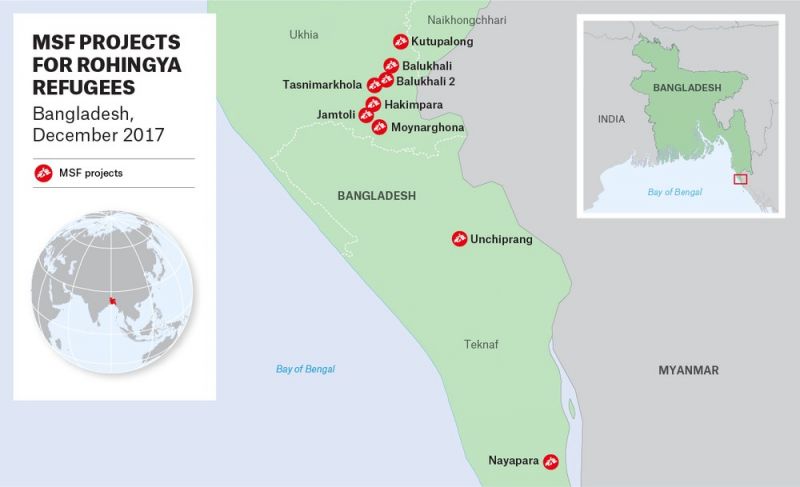 MSF activities
In the first three weeks since August, we treated more than 250 newly-arrived people with violence-related injuries. They included bullet wounds, severe burns, blast wounds, stab wounds and injuries resulting from sexual violence.
Over the same period, our teams have treated 88 women and girls who have survived sexual violence. Most of them were assaulted in Myanmar.
We are seeing significant numbers of children with complicated measles. In the second week of November alone, MSF departments admitted up to 20 severe patients per day.
This is a sign of the poor access to routine vaccination and health in Myanmar, and poor living conditions in the camp. The Minister of Health in Bangladesh is preparing to implement a catch-up campaign.
On 23 November, the Government of Bangladesh and Government of Myanmar signed an agreement for the repatriation of Rohingya refugees from Rakhine and on 19 December, they set up a joint working group to oversee the repatriation3.
While it has been stated that the process of return will start in January and this agreement may limit cross-border movement going forward, it seems highly unlikely that returns will take place in the near future, with people still continuing to flee over the border into Bangladesh.
Overview of MSF activities in Cox's Bazar
Number of health facilities: 19 health posts, three primary health centres and four in-patient health facilities
Number of staff: 2258 national and international staff as of the end of November
Number of patients: 142,985 patients have been treated at MSF outpatient facilities and 3,117 patients in inpatient facilities between the end of August and the end of November
Main morbidities: respiratory infections, diarrheal diseases, measles with an increase in diphtheria cases
Other activities: We are supporting the government in expanding routine vaccination in the camps through initiating vaccination for children and pregnant women at MSF facilities.
Staff at all MSF health facilities will have the capacity to administer immunisation for measles and rubella, oral polio and tetanus according to national protocols.
The Ministry of Health started a measles and rubella vaccination catch-up campaign from November 18th which ran for 12 days and targeted a total of more than 336,000 children between the ages of 6 months and 15 years.
We supported this campaign with community mobilization, site identification, logistics, and transportation of vaccines. A vaccination coverage survey is planned in mid-December in order to evaluate the success of the campaign.
Update on sexual gender-based violence
Key figures:
Total number of sexual violence cases from 25 August – 3 December: 113
Number of rape cases: 91
Number of SGBV cases under 18: 37
Number of cases of male on male sexual violence: 0
Since 25 August,  we have treated 113 survivors of sexual violence at MSF's Sexual and Reproductive Health Unit in Kutupalong. 33% of survivors are under the age of 18, including one under the age of ten.
Estimating the number of survivors is not possible. However, sexual violence is often underreported due to stigma and shame, fear of reprisals, a lack of knowledge about the medical consequences of sexual violence and the need for timely medical care, and a lack of awareness about the medical and psychological support available.
Given these barriers, it is likely that the number of SGBV survivors we have treated so far is just a fraction of reality.
We are starting to see more survivors seeking medical care as some of these women and girls have become pregnant as a result of rape.
We have specialised staff on the ground to treat survivors who are referred for treatment as a result of trauma, including sexual assault and rape.
Our local community outreach workers are visiting the people living in the settlements, informing them about the free services the organisation offers, including treatment for sexual violence.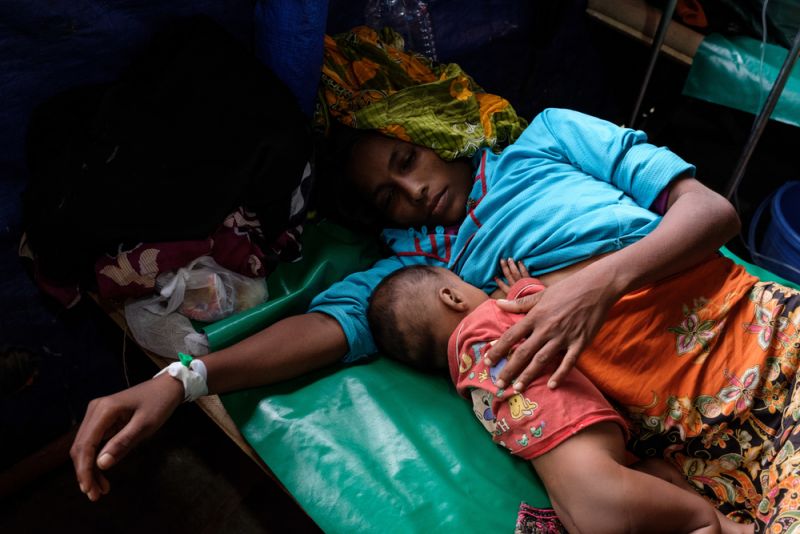 In the coming weeks, as people begin to process the trauma they experienced in Myanmar, and as some of these women and girls might be pregnant as a result of rape, we expect to see more survivors of sexual and gender-based violence seeking medical care.
To help ensure women, children and men can access medical care, including psychological treatment, our local community outreach workers are visiting the people living in the settlements in Cox's Bazar to inform them about our free services, including treatment for sexual and gender-based violence.
Water and sanitation work (WASH)
Outside of the medical response, improving water and sanitation is a major part of our attempts to prevent the spread of disease. 
We are targeting our water and sanitation response in the most difficult to reach areas. So far we have built 1247 latrines, 157 water wells and a gravity water supply system both in the settlements located in the North as well as in the ones in the South.
By the end of December, we aim to install a total of 400 boreholes and 1,000 latrines in the Balukhali and Kutupalong Makeshift Settlements.
Considering that the shallow aquifer - the main water source, abundant in quantity and easy to access – is contaminated with fecal coliforms throughout the camps, we started drilling deep production boreholes up to 150-200 meters deep to have clean water. Four deep boreholes have been drilled so far.
We plan to start a hygiene promotion to clean latrines and educate about hand washing, as well as soap and other non-food item distribution in our facilities.
To make sure vulnerable populations get clean drinking water, we plan to distribute water filter in our clinics in Tasnimarkhola and Balukali 2, for patients with malnutrition, measles and pregnant women.
In the southern settlements of Unchiprang and Jamtoli MSF is aiming to construct 56 more latrines and 43 wells in the coming weeks.
We also include water supply and sanitation in its emergency response for new arrivals. MSF has deployed teams to arrival, transit and settlement locations to ensure that newly arrived refugees have access to safe drinking water and adequate sanitation facilities.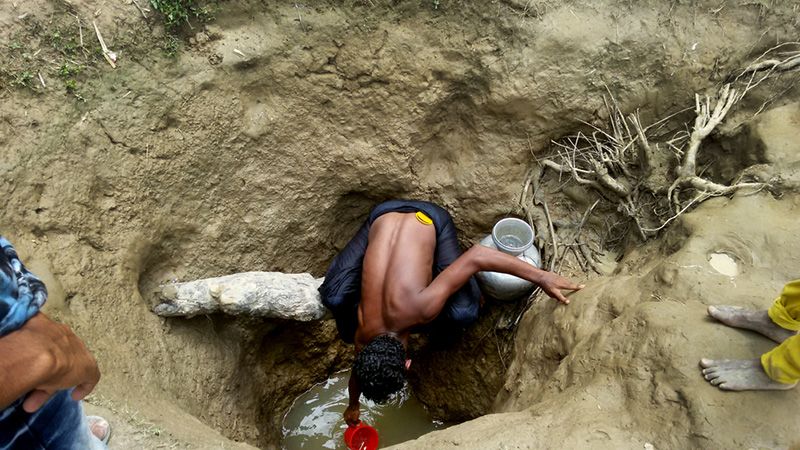 MSF project locations in Cox's Bazar
Kutupalong 
Services at our clinic in Kutupalong, which opened in 2009,  include a 24-hour emergency room; an outpatient department; an inpatient department including a paediatric and neonatal ward; isolation beds; a diarrhoea treatment ward; sexual and reproductive healthcare services; a mental health department; and basic laboratory services.
Since 25 August, the inpatient department has been expanded from 50 to 70 beds to cope with the influx. The outpatient department currently treats more than 400 patients per day. We plan to move it further down the road to enable further expansion of the inpatient department. We have built two health posts in Kutupalong makeshift settlement and another is due to open by the end of November. 
Balukhali           
At the end of October, MSF opened a 40-bed mother and child in-patient facility in Balukhali nearby to the existing out-patient clinic. In early December, this has been converted into a diphtheria treatment centre in response to the rapidly growing outbreak of diphtheria.
Currently, we have 70 beds for treating Diphtheria patients in the facility. MSF also runs three Health Posts in the settlement.
Balukhali 2
Since 1 October, we have been running a health post in Balukhali 2 where the total population is 285, 000 people, It provides basic primary health care and has treated over 18,100 between 1 October and 11 December.
SS Zone
Newly arrived refugees are being settled in the zone named SS, which also includes Balukhali 1 and Balukali 2. We opened a Health Post in the SS zone on 18 November, which treats an average of 170 patients per day.
Tasnimarkhola/Thangkali
There are over 58,000 refugees living in Tasnimarkhola makeshift settlement, formerly known as Burma Para. We opened a health post on 26 October and has treated 12,400 patients between the opening and 11 December.
Around 30% of consultations are for children under five. On 3 December, we started sexual and reproductive health activities (antenatal, postnatal, sexual-gender based violence, gynaecological consultations and family planning).
On 26 November, we opened an inpatient facility with a 25-bed capacity. The hospital is focused on paediatrics, the in-patient treatment of severe acute malnutrition and currently the management of measles cases.
To accommodate the high number of measles cases, we had to increase the number of isolation beds to 36. By 11 December we received 320 patients in the emergency room of which 171 were hospitalised.
We have completed the drilling of four deep production boreholes to provide water to the health posts and IPD.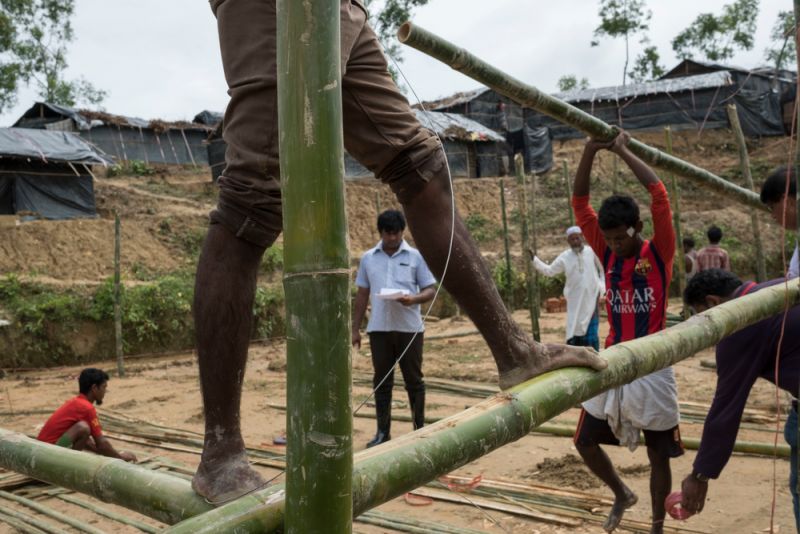 Unchiprang
There are over 23,300 refugees living in Unchiprang makeshift settlement. We have been running a primary health centre, which was initially opened as Health post in mid-September.
We are providing primary health care; sexual and reproductive health; and mental health services, with 24-hour capacity and 10 hospitalisation beds.
It is the main health-care provider in the settlement and the team is carrying out over 150 consultations per day. MSF has also opened a second health post in Uchiprang and in nearby Nayapara where we treat 200 cases per day respectively.                                
Jamtoli
There are 48,400 refugees living in Jamtoli makeshift settlement. MSF opened a health post in September that was upgraded later to a primary healthcare centre.
The clinic is currently seeing up to 250 patients per day and offers 24-hour primary health care service, with a delivery room and 18 hospitalisation beds. We are also running two more health posts in Jamtoli.
Hakimpara
There are over 33,000 refugees living in Hakimpara makeshift settlement. We opened a Health Post that was upgraded later to a primary healthcare centre with 24-hour primary health care services and 14 hospitalisation beds where we are treating around 150 patients per day. We are running also two more health posts.
Moynarghona
There are over 19,500 refugees living in Moynarghona makeshift settlement. We started a mobile clinic in September, which has since been upgraded to Health Post.
The clinic sees 200 patients per day on average. MSF also plans to open an IPD outside of the makeshift settlement with a 63-bed capacity before the end of the year.
The IPD will offer ER, paediatric and inpatient therapeutic feeding centre (ITFC), for both the Rohingya and host community. This site is currently in use as a Diphtheria Treatment Centre since 11th December, with an 885-bed capacity, while the construction works are on-going.
Sabrang entry point
At the border point in Sabrang, MSF started a mobile clinic on 8 October, offering nutritional screening and basic primary health care and monitoring, whose services have been integrated in the circuit of the reception centre.
---
Find out more the Rohnigya refugee emergency
Also find out more about MSF's work in Bangladesh.