After 13 years of working with MSF in contexts ranging from Nigeria to Afghanistan and South Sudan, Zimbabwean-born Karsten Noko has taken on the role of Head of Mission for the MSF project in Bangladesh.
"I'm looking forward to supporting our operations and colleagues as we continue to respond to the humanitarian needs of the Rohingya refugees – the world's largest group of stateless people," says Karsten. "In Bangladesh, there are no adequate long-term solutions in sight for almost one million Rohingya people in terms of how they might be transitioned from overcrowded camps, where they lack access to social services. This segregation continues to have dire consequences on their health."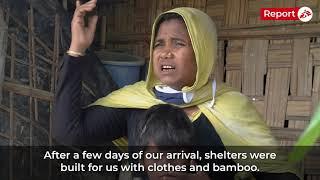 Karsten kicked off his career at MSF in 2009, working as an advocacy officer at the Beitbridge project – in his hometown – where MSF still provides medical care to migrants. Following that, he took on roles as a health promotion officer and liaison affairs officer. After serving on the MSF Southern Africa board as Vice President from 2014 to 2017, Karsten returned to operations as a project coordinator in Nigeria, South Sudan and Afghanistan. In this role, Karsten worked mainly in conflict contexts, which can be particularly hard to work in.
"I think all armed conflict makes me angry. It doesn't matter where it's happening," he says. "It's one of the craziest things that people have to use violence to send political messages instead of negotiation; and yet I understand that armed conflict is, unfortunately, a daily reality in many parts of the world." Karsten emphasises that in his role with MSF, he has to remain focused on the end goal: providing medical assistance to people in vulnerable situations and feeling the effects of their difficult circumstances. 
One of the biggest challenges is that the displacement has become chronic for the Rohingya people. They have been displaced for more than five years now, and there are little prospects of them going back safely to their homes. Their lives are caught in limbo, and no one knows when this might be resolved.
Karsten Noko, Head of Mission, MSF project in Bangladesh
Karsten's new role is a significant evolution in his MSF career and a chance to look back on his experiences to date. "A moment like this makes me realise that the journey would not have been as easy without all of the support that I've received along the way," he says. "It's a moment to reflect on the colleagues that I've met over the years and the people who have mentored me and taken a chance on me and believed that I could contribute positively." 
MSF Southern Africa is proud to have Karsten representing the region within the MSF movement – an important step in the transformation of the organisation. We wish him all the best in his new role.