In Tongogara refugee camp, a remote place in the southeast of Zimbabwe where over 15,000 people live, most of the refugees come from the Democratic Republic of Congo (DRC), Mozambique, Burundi and Rwanda. While in their country of origin, most of the refugees experienced traumatic events including war, rape, torture and physical injuries, among other traumatic events that caused them to flee.
For some of the refugees, the camp is the only home they have known for nearly 20 years, having been born and bred there. As a result, they have become long-stayers without access to jobs and other income-generating activities to rebuild their lives. Prolonged idleness causes distress, a feeling of hopelessness, anxiety and stress.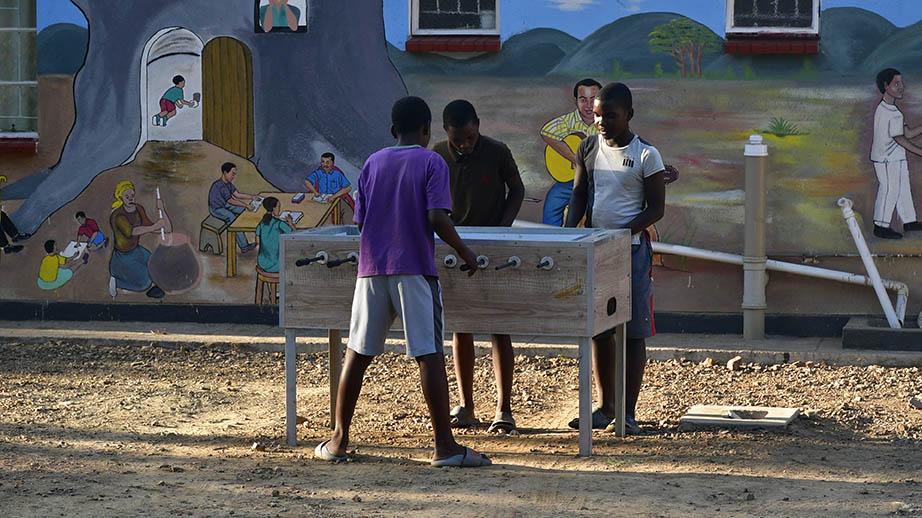 It is one year since MSF launched a mental health intervention at Tongogara Refugee Camp. The programme seeks to improve refugees' coping skills and resilience with community participation, empowerment, and resilience-building activities like sewing clubs, sporting activities, peer support, and psychological first aid.
Elina (26) is one of the community supporters and has been living in the camp since she was six years old when her family fled Rwanda. When she attended school in a nearby community, she faced discrimination.  She grew up with unresolved anger and bitterness, but she says she has started to heal from this.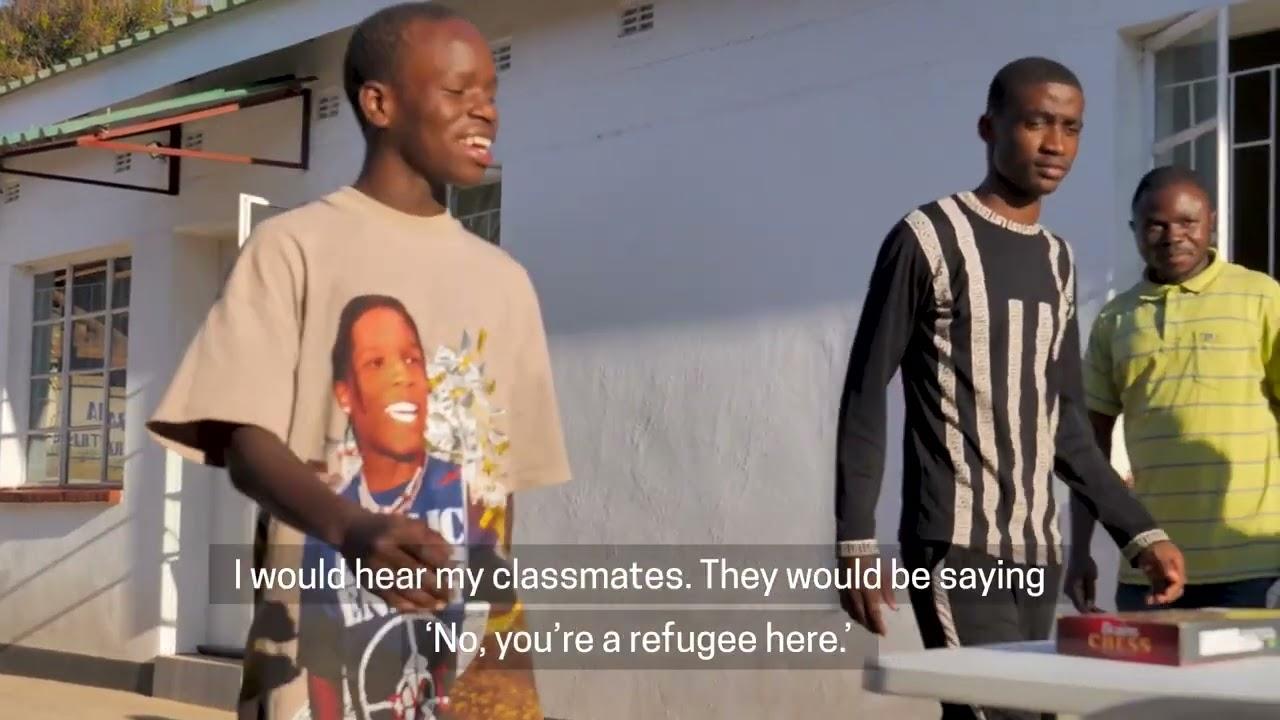 "Before MSF came into this camp, I was always full of stress and anger. There was no place to go and release your mind and express your feelings. With the role I was given – as a community supporter- I can now interact with others in the community, and coming to the Baobab house has helped me on how to address my anger issues through speaking with the MSF psychologist," she enthusiastically said.
"The burden of unaddressed grief, loss, trauma and depression was visible whilst talking with most of the refugees during an anthropological assessment," says Janet Mukurumbira, MSF Mental Health Activity Manager at Tongogara Refugee Camp. "The refugees overwhelmingly reported experiencing uncertainty and lack of control over their current life and future. The passivity of life in refugee camps aggravated feelings of meaninglessness and powerlessness," she added.
Baobab house is my safe haven. The activities here are mind soothing. I used to feel lonely and anxious, but music has helped me express myself.
Andrea (23), refugee who fled the war in the Democratic Republic of Congo (DRC)
MSF has built a centre for psycho-social well-being, named -Baobab House- by the community for the tree's resilience in harsh weather conditions. Refugees from the camp painted the mural of the centre, telling a story of what the centre means to them. The centre provides psychosocial support and is a conducive platform for recreational activities with shared ownership by the community. "We realised that their psychosocial pain would be lessened by the creation of fulfilling and empowering activities and promoted social interactions among themselves to break the cycle of anxiety and boredom which triggers depression," Janet added.
The project uses community engagement as a key strategy to involve community leaders, young people and community team members from all age groups. As community champions supporting health promotion  - they encouraged community buy-in and awareness of the services offered at the centre. Through this approach, community members are supported to rebuild their social networks and support structures and find some relief from their trauma, stress and depression.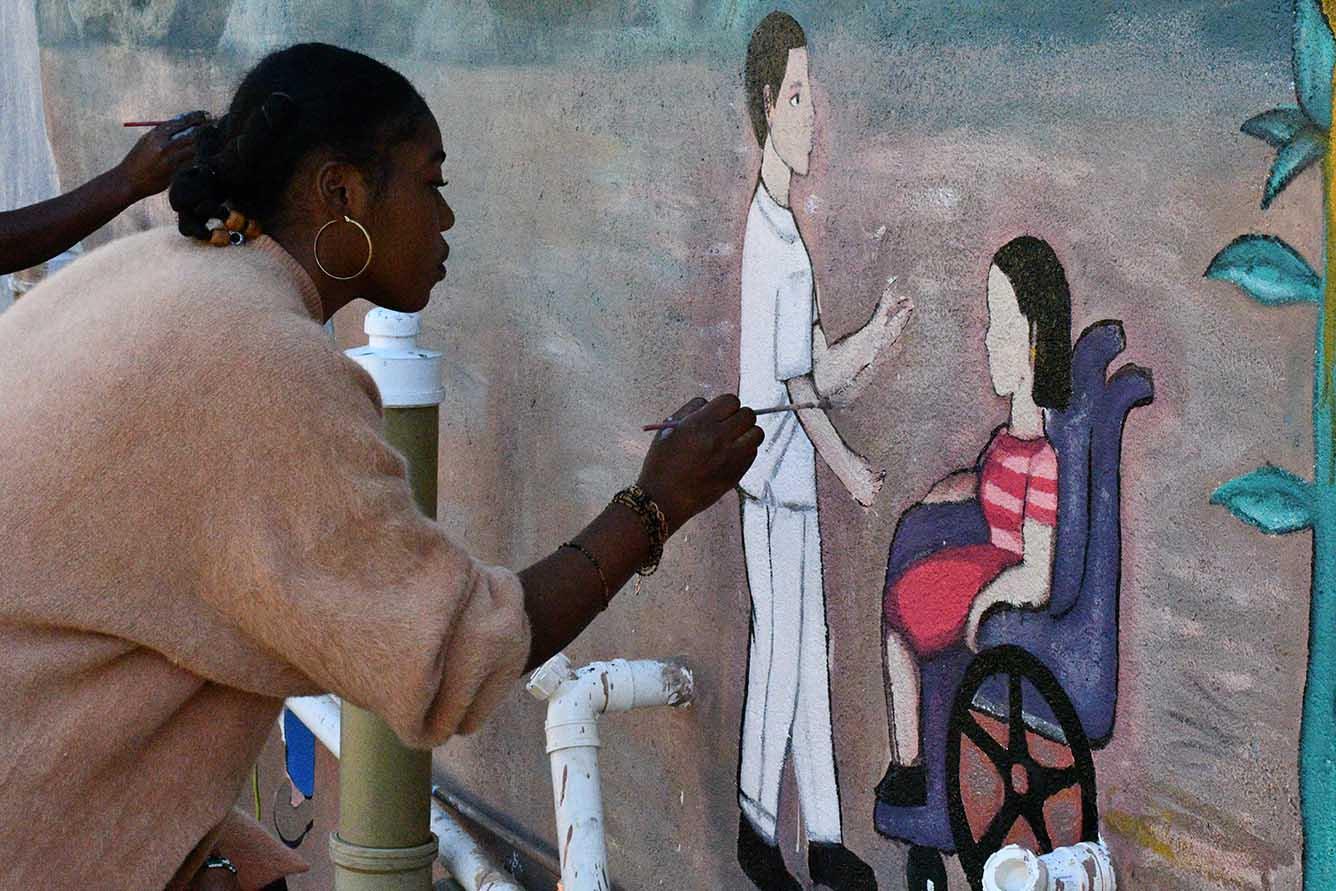 Andrea (23), a refugee who fled the war in the Democratic Republic of Congo (DRC) together with his family, recounted the torture and physical pain they suffered in his home country. He described how being at the Baobab house gives him a sense of belonging and calms him down, and helps him to express himself. Andrea likes participating in music and now teaches others how to play the guitar and the piano.
"Baobab house is my safe haven. The activities here are mind soothing. I used to feel so lonely and anxious, but music has helped me to express and find myself. I got healed of depression and stress," says Andrea, with his left foot on the bass drum pedal.
Conflict and unrest in the Great Lakes and Horn of Africa region — in the Democratic Republic of Congo, Rwanda, Burundi, Somalia, Ethiopia and Eritrea— have displaced large numbers of people who have moved to Tongogara Refugee camp. Under Zimbabwean law, refugees are obliged to stay in the camp and are not permitted to work outside its boundaries.